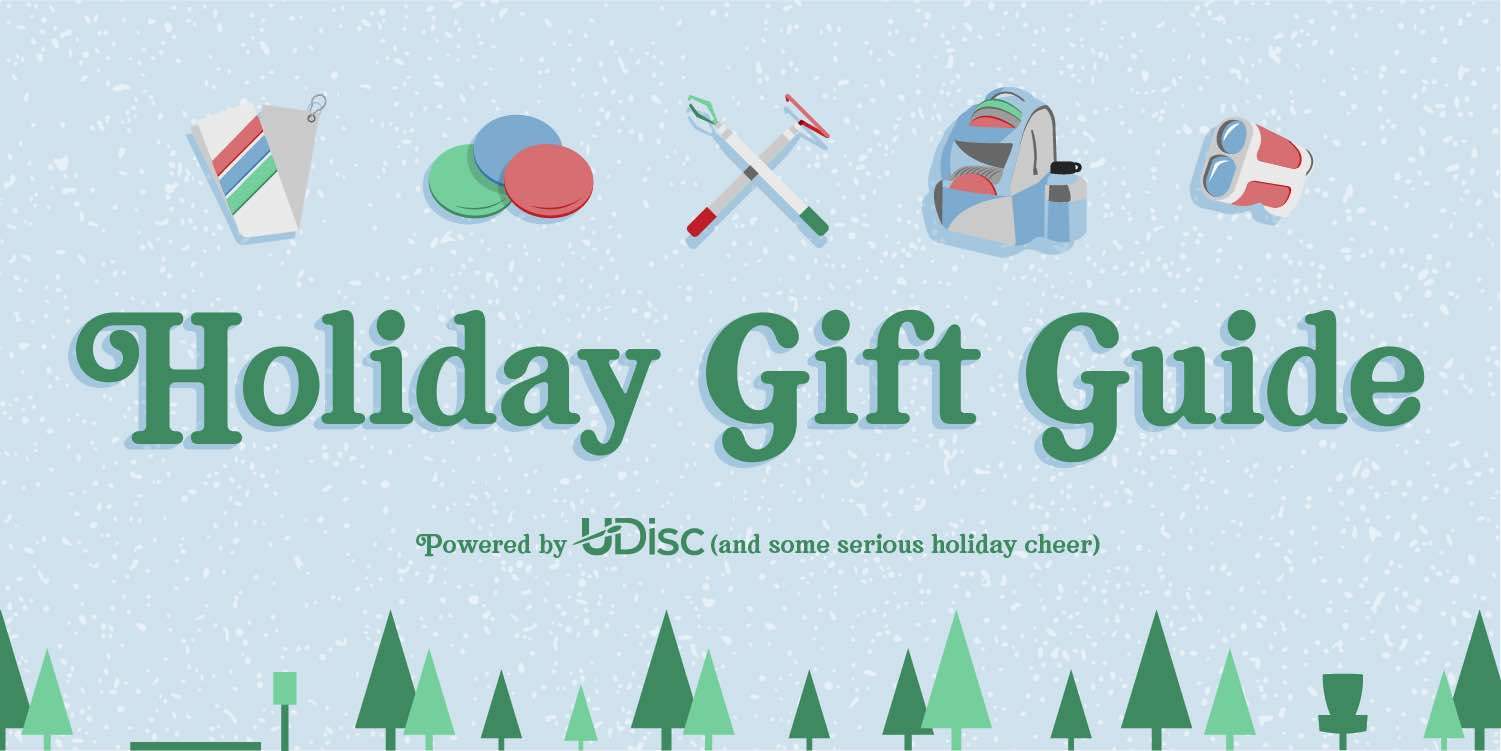 It's a common issue for those who have disc golfing friends or family: They know that a disc golf present could delight someone they care for, but they have absolutely no idea where to start. Here, we fix that.

UDisc is the top disc golf app, and our staff is made up of people passionate about the sport. So we know a thing or two about what disc golfers are likely to love. Below we use that knowledge to give you disc golf gift ideas and also explain – with the non-disc golfer in mind – how to know if they'd be a good choice for the disc golfer in your life.
One more note before we start. Three of the sections below, Portable Disc Golf Basket, A Smart Watch That Can Run UDisc, and Disc Golf Network Subscription contain affiliate links. This means if you click on a link to a product in one of those sections and end up buying something, UDisc will earn a little money for helping you discover it. This would happen at no cost to you. You would pay the same price you would otherwise but at the same time support the UDisc team's efforts to continue to improve the app, publish (hopefully!) helpful articles like this one, and bring new innovations to the sport of disc golf.

DISC GOLF GIFTS UNDER $50
For those seeking a relatively inexpensive disc golf present, here are some of the best options.
1. FlighTowel: Most Options Under $20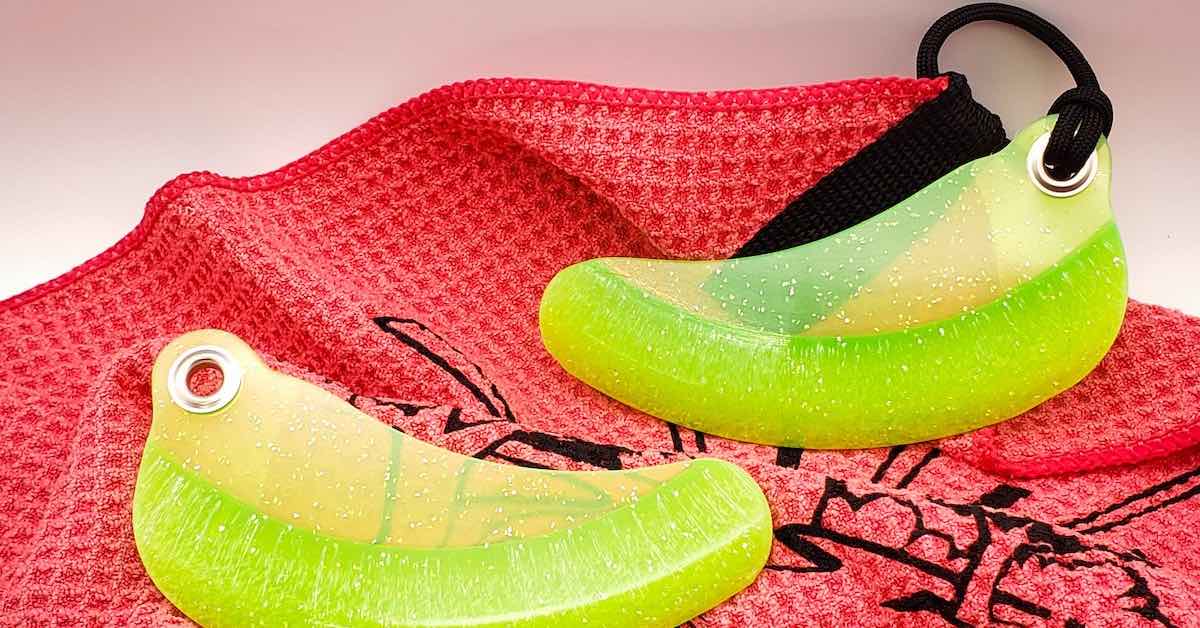 What is a FlighTowel? 

A towel attached to a small piece of a disc.

What's it good for?

The purpose of the towel is, unsurprisingly, to dry or clean discs. It's the addition of a disc piece at the end of the towel that makes this product unique.
Many disc golfers use towels to practice their throwing motion because the towel creates resistance as they spin that feels similar to a disc in the hand. But you can't grip a towel the same way you grip a disc. The FlighTowel solves that issue by putting just enough of a disc's edge at the end of the towel so that players can practice their throwing motion and grip at the same time.
How do I know they'd like it?
If you know the type of disc golfer who practices their throwing motion whenever and wherever they can (while waiting for something to microwave or watching TV, for instance), this could be a great gift. It'd be a simple and inexpensive thing to make their informal practice time more valuable.

Also, if the the person plays a lot of disc golf tournaments, the FlighTowel can come in very handy. Players can't practice real throws during tournaments no matter how long they're waiting for groups to finish a hole. With the FlighTowel, they can keep sharp even if they're held up quite a while.

Where can I find FlighTowels?
You can order FlighTowels directly from the manufacturer at flightowel.com. Make sure you pay attention to whether you're buying a FlighTowel made for a righthanded or lefthanded person.
2. Reusable Hand Warmer: $18-$50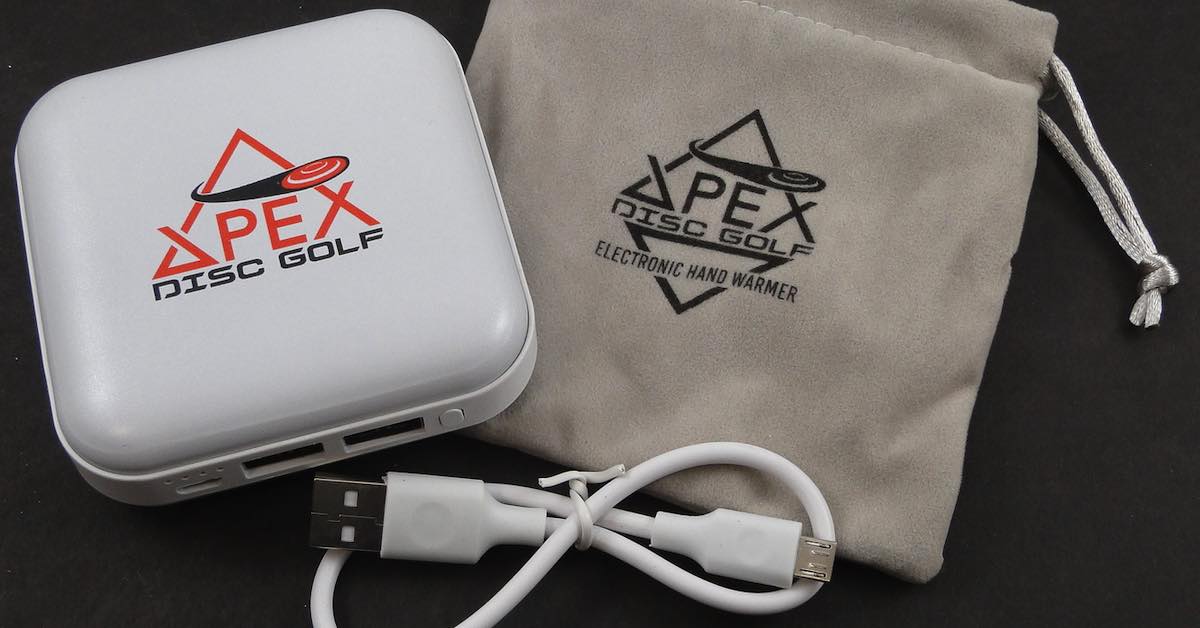 What is a reusable handwarmer?
A small portable device that radiates heat. In the long run, a reusable hand warmer will be cheaper and create less trash than single-use alternatives.
What's it good for?
When most people go out on a cold day, they can keep their hands toasty by wearing gloves. But winter gloves and tossing discs don't mix well, so most disc golfers regularly expose their throwing hand to the cold. As the hand gets colder and colder, players have a harder and harder time feeling discs and throwing accurately.

Hand warmers help players' hands recover from the cold quickly, keeping those digits comfortable and nimble.
How do I know they'd like it?
Almost anyone who regularly plays in temperatures around or below 40°F/4.5°C would probably enjoy having a hand warmer. If your disc golfer already uses single-use hand warmers, it's a good bet that a reusable option would be a hit. Many also act as power banks, meaning they can charge a phone as well as heat a hand.
Where can I find a reusable handwarmer?
Perhaps the most consistently well-reviewed reusable hand warmer we came across is also the lowest-tech. The Zippo 12-Hour Refillable Hand Warmer ($22.95) burns fuel similar to what you'd find in lighters. The upsides are that it warms fast, there are no batteries for the cold to kill, and it's the longest-lasting reusable handwarmer at its price point by a long shot. The downsides are that you have to keep a supply of fuel at home to refill it (though the fuel is inexpensive), need a lighter to get it going, and there's no "off" button once it's lit.

Here are some higher-tech options with different lifespans:
Note that we didn't include one well-reviewed, affordable, longlasting hand warmer above because it was out of stock in most places at the time of publication. That's the OCOOPA 10000 mAh Rechargeable Electric Portable Pocket Warmer Power Bank (15-hour max at $34.99).

You can also find many good rechargeable hand warmers over $50.

Keep in mind that cold temperatures take tolls on batteries, so these warmers might not reach their full potentials in truly frigid weather. We encourage you to research the hand warmers mentioned above (and others) thoroughly to make sure they'll suit the needs of your disc golfer.
3. GRIP6 Belt: $37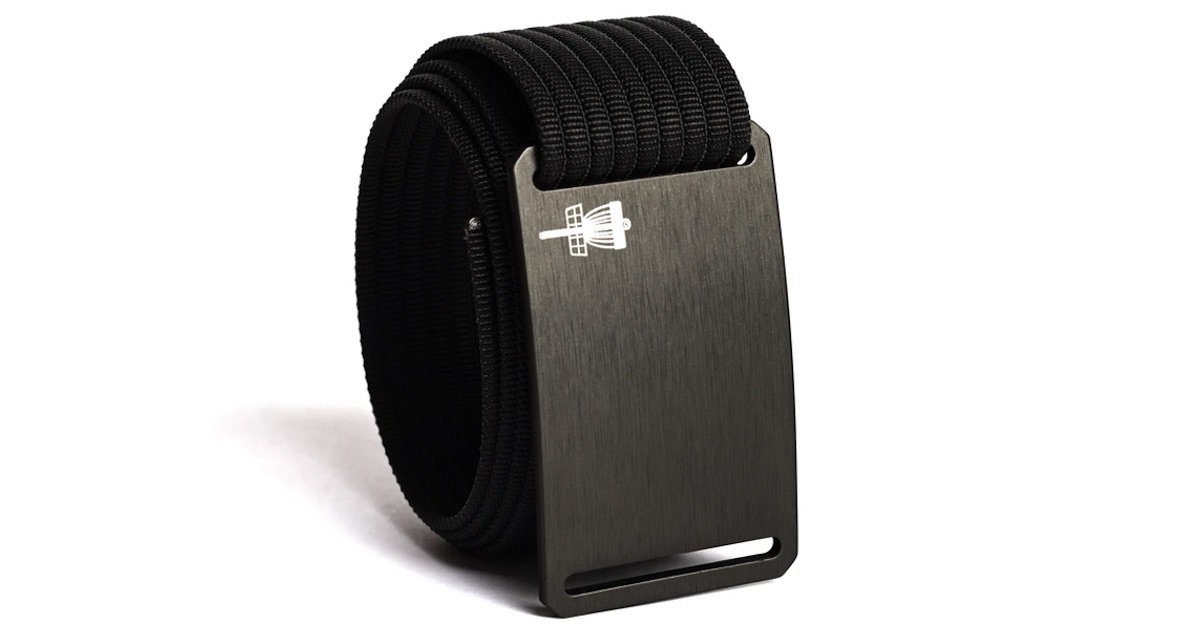 What is a GRIP6 belt?

A very durable, lightweight belt with some buckles specifically having disc golf-themed prints on them.
What's it good for?
GRIP6's lightweight, braided nylon belts with aluminum buckles are a great addition to the wardrobes of disc golfers who wear belts when they play. A good disc golf throw requires very quick rotation, and wearing a GRIP6 can help players feel a little bit lighter when they move. These belts also do an excellent job of doing what a belt should – keeping people's pants around their waists.

Additionally, you can get buckles with things printed on them like a disc golf basket or a person throwing a disc so that the GRIP6 belt can truly feel like something special for disc golf.
How do I know they'd like it?
If the person you're buying for wears belts when doing outdoor activities like disc golf or hiking as a matter of routine, a GRIP6 belt would likely make them happy. 
Where can I find a GRIP6 belt?

You can purchase GRIP6 belts from GRIP6.com.
4. Disc Golf Grip Enhancer: $11-$16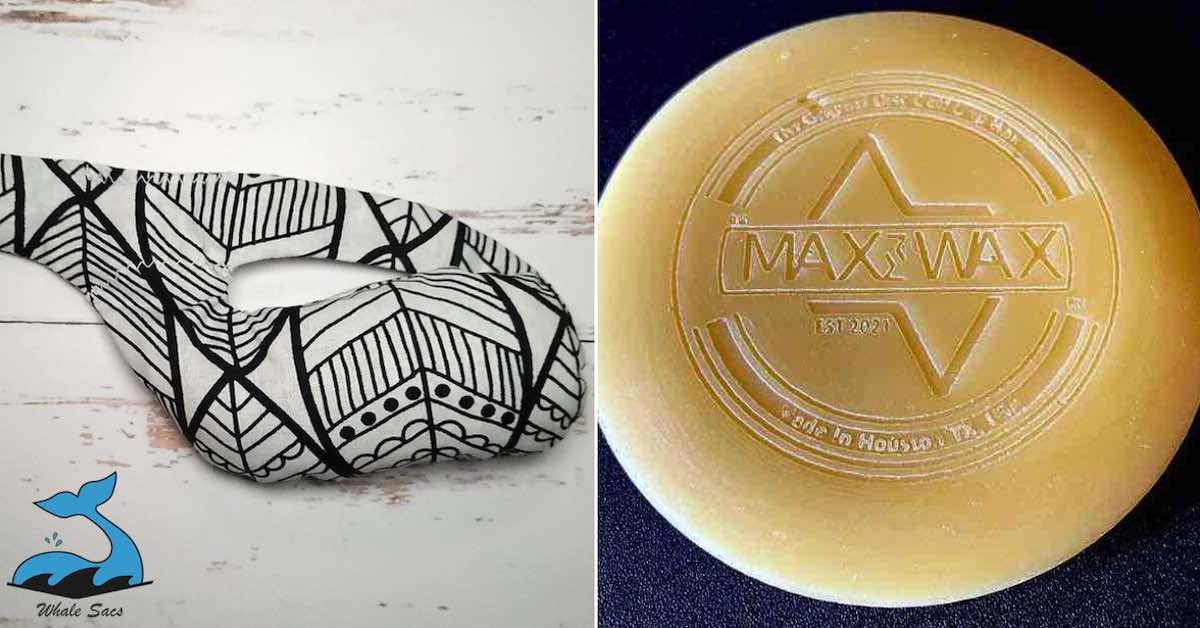 What are disc golf grip enhancers?
Products that help disc golfers hold onto their discs when throwing even in wet conditions or when they're sweaty.

What are they good for?
When disc golfers play in the early morning, get caught in a surprise shower, or are sweating in the heat, hands and plastic get wet, and that means discs can start slipping out before players want them to. Sometimes towels get soaked through or even make hands too dry (yeah, it's a thing). When that happens, grip aids can be a disc golfer's best friend.

The two enhancers featured here work in different ways.

Whale Sacs are bags filled with a clay-based powder that takes moisture away from players' hands and discs. The small bags are made to be tied on to disc golf bags or carts.
DG Max Wax creates a water-repellant coating similar to the wax surfers use on their boards. Importantly, the maker of Max Wax lives in Texas, has used his product on some very hot days, and says he hasn't had a problem with the wax melting. The beeswax-based formula for his wax should be able to withstand 130°F/54°C temperatures for over an hour (though even the most hardcore disc golfers would likely stay home that day).
How do I know they'd like it?
There are very few environments where a grip aid would be a bad gift for a disc golfer. Either sweat, dew, rain, or even melting snow will affect almost everyone who plays the game at some point.

In case the player you buy for asks: Yes, both grip aids we recommend can legally be used in tournaments.
Where can I find disc golf grip enhancers?
Founded and owned by disc golfer Tina Oakley, Whale Sacs has its own online store. Most Sacs cost $11, and 3% of all sales go to Save the Whales.
The maker of DG Max Wax also sells his product directly from his website. To learn more about this grip enhancer and the story behind it, take a look at our post "DG Max Wax Wants To Help Disc Golfers Get A Grip."
5. Disc Retrieval Device: $25 and up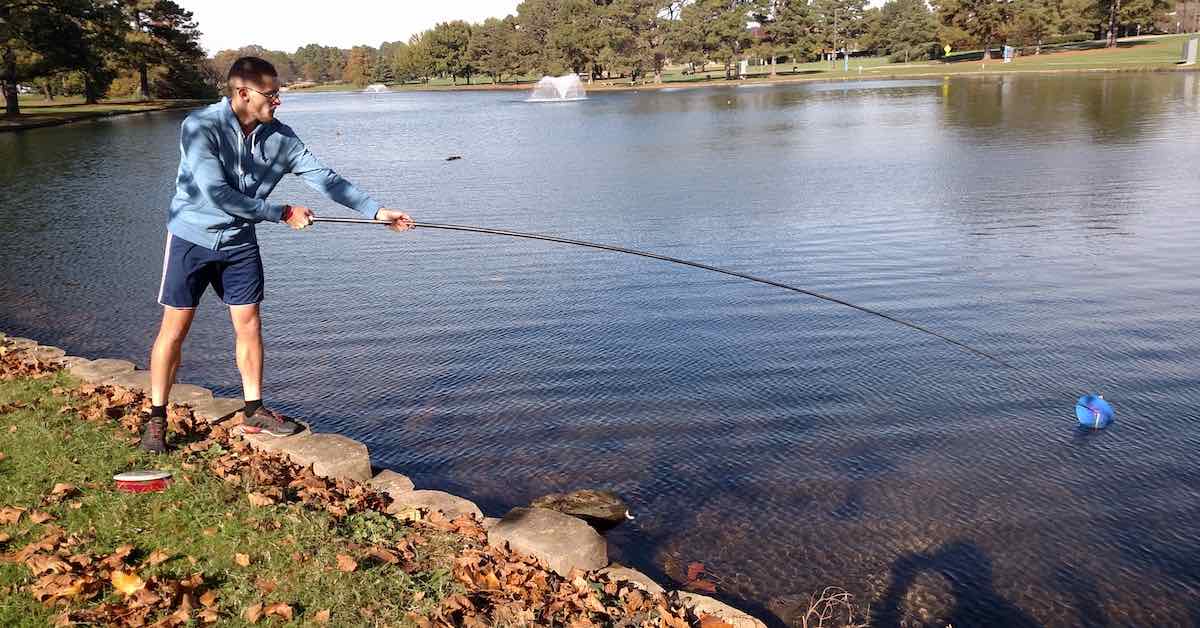 What is a disc retrieval device?

A piece of equipment designed to help disc golfers get discs when they end up in the water or high up in trees.

What's it good for?
Some disc retrievers are telescopic sticks with specialized heads good for getting discs out of trees and water. Others are made specifically for water and feature a device attached to a rope that can be cast out into a body of water and dragged back in, picking up the disc on its way (these have a longer range than the sticks).
How do I know they'd like it?
Has the disc golfer in your life ever complained about having to get wet in order to get their disc or spending a half hour throwing sticks at a tree to get a stuck disc to fall? Then a disc retrieval device could be the perfect thing for them.

Where can I find a disc retrieval device?
If both trees and water could be a problem, we recommend going with a retriever built like an extendable stick. Disc golf equipment manufacturer Prodigy makes a 10-foot/3-meter telescopic stick that retails for $37.50. The industry standard for a long time has been Kwik-Stik, but its prices have risen over the $50 limit we have for this section. If you're interested, they do sell a 22-foot/7-meter stick that retails for $64.99 (when it's in stock).

When water is more likely to be an issue (or your disc golfer plays courses with wide ponds or lakes where discs might end up farther out in the water), a castable retriever like the Golden Retriever ($24.99) is the better choice.
6. Entry-Level Disc Golf Bag: From $10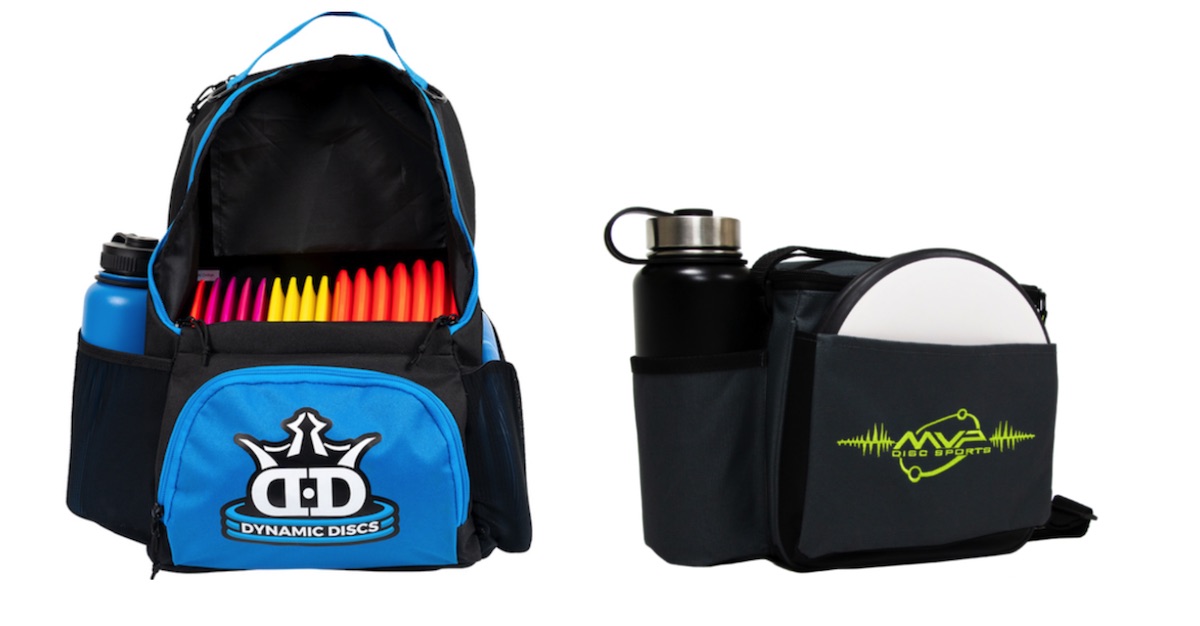 What is a disc golf bag?

A bag specifically made for carrying disc golf discs during rounds.
What's it good for?
People who only recently started playing disc golf often just carry discs in their hands or repurpose old handbags or backpacks. A bag made specifically for disc golf discs makes discs easily accessible during rounds.
How do I know they'd like it?
If the disc golfer you know doesn't have a bag specifically made for disc golf discs yet, it's likely they'd be happy to have a more convenient way to carry them during their rounds.

We're specifically recommending only entry-level bags here because as players get more involved in the game, their tastes and desires related to equipment tend to get more specific. Players who already have a bag but are looking for an upgrade to a more premium one would probably be happiest if they researched the options personally and decided what best suits their needs on the course.
Where can I find an entry-level disc golf bag?

There are two options for entry-level bags: single-strap and backpack. You can see options for bags of both types made by major disc golf equipment manufacturers at online retailer Infinite Discs (just click the links in the previous sentence). Backpacks will be more expensive, but they carry more discs and typically distribute weight more evenly than single-strap bags.
7. Disc Golf Network Subscription: $9.99 to $49.95 (1 Month to 5 Months)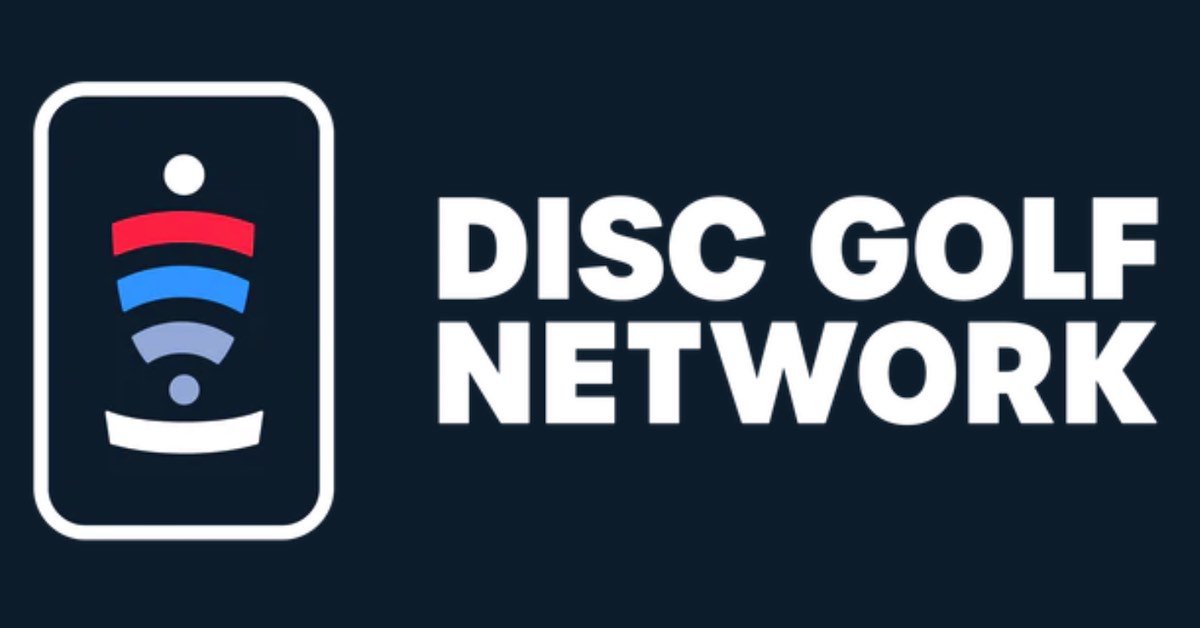 What is the Disc Golf Network?

The Disc Golf Network (DGN) is a web-based streaming platform that is the only place to view live coverage of the initial rounds of the world's most-watched professional disc golf tournaments.
What's it good for?
DGN is most well-known for live coverage of the biggest disc golf events. However, it also has profiles of pro disc golfers, pre-tournament press conferences, and plenty more for fans of the pro side of disc golf.

Final rounds of elite disc golf events have generally been streamed for free in recent years, but in order to see earlier rounds live, you need a DGN subscription.
How do I know they'd like it?
Due to certain factors we explain later, this might not be the best gift to surprise someone with if you're not very familiar with disc golf. That said, If the player you have in mind spends a lot of time watching professional disc golf on YouTube and doesn't already have a DGN subscription, they'd likely enjoy getting one.
Where can I buy a Disc Golf Network subscription?

You can buy a subscription on the DGN website, but there are some important things to know before you do:
You can purchase subscriptions for a certain number of months. A one-month subscription is $9.99, two months is $19.98, and the price keeps going up at a reduced rate for each additional month (see the the DGN link above). A full year costs $74.99.
All those prices can be reduced by 50% if the person you buy the subscription for is a member of the Professional Disc Golf Association (PDGA). You'd need the player to do a few things on the DGN site to get the discount if they are a PDGA member.
The pro disc golf season won't really start heating up until late February 2022 (here's the schedule), so if you're considering a relatively short-term subscription, you may want to let your disc golfer know you want to purchase a subscription for them but hold off until then to activate it.
8. Gift Card from a Disc Golf Retailer: From $5
What is a disc golf gift card?
A gift card from a retailer specializing in disc golf equipment.

What's it good for?
There are some who believe that gift cards are a cop-out gift for when people don't feel like putting in the effort to find something someone will really love. But no matter how close your relationship with a disc golfer is, there are certain things you'll likely just not know unless you play the sport yourself. Chief among these is exactly what sorts of discs to buy them. The brand, model, weight, and even production year of discs can matter a whole lot to some players. 

So if you're looking for a way to make sure a disc golfer can get exactly what he or she wants while still showing them you know and care enough about them to support their hobby, a gift card to a disc golf retailer is a perfect option.

How do I know they'd like it?

Unless the person you're buying for is the kind who hates gift cards as gifts, most any disc golfer will be happy about the chance to pick up some new gear.

Where can I find a disc golf gift card?
The simplest way to make sure a disc golfer can find what they want is to get them a gift card to an online disc golf equipment retailer. Two trustworthy ones with wide selections are Infinite Discs and DiscStore.com. If you know the person you're buying for is very into their discs, OTB Discs might be the best option. Their website has photos of the exact discs you can buy as well as ratings for things like flatness and stiffness that will excite true disc connoisseurs. 

If you'd like to support local businesses with your money, you can look for a disc golf shop near you on UDisc Stores. We'd recommend trying to find an independent, disc golf-focused store rather than a chain sports equipment retailer as chain stores tend to have very limited selections of disc golf equipment.

Budget allowing, we suggest not going below $20 for a disc golf gift card. That limit should give even the pickiest disc golfers enough to buy at least one disc they like.
BIGGER DISC GOLF GIFTS
Maybe you're looking to get the disc golfer in your life a major gift. The suggestions below will require a little bit more research on your part to find the perfect fit, but we've added additional information in this section to help you have a better idea of what to look out for. 

There are multiple options for every product in this section, so you'll find discussion of prices in either the Where can I find it? or What else should I know? section here rather than in the headers.
9. Portable Disc Golf Basket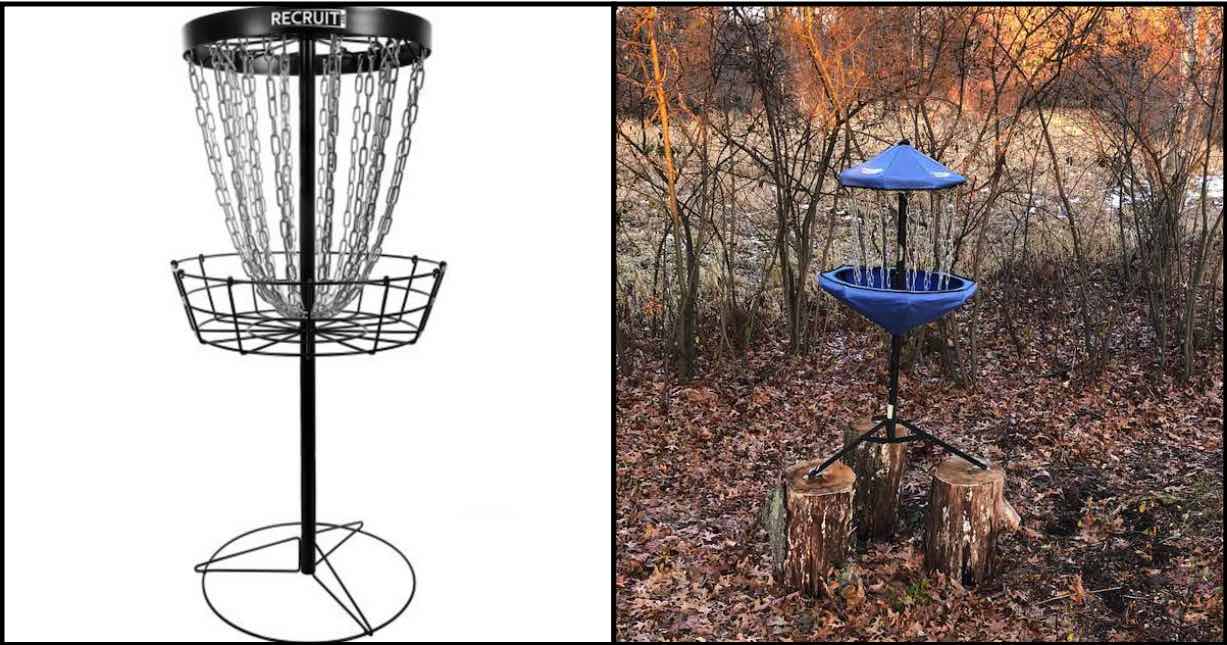 What is a portable disc golf basket?
A disc golf basket is disc golf's answer to traditional golf's hole in the ground. Players need to get their discs in a basket before they complete a "hole." There are various sorts of portable baskets, but the key here is to look for ones constructed so that they can stay up without needing to be cemented into the ground.

What's it good for?

Disc golfers use a portable basket to practice short range shots and putting in their yards or take it with them to nearby fields to create their own long-range "holes." Getting a portable basket makes it so players can easily move the basket to different locations so they can practice various types of shots.
How do I know they'd like it?
If the disc golfer you know is pretty serious about improving and has a yard (or even indoor space) that has about 30 feet/10 meters of open area, a portable basket is a great practice tool to have.

Where can I find a portable disc golf basket?

You can find baskets from a wide range of equipment manufacturers on sites like Amazon. If you do your price comparison there, here are the brands we recommend you look at most closely (in alphabetical order): Axiom, DGA, Discraft, Dynamic Discs, Innova, and MVP.

What else should I know?
Many of these brands offer a basket with the term "lite" in the name. These tend to be the most affordable baskets in their line-ups and will fulfill the desires of most disc golfers. If you know a player is serious enough to prefer a more heavy-duty basket, it'd be better to let them pick one for themselves as they may want to purchase a very particular basket that matches the ones they see most often at local tournaments.

You will also see that there are options of both collapsible canvas baskets and metal baskets. Metal baskets are much more like what players experience on real courses, so we'd recommend going with those unless you know the person needs to conserve space or would enjoy having something that could more easily be taken along on camping trips or similar excursions.

A final bit of advice is that if you see baskets from manufacturers not mentioned above that you become interested in, we highly suggest checking if the brand has a website and if they seem to be a company very devoted to disc golf. Some non-disc golf companies have produced very cheap disc golf baskets that catch discs poorly and aren't very durable.
10. Disc Golf Disc Rack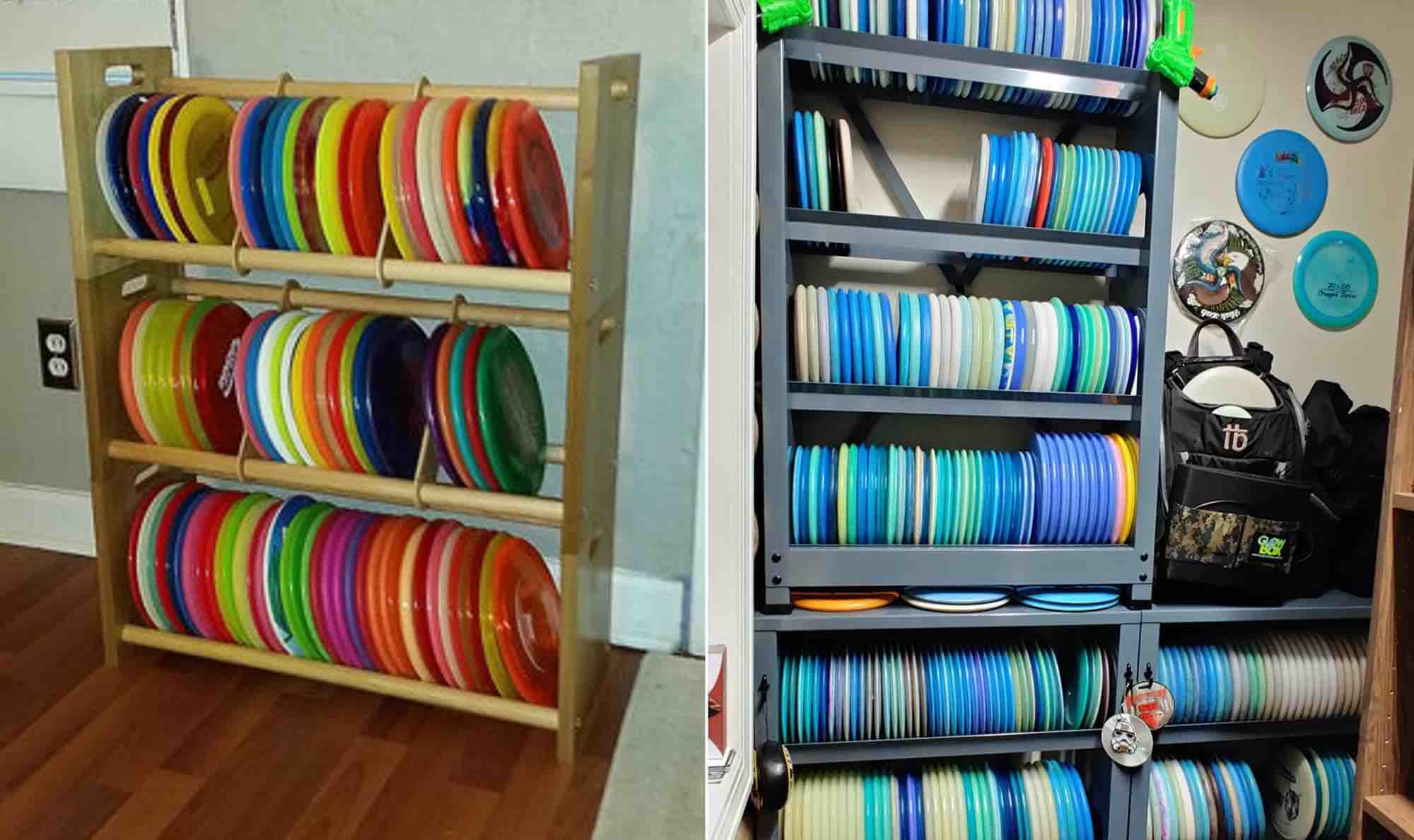 What is a disc golf rack?
Racks designed specifically for storing dsc golf discs and other equipment.
What's it good for?
Okay, we admit this one might be just as much for the person buying the present as it is for the recipient. Disc storage will help the player organize their discs neatly rather than putting them in cardboard boxes, plastic bins, or just open stacks wherever there's space.
How do I know they'd like it?
As players' disc collections grow, it's nice to have a place where they can keep discs they currently aren't throwing. Should you know a player who's starting to need a place to keep their extra discs, a disc golf disc rack would make a nice gift.
Where can I find a disc golf rack?
One reputable disc golf rack maker is Hyzer Disc Racks.
Hyzer Disc Racks has two options:
Stackable wooden disc racks starting at $94.99 that can hold 50-60 discs
Larger metal shelves starting at $279.99 with capacity for about 150 discs.
Another good source for disc golf racks is Etsy seller The Disc Rack, which also makes stackable wooden disc racks that hold slightly fewer discs but start at a lower price point than Hyzer Disc Racks. However, at the time of publication, The Disc Rack was sold out of product.
What else should I know?
We've covered both of these products even more thoroughly in a previous article on disc golf disc storage. Read "Rack 'em Up: Great Disc Golf Disc Storage Options" to learn more.
11. Disc Golf Cart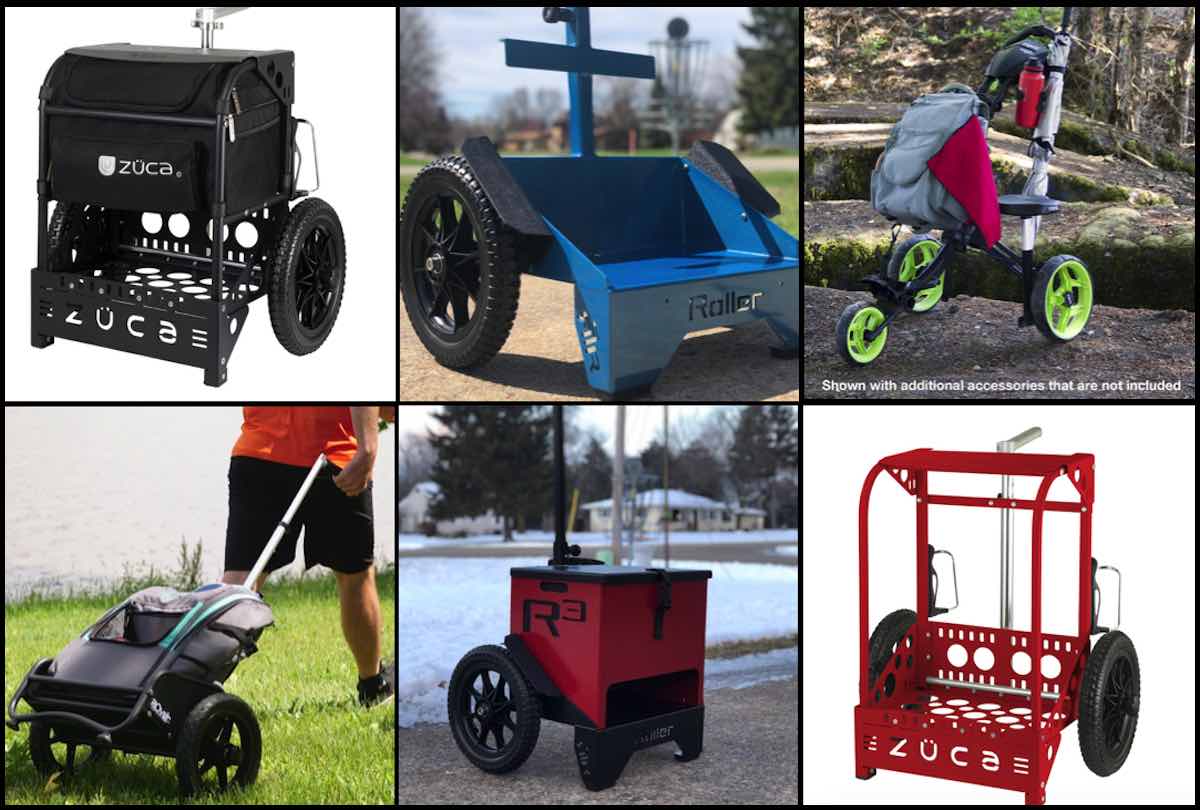 What is a disc golf cart?
A disc golf cart is something that is pulled or pushed that either comes with a container specifically designed to hold discs or is made to hold a disc golf backpack a player already owns.
What's it good for?
Even for young disc golfers, carrying a lot of discs in a backpack can wear on the shoulders and back. A cart offers a way for players to get their discs around the course with them without so much wear and tear on the muscles. Some are even made so that disc golfers can sit on them, giving them a place to rest as they wait for others they're playing with to throw.
How do I know they'd like it?
Does the disc golfer you know complain about shoulder or back pain after rounds? A cart could be one way to help.

Know, though, that if you live in an area where the local parks and disc golf courses are very hilly or mountainous, a cart might not be a very good option. Dragging a cart up steep, narrow paths and keeping them from rolling down them can be more arduous than just carrying a disc golf backpack.
Where can I find disc golf carts?
As we said before, there are some carts that have built-in disc storage and some made for disc golfers who already have backpacks and would like the option to put them in a cart on the right courses.

Currently the most affordable disc golf carts with built-in storage come from ZÜCA. Their compact cart costs $239, holds 15 discs, has two side pockets for storage, comes with water bottle holders, and can be used as a seat. They also have other options with built-in storage that cost more but come with their own perks. Learn more on ZÜCA's website.
For those disc golfers who already have backpacks, there are more options.
If you think just a disc golf cart and no seat will suit the disc golfer you know just fine, there's the ZÜCA EZ Cart that costs $189. 

Not sure if the person will want a seat? The Clicgear Rovic RV1D could be your answer. It's a pushable cart that costs $249.99, but an attachable seat can be purchased at a later time.
For those certain about a seat, you could go ahead and get the Rovic with one (if they're in stock) or look at ZÜCA's backpack cart.
What else should I know?
Products we didn't mention above come from the premium cart brand Ridge Roller. They offer two carts, one that has a disc container and can be used as a seat that costs $625 and one that holds a bag (no seat) starting at $275 (you can actually buy the disc container/seat separately at a later date and attach it if you wish). There are reasons for those price tags being higher, but it's likely that you'd want to talk through those with the person you're buying the gift for before making that big of an investment.

To learn more about Ridge Roller or any of the cart brands we've mentioned, give our article "Wheeling It: Finding The Best Disc Golf Cart For You" a read.
DISC GOLF TECH
Know someone who loves gadgets and disc golf? Here are three awesome gifts they might enjoy.
12. Edge Disc Golf Laser Rangefinder: $149.99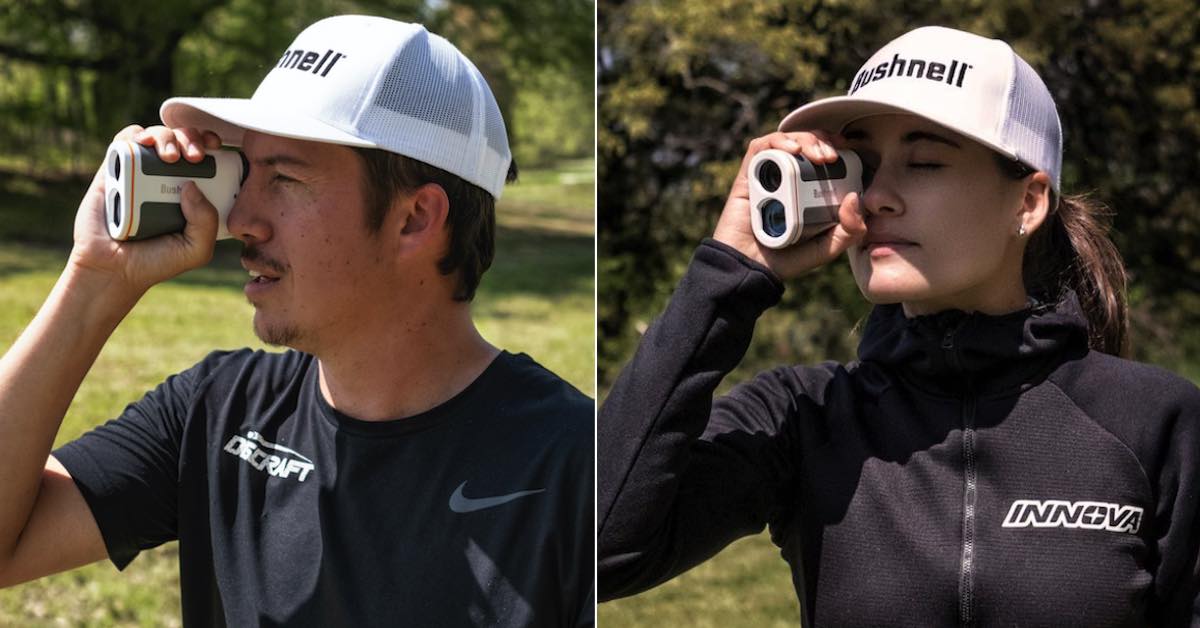 What is a disc golf rangefinder?
A rangefinder designed specifically with disc golfers in mind.

What's it good for?
Often when disc golfers throw their first shot on a long hole, they have no way of knowing for sure how far they are from the basket. With this rangefinder, they can easily find out and better know what disc they should throw and how hard to throw it. What's special about this rangefinder is that it measures in feet, which is how disc golf holes in the U.S. are commonly measured.
How do I know they'd like it?
Almost any serious disc golfer not afraid of some relatively simple tech would enjoy this as a gift. It makes many decisions on the course a lot easier.
Where can I find a disc golf rangefinder?
You can find these rangefinders on Bushnell's website. 
13. The Disc Jockey Bluetooth Speaker: $79.99

What is a Disc Jockey?
A bluetooth speaker that can connect with the UDisc disc golf app and tell players how far from a basket they are at the press of a button.
What's it good for?
Many disc golf courses are mapped in the UDisc app. When players score their round with UDisc on a mapped course, the app can display how far they are from a hole's basket. The Disc Jockey syncs up with UDisc and instead of a player needing to look at their phone to see their distance to the pin, they can press a button on the speaker to hear it out loud.

The Disc Jockey also functions as a normal Bluetooth speaker (for music, podcasts, etc.) with great sound quality and volume for the size.
How do I know they'd like it?
If your disc golfer likes listening to music on the course or could use a portable speaker generally, the Disc Jockey could be a gift that kills two birds with one stone. This could also be a good compromise if the rangefinder we highlighted before is a little out of your price range.
Where can I find a Disc Jockey?
You can also buy the Disc Jockey straight from Bushnell.
14. A Smart Watch That Can Run UDisc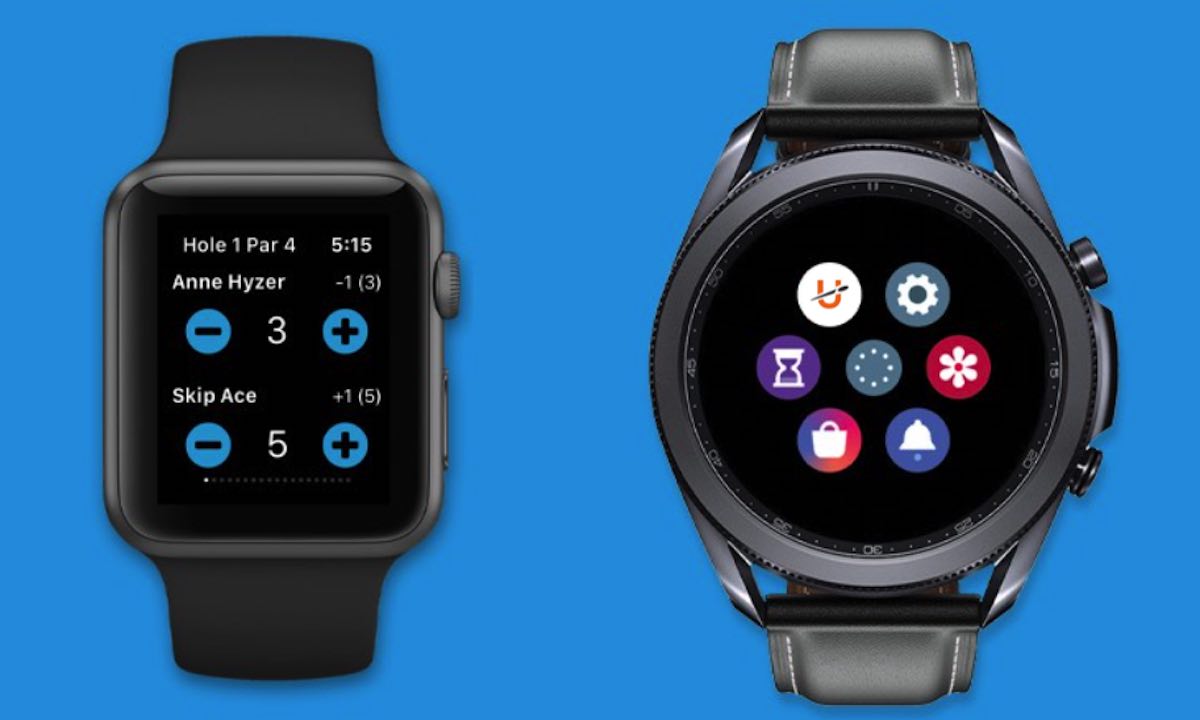 What is it?
Any smart watch with the ability to run disc golf's #1 app.
What's it good for?
One thing UDisc does is allow players to keep digital scorecards during their rounds. Typically, players do this on their smart phones as they play. Players with a smart watch that can run UDisc are able to keep score by just quickly tapping the screen on their wrist rather than needing to pick up their phone after every hole.
How do I know they'd like it?
We know you're likely not buying a smart watch for someone just so they can keep their disc golf scores more easily. Still, truly a lot of disc golfers use UDisc to keep track of their rounds (we did research last year that suggested 1-in-5 of all disc golf rounds are tracked with the app). For those buying a smart watch for a disc golfer as a gift, it's a good idea to make sure it can also run UDisc.
Where can I find smart watches that work with UDisc?
Currently, UDisc works on Wear OS and Apple wearables. Here are some popular models:

Note that UDisc also works on previous generations of Samsung smart watches that still run on Tizen.
A GRAND GESTURE
Maybe you're looking for something really, really big to give as a gift to a very special, very lucky disc golfer. Here's our idea.
15. The Disc Golf Getaway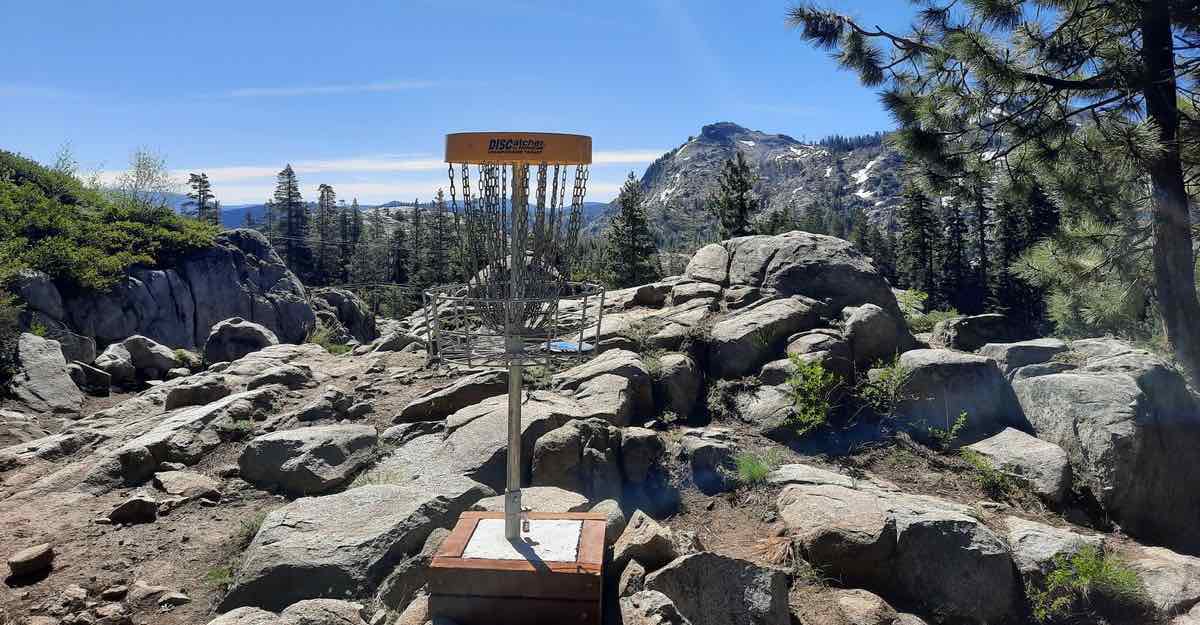 What is a disc golf getaway?
There are places across the nation that offer amazing disc golf. You could give someone a trip to one of them as a gift. Luckily, many of these places also offer up plenty of things non-disc golfers might be interested in, too, so you or other friends and/or family members could come along and have a great time as well.
What's it good for?
Most disc golfers love the chance to play new courses and meet other players, and a trip to a place with a lot of excellent courses could help them do just that.
How do I know they'd like it?
If they like to travel and like disc golf, those are really all the things you'd need to know to be sure they'd enjoy a trip to a disc golf hotspot.
Where could we go?
We've published two series on great disc golf destinations in the U.S. that focus on cities and small towns. Both of these feature locations that not only have a lot of courses, but a lot of excellent courses. To see if any of these destinations are close or interesting enough to consider, check out the Top Disc Golf Cities – U.S.A. and Top Disc Golf Small Towns – U.S.A. series.

Do you live outside the U.S.? You could give one of the Top 5 Disc Golf Cities – International a try.

Those links will help you find articles that talk about the top 10 cities and top five small towns at length. They should help you make a very informed choice about a destination.
EVEN MORE DISC GOLF GIFT OPTIONS
This list of disc golf gift ideas is far from exhaustive, and there are plenty more things the disc golfer in your life could love. We have other articles that might help you get another inspiration.