Hillcrest Farm was one of the world's top 10 disc golf courses in 2022. Check the master post for all things World's Best Disc Golf Courses 2023 on Monday, February 13, 2023, to see where it ranks this year.

The rest of this post has not been updated since the publication date.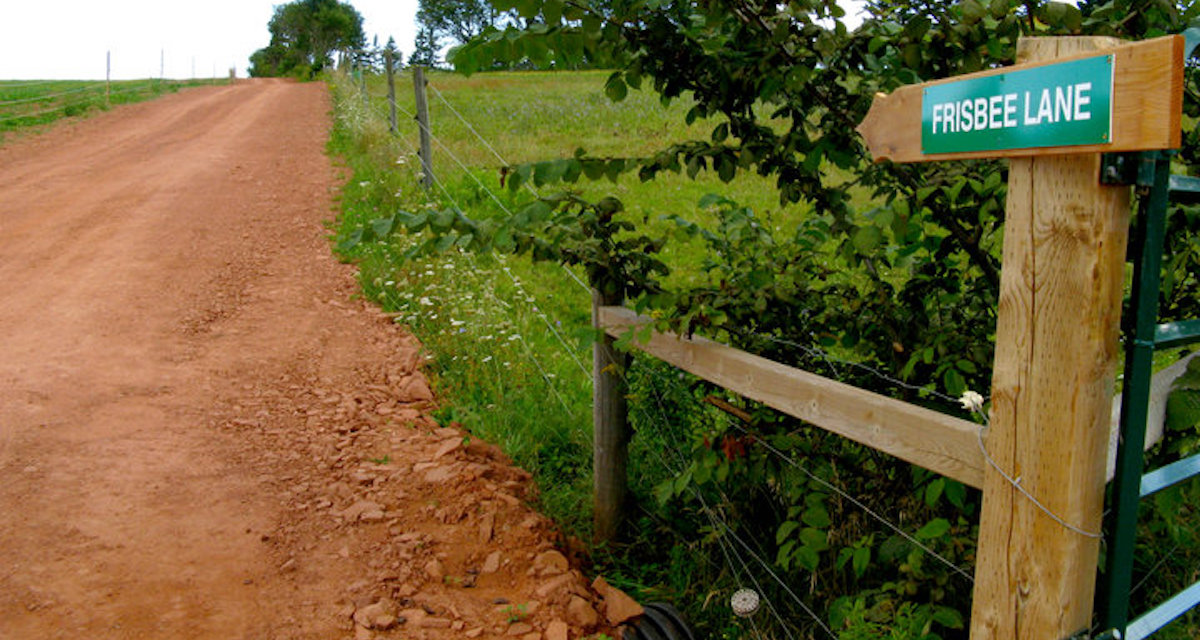 Hillcrest Farm Disc Golf Course Basics

Name:
Hillcrest Farm Disc Golf


Location:
Bonshaw, Prince Edward Island, Canada
Number of Holes:
18
Rank in World's Best Disc Golf Courses 2022:
#3


Rank in World's Best Disc Golf Courses 2021:
#2
Year Opened:
2011
Designer:
John Houck
Cost: 
$10 per day Canadian (about $8 USD)
Current Course Conditions, Photos, & More
:
Hillcrest Farm on UDisc Courses
All of the World's Best Disc Golf Courses
Find the top 100 disc golf courses in the world as well as information on how the rankings worked in "World's Best Disc Golf Courses 2022: #1-#100."
History of Hillcrest Farm Disc Golf Course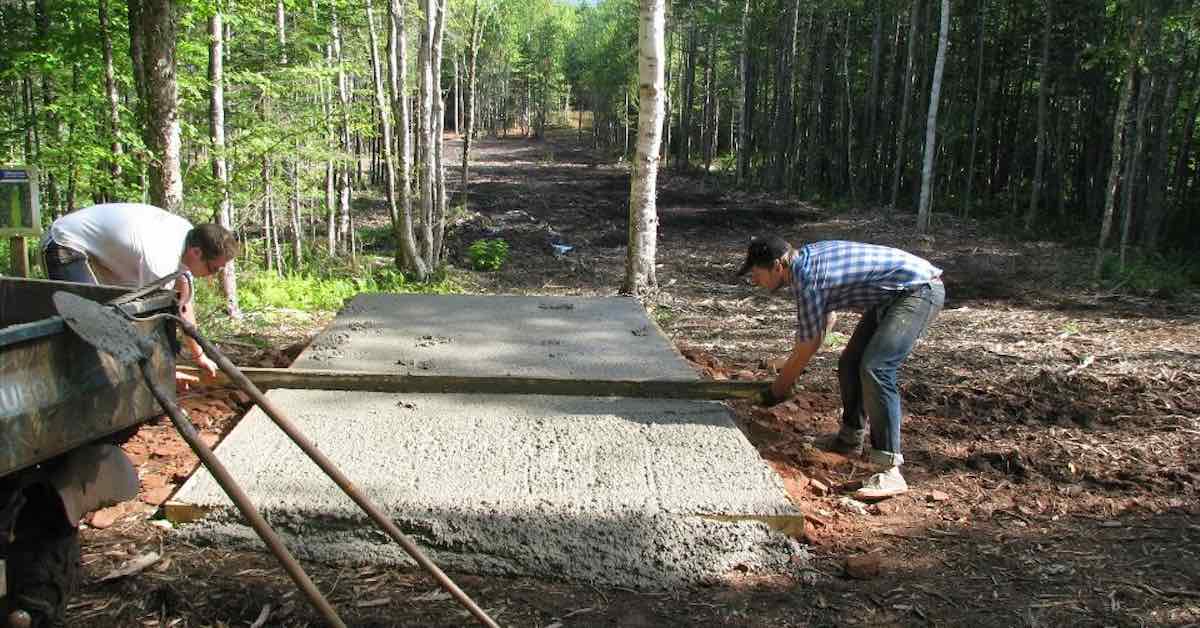 The story of Hillcrest Farm is an idiosyncratic one. In some ways, it resembles that of Ray Jordan and Blue Ribbon Pines (another of the World's Best Disc Golf Courses) where a person with abundant land and very little knowledge of disc golf decided that building a course would be a worthwhile project. But, at the risk of getting a little abstract, if you made disc golf into a person, it's clear that Jordan's passion for the sport has grown so much that he would now give that person a bear hug. On the other hand, Bill Best, owner of Hillcrest Farm, gives off the vibe that Disc Golf Personified would more likely get just a friendly handshake from him.

However, it's not the fact that someone with a mild interest in disc golf owns a disc golf course that makes Hillcrest's story truly unlikely; it's the fact that a person with a mild interest in disc golf has been so willing to put a huge amount of resources and time into creating a course that's in the upper echelons of quality at very little personal benefit to himself. And that unusual mixture has been part of Hillcrest's story from the start.

The first time Best played disc golf, he was visiting his son in British Columbia. His son was a passionate disc golfer, and Best wanted to try it out. 

"The course we went to, I think it was a nice course, but there was hardly any signage around, so you didn't really know where the basket was," Best said. "I think there was a herd of goats to keep the grass down and we got chased by a couple of dogs. And when we sat down at the end of the day, my son asked me what I thought. I said, 'Oh, it's not a bad sport – there was some family time outside with a bit of challenge to it. But, I'm sure we could build something a little better than that at our place in Prince Edward Island.' And that's what it all resulted from."

Best, a veterinarian who owns on a 135-acre/55-hectare farm, had about 50 acres/20 hectares of land on his property that was rarely used. That's where he planned to put the course. At first, he thought he would design it himself, figuring it couldn't be but so hard. 

"I thought, 'Okay, here'd be the first hole in a nice place that kind of drops down. And the second one could maybe go here...,' and by the third one I was smart enough to realize I didn't have a clue what I was doing, that this was going to be a disaster," Best recalled.
That realization made Best turn to his computer. There he searched around for disc golf course designers and sent off a few e-mails to the people he found.
Not long afterward, he got an e-mail back from someone he'd contacted: John Houck. Houck happens to be one of the most prominent disc golf course designers of all time, but that wasn't something Best was really aware of. And originally Best turned down Houck's offer because he thought it was too high, but further negotiations eventually ended in them finding a compromise.

In amazingly quick succession, Best's whim to create a place to play a sport he found "not bad" on some unused land on his farm had turned into him funding the creation of a world-class course by a world-class designer. It's like if someone who thought it'd be kind of neat to have a little street art on the front of their store ended up hiring Banksy to do the job.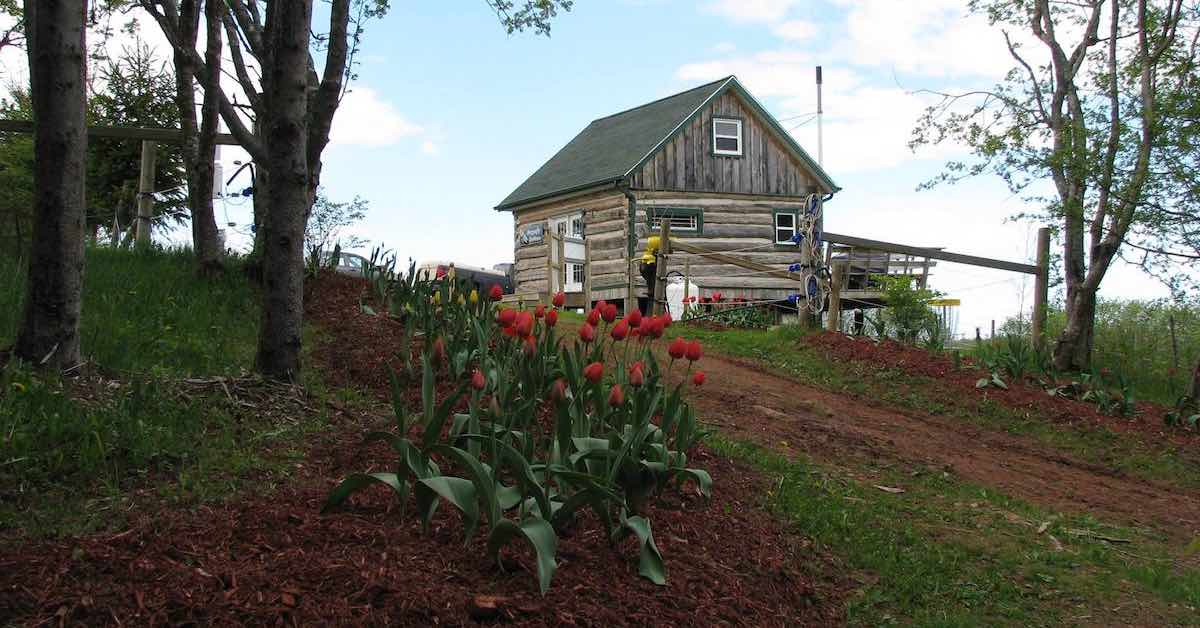 Over four trips to the island, Houck designed the layout and oversaw course creation. The Best family – consisting of parents Bill and Mary and their children – and friends of the family all pitched in to do work like installing concrete tee pads, putting in baskets, and building benches and bridges.

When all was said and done, the figure Best had had in mind when he first budgeted for building a course was left far behind, and he ended up spending about three times that amount. For that money, though, he got a course that would electrify the small disc golf community of the Maritimes, the collective name for the eastern Canadian provinces of Nova Scotia, New Brunswick, and Prince Edward Island. 

"There was no player base on Prince Edward Island at the time he built the course," said Ben Smith, a course designer and active member of the disc golf community in the Maritimes. "The guy goes out and paints a Picasso without knowing if anyone will ever see it. But having this five-star course has catapulted our region of the world into the ability to do things we would never have been able to do."

The biggest of those accomplishments is hosting the Canadian Championships in recent years. Those competitions have drawn some of the best-known pros in the sport, including Paul McBeth, Nate Sexton, Simon Lizotte, Paige Pierce, James Conrad, and Kristin Tattar. The star power of those players has helped footage of the events filmed by Central Coast Disc Golf get very respectable view counts, which in turn has boosted the course's notoriety beyond just eastern Canada and the northeastern United States.

And while Best may not regularly follow or play disc golf, he said he was "ecstatic" that the some of the sport's best players have played and loved his course. He's also been extremely surprised by and satisfied with the traffic and reactions the course has garnered from everyday players. 

"It cost a lot more than I originally budgeted," Best said. "But now I have people from all over North America and elsewhere coming, and they're all happy and say it's a nice course. And it's no question now that John Houck was a good investment...I'm so busy that I get to play maybe one or two games a year, but I'm amazed – amazed on a regular basis – at how many people come play the course."

Putting aside the seemingly scant motivation to build a course in the first place, these comments show how Best's decision to invest in making Hillcrest Farm as good as possible is a completely practical one. The better the course, the more word about it will spread, and the more people will come play it and help recoup the expense of its creation (this logic was, in fact, part of Houck's pitch).

But it's undeniable that as little as Best appears to take notice of developments in the greater disc golf world, he's proud of his course's standing within it. So when he hears about ways to improve Hillcrest, he's quick to enact them, and he often thinks them up himself just from listening to visitors.

"My husband...is the visionary about where the course should go in the future," said Best's wife, Mary. "He's always thinking about ways to improve the course and make the experience not just good for players, but great. Usually this involves more work for us!  But Bill is typically in the forefront of that, too, since he drives the tractors, runs the chainsaws, fixes the benches, [and] plants the trees."

This constant desire to be, so to say, the "best" has clearly impressed the vast majority of people who've visited Hillcrest Farm and has paid off in it becoming the best course in Canada and one of the top three places to play disc golf in the world for three years running.

It has also led to big plans that are currently underway for additions and improvements to the course in 2022, all of which you can read about in the 'Recent & Planned Developments' section later in this piece.
What's It Like to Play at Hillcrest Farm Disc Golf Course?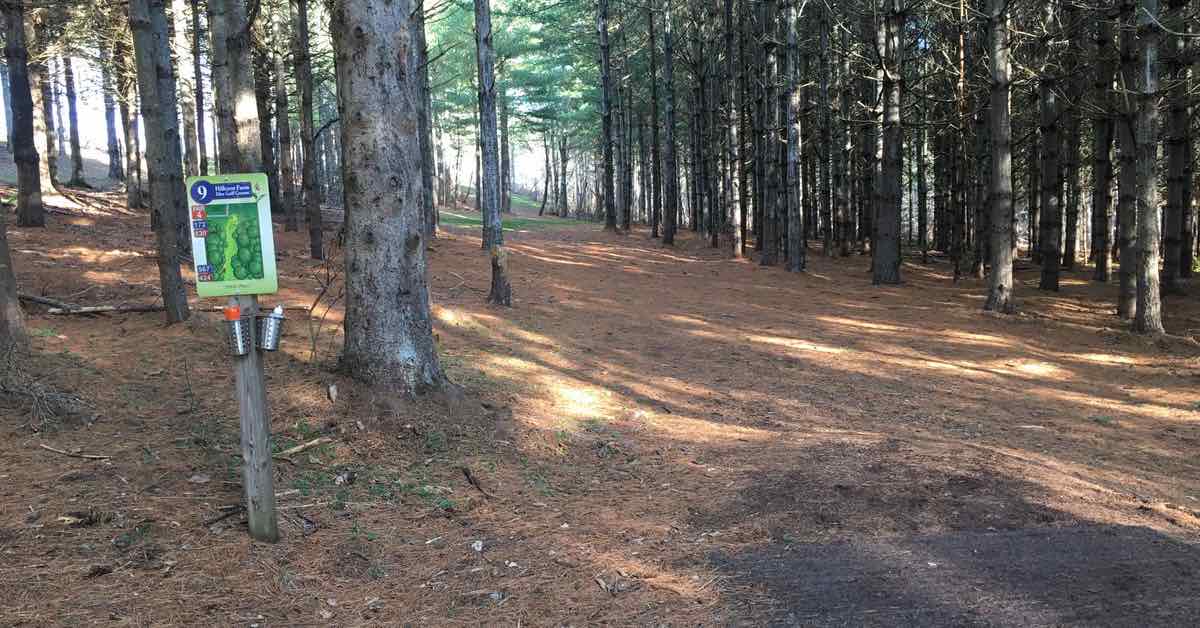 If you think woods disc golf is the best disc golf, Hillcrest Farm is the place for you. The fairways are often tight and landing off of them usually puts you in positions where you'll have to navigate a huge number of skinny trunks to find a good position again. That said, there is always a fair way (yes, two words) to get to the basket offered on every hole. The gaps aren't so small that they are arbitrary or impossible, and there's something magical about how the grassy fairways wind through the course's dense woods.

When you look at the hole distances from the long pads, the numbers seem surprisingly small. There are quite a few par 4s just under or over 550 feet/168 meters, and seven of the par 3s don't break 300 feet/91 meters. However, those distances begin to make more sense when you remember the presence of all those trees. Take, for example, all the tricky angles of long hole 1 as shown in this coverage of the 2019 Canadian Championships from Central Coast Disc Golf:



At 534 feet/163 meters, it theoretically only requires two shots just under 270 feet/82 meters to be in position for birdie, which isn't a huge ask from a championship-level course. But its the twists and turns of the tree-lined fairway, not distance, that truly make the hole challenging, and that's a motif at Hillcrest. You'll also notice the elevation changes throughout the hole. Successfully controlling downhill shots and making it up hills is another prominent aspect of the course.
With all that said, and while Hillcrest's current tees are certainly fun to play for disc golfers at various levels, Best has come to believe that the course is in need of a longer, tougher layout to challenge today's modern high level players. A Gold layout is in the works and will be complete by September 2022. Read more in the 'Recent & Planned Developments' section.
Hillcrest Farm Disc Golf Course's Signature Hole
One hole that's a calling card of both Hillcrest Farm and its designer is the long tee of hole 5. It's a relatively short par 4 at just over 560 feet/171 meters, but its far from short on fun, interesting terrain, and route options. Check it out below, again in footage from Central Coast Disc Golf:
Like many signature holes, there's an elevated tee pad that offers up the chance for players to really see their discs fly. However, the way the ground rises back up means players still need to really throw a disc with some oomph to get enough power to be in a good position. Finally, the way the hole is constructed with multiple fairways is a common technique employed by Houck, who has written that he believes "providing multiple opportunities for a player to approach [a] shot" is an aspect he considers important when designing both signature holes and signature courses.
Recent & Planned Developments at Hillcrest Disc Golf Course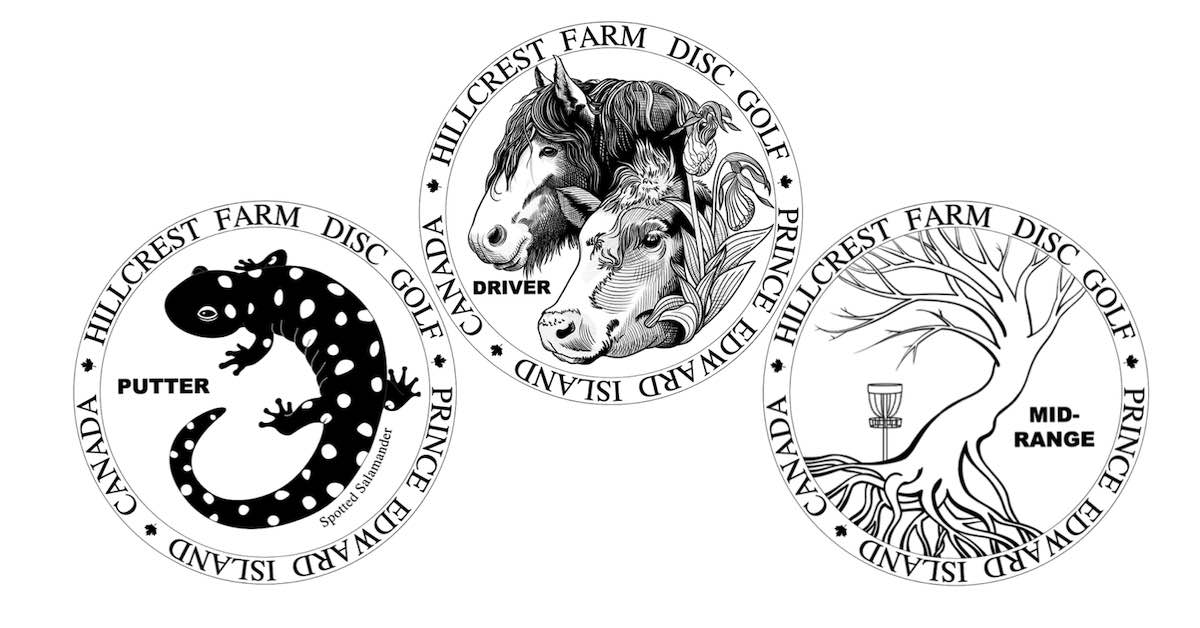 Adding a layout of longer, harder Gold tees to go with Hillcrest's current two sets of pads was planned for 2021. Unfortunately, complications with getting U.S. course designer Houck to Canada during COVID made it so that things didn't move forward as quickly as hoped. Houck wasn't even able to get to Hillcrest before September 2021.

But at long last, Best has firm guidelines from Houck for how to add new tee positions better suited to today's highly skilled players on 13 holes, and he's already put his nose to the grindstone getting them installed.

"Work on those holes started in October and continued until snowfall around Christmas," Best said. "Now we have two to three feet [0.6 to 0.9 meters] of snow covering the ground so not much happening until spring melt."

The new Gold positions need to be complete by early September when Hillcrest will again be used in the Canadian National Disc Golf Championships. Importantly, Best said that the Gold tee additions will not change how the holes play from the course's much-loved original two sets of tees.

The addition of a "micro-course" meant to be accessible to players who aren't very interested in a two-and-a-half hour round of disc golf is also in the cards for Hillcrest Farm. This course will be designed by Houck's wife Dee. Best said he'll work on the micro-course in 2022 as time allows, but getting in the Gold layout before the Canadian Nationals is the highest priority.
Amenities at Hillcrest Farm Disc Golf Course
Hillcrest Farm doesn't have a staff running it, but the Bests keep it in tip-top shape and offer visitors the following extras:
Benches on every hole
Warm-up area with putting baskets and netting set up so that players can go through full throws without needing to retrieve discs
Small cabin that can provide shelter from bad weather and also has bags with discs in them that can be rented by those who don't have discs
Composting toilets
A propane grill free for visitors to use
Free bug spray provided in places where biting insects can occasionally pop up in certain seasons. Note that Best says he never needs to wear bug spray when doing course work in any season and provides the spray just as a courtesy.
Events & Leagues at Hillcrest Farm Disc Golf Course
Events: Hillcrest will be used as one of a few courses for the Canadian National Disc Golf Championships in 2022. The event will take place from September 8-11.
A large event attended by a more local crowd is held on Canada Day, July 1st. Players attending this event can expect a fresh BBQ chicken lunch and some fun competition.

Leagues: On Thursday evenings in the right seasons players gather together for some individual competition with an ace pool.
Three Real Five Star Reviews of Hillcrest Farm Disc Golf Course
Three five star reviews of Hillcrest Farm from disc golfers on UDisc.
Yeah, this is the best. Amenities, design, technicality, everything.

The best Disc Golf Course I've ever played. That's it. That's the review. 
Great upkeep, beautiful course This is what a disc golf course should be!