To get to Neatman Creek Disc Golf Course, you drive down winding North Carolina backcountry roads past churches that seat no more than a hundred people, tobacco fields, and grazing cattle. The course only went up in 2021 and the closest city, Winston-Salem, is 30 minutes' drive away. But neither the course's youth nor its distance from a population center have kept disc golfers from flocking to it – or spreading the word about this pastoral masterpiece when they get back home.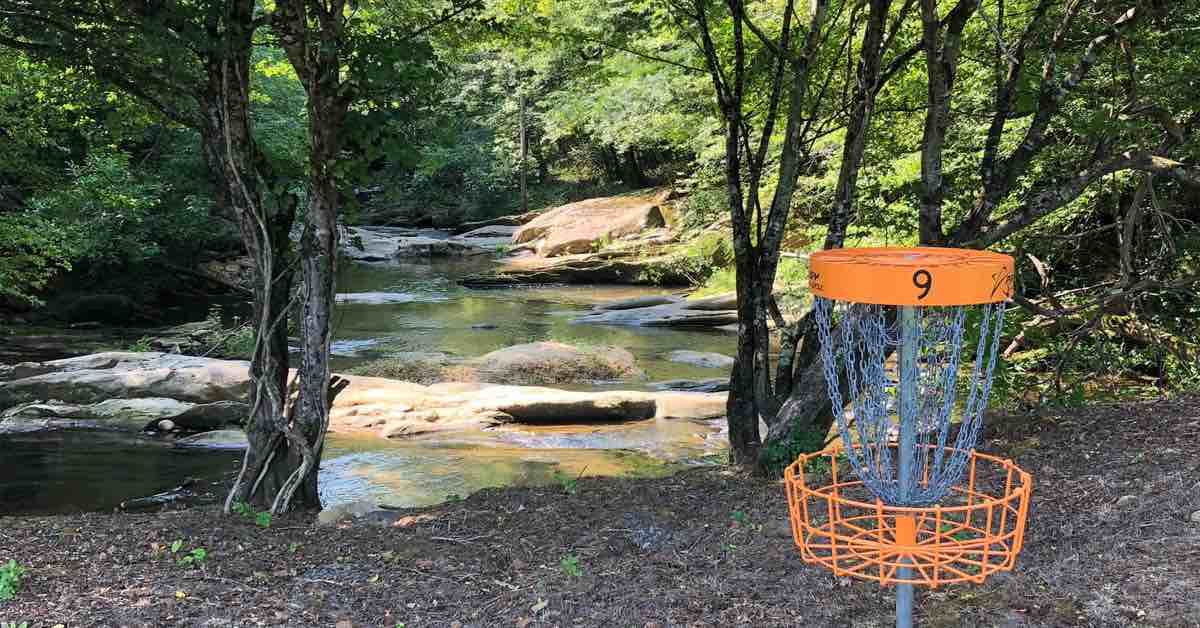 Neatman exists thanks to Mark Tedder, 56, and Carolyn Tedder, 55, of Stokes County, North Carolina, who didn't start playing disc golf until they were in their late forties. Just seven years after they threw their first discs, they decided to utilize unused space on their cattle farm for a full 18-hole course – complete with its own pro shop.
The course opened just over a year ago, but the Tedders have already welcomed players from far-away locations such as Oregon, Ontario, and Ohio.
It takes a lot of hard work to design and build a course on an operating farm, but through a combination of dedication, tough manual labor, and community support, Neatman Creek has become one of the highest rated courses in all of North Carolina, a state with an abundance of great disc golf courses.
How Neatman Creek Disc Golf Course Came to Be
So how did the Tedders end up building a course in their yard destined for UDisc wishlists? It started with a trip to watch the pros.

"We went to the United States Women's Disc Golf Championship when it was being played in Virginia," said Mark, referring to the 2019 PDGA Major hosted around one of the best small towns for disc golf in the United States. "One of the courses being played in the tournament was Hawk Hollow, which is built around a cow pasture. It got me thinking that maybe we could design a great course around our own cattle farm." 
The Tedders' farm is roughly 40 acres/16 hectares of rolling hills and forest mixed with small patches of grassland. About 90% of the area isn't suitable for cattle grazing.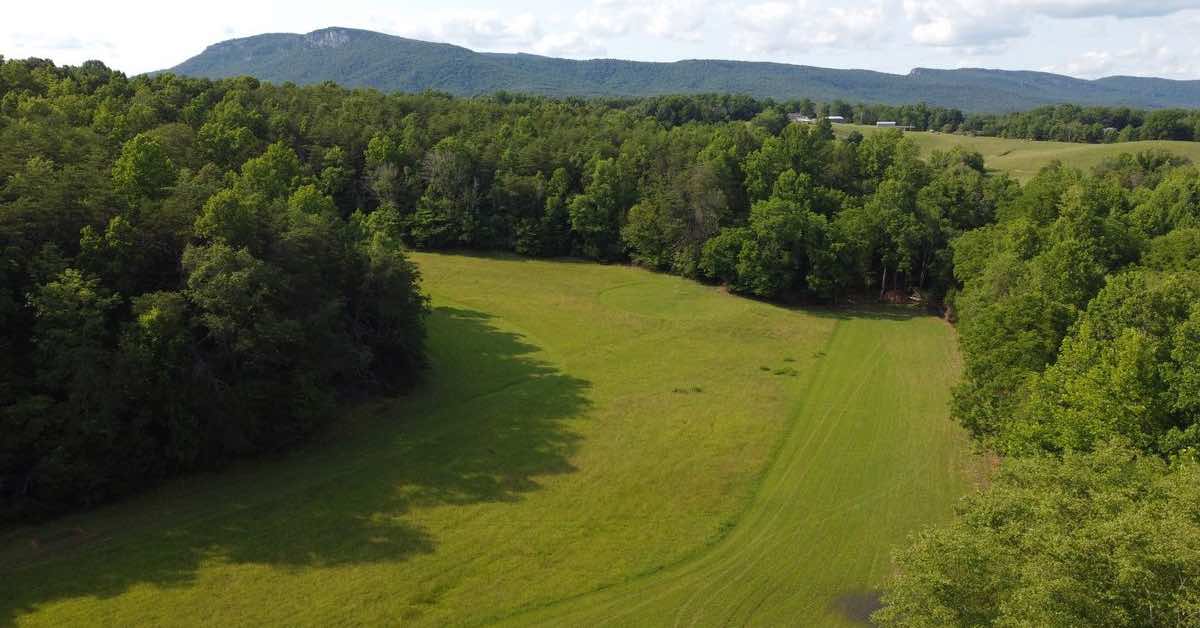 Mark has always had an affinity for disc golf equipment company Prodigy Disc, so he gave three-time USDGC champion and part-owner of Prodigy Will Schusterick (a resident of neighbor state Tennessee) a ring to learn more about how to build a disc golf course. It wasn't long before Mark got a call back from Schusterick, who advised him to use local help for the design since professional designers can be pretty expensive. Schusterick even set Mark up with a local who'd both led and assisted with the design of a few courses in the region, such as Potter's Grove and a church course called the The Crossing.
"I was playing on the Prodigy Street Team at the time when I got a random call from Will Schusterick," said Drew Runnfeldt, the lead designer of Neatman Creek. "He told me to go check out Mark's property, so I drove out there as soon as I could. It was just the most gorgeous piece of property for a disc golf course." 
The Tedders and Runnfeldt started working together to make the best possible course out of the ample space available, being careful not to rush.

"Mark told me that they wanted to do this right and to take my time with the design," said Runnfeldt.

And even after everyone liked a design idea, nothing was locked in until the hole played just how they wanted.
"We cut it, played it, and then cut it again," said Mark. "It's a lot of work even with the power equipment, and Carolyn deserves most of the credit for getting the course cleared and keeping it in such great condition." 
What's Neatman Creek Disc Golf Course Like?
The collaboration between the Tedders and Runnfeldt has resulted in a stunning track that maintains the property's natural charm. Even arriving for your round at Neatman is a treat. From what might be one of the most scenic parking lots in the sport, new arrivals have beautiful views of Hanging Rock State Park and the Sauratown Mountains.

Once players get from their cars to the tees, they can expect a challenging course that will keep them on their toes.

"We wanted players to throw every disc in their bag," Runnfeldt said. "We have holes that are short, long, wooded, open, uphill, downhill. A little bit of everything."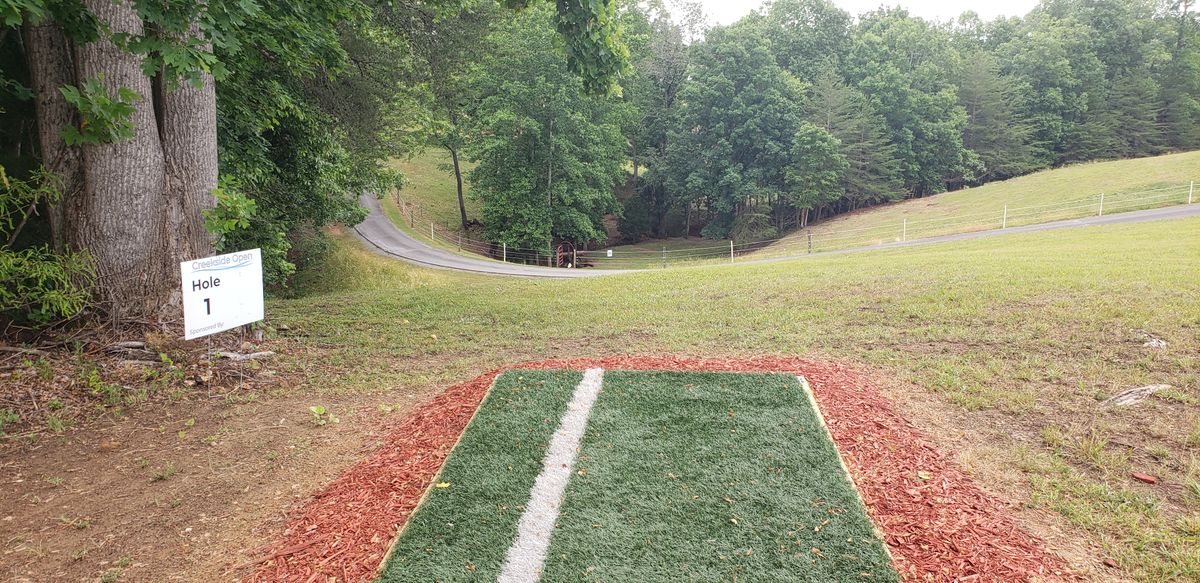 Though there certainly is variety, players can expect a few common themes: tight fairways, demanding landing zones, and the constant threat of roll-aways on Neatman's hilly terrain.
Due to the course's challenging nature, it's not recommended for absolute beginners right now.

"We've added some short tee pads to make it more accessible and eventually want either two pads or two pin positions on every hole," said Mark. "Currently, it's not such a beginner-friendly course, so we warn players about the difficulty and recommend they go play Horizons if they are true beginners."
If you are up for a plate of what Neatman dishes out, the Tedders make sure the course always looks appetizing. As the primary maintainer of the course, especially before Mark's retirement, Carolyn puts in a lot of hours keeping the course in top condition and loves reading the great reviews and hearing first-hand how much players enjoy themselves.
"It's tough work, but I really do enjoy working on the course," said Carolyn. "I put a tourniquet and first aid kit in the ATV when I go out there alone. Just in case."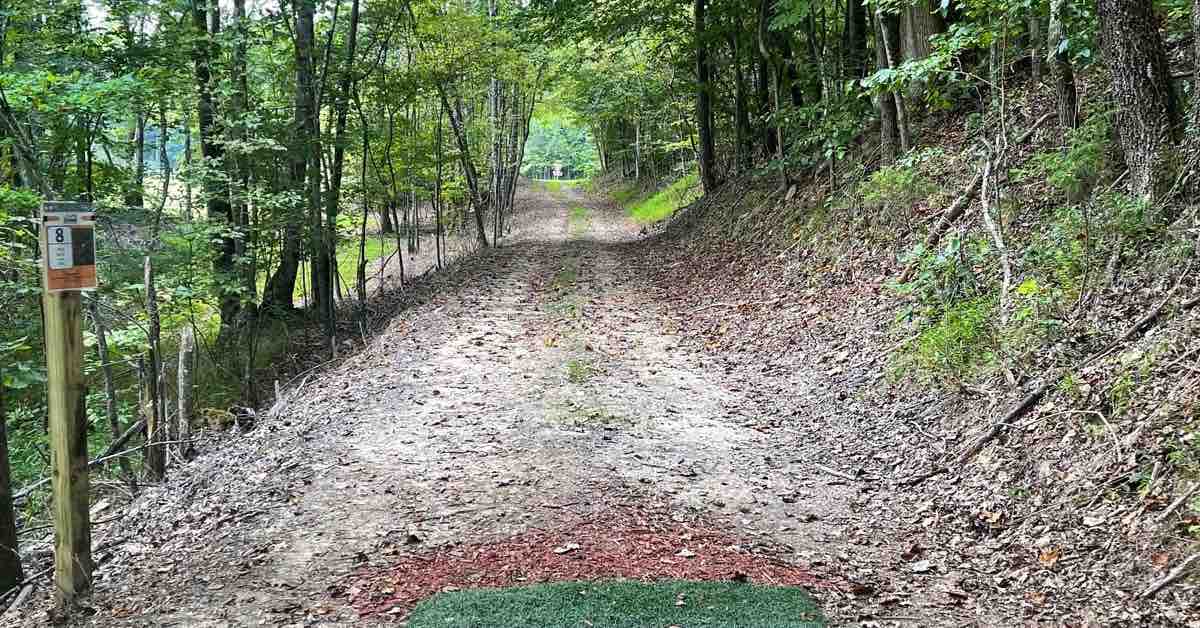 Not everyone would open up their property to strangers, but the Tedders only had good things to say about all their new visitors from the disc golf community. 
"It took awhile getting used to people walking through our yard to play the course, but we've met so many great people doing this," said Mark. "There was a family who played the whole course pushing around a kid in a stroller and just loved it. They stopped at hole 9 to play in the water and eat lunch. That's what this is all about."
Neatman's Pro Shop: Back Nine Discs
Unlike in traditional golf, it's very rare for even established disc golf courses to have a pro shop, making Neatman Creek's well-stocked store all the more exceptional and impressive. The store, Back Nine Discs, had long been a dream of its local owner, Chris Hawks.
"I had the name for the store lined up for over three years," said Hawks. "I was doing online disc sales on Facebook and had wanted to start a store for quite some time, but COVID and other factors made it unrealistic to do so." 
Like many others, Hawks fell in love with Neatman the first time he played it. He was already acquainted with the Tedders through his girlfriend, which gave him the confidence to try his pitch.
"After playing Neatman I proposed the idea for a pro shop to Mark," said Hawks. "We opened in June [of 2022] and have hosted a few tournaments. We want to run a points series with multiple courses in the area in the near future."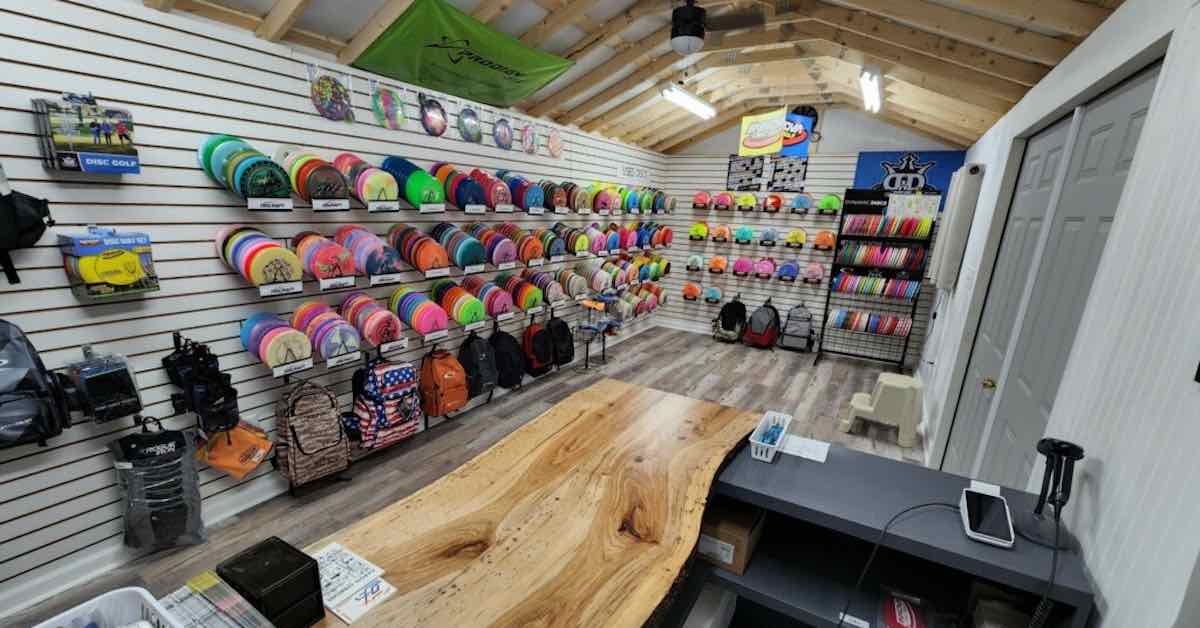 Back Nine also sponsors a small group of players and is helping local youth get into disc golf and give back to their community. 
"The Back Nine Junior Team are putting together weekly Wednesday Glow nights at the Martin Family Disc Golf Course, where they are collecting donations for a local food drive," said Hawks.  
Currently, Mark and Carolyn help out a lot with staffing the shop as Hawks still works a full time day job. However, his goal is to slowly devote more and more time to his disc golf venture. 
"I hope Back Nine and Neatman continue to grow together," said Hawks. "I'm very thankful for the partnership; it made a dream come true. With Mark and Carolyn, it's not so much what they're getting back but what they're offering to everyone here in the disc golf community."
Events and Future Plans
Now that they are both retired, Mark and Carolyn have more time and ample ambition to continue improving the playing experience at Neatman Creek. 
"We want the course to keep getting better and disc golf to keep growing," said Carolyn. "Us being a small part of that growth makes me happy."
Neatman is hosting an upcoming PDGA B-Tier tournament, The Neatman Creek Classic, and the Tedders plan to continue offering multiple events a year to introduce an even wider audience to their course. 
Their most successful event to date was DH Day, which paired a traditional clinic and tournament with social events such as a putting competition, on-site camping, and a bonfire. The clinic was put on by professional player Dan Hastings, who also provided advice for the design of a few of Neatman's holes. Hasting's professional career has brought him to numerous world class courses, and in his opinion, one of them is located in the Tedder's backyard. 
"During the event, Dan came over and told me, 'If I could live near here I would, it's just the perfect place,'" said Carolyn. "That's of course what we think, too. It's a little slice of heaven right here in Stokes County."