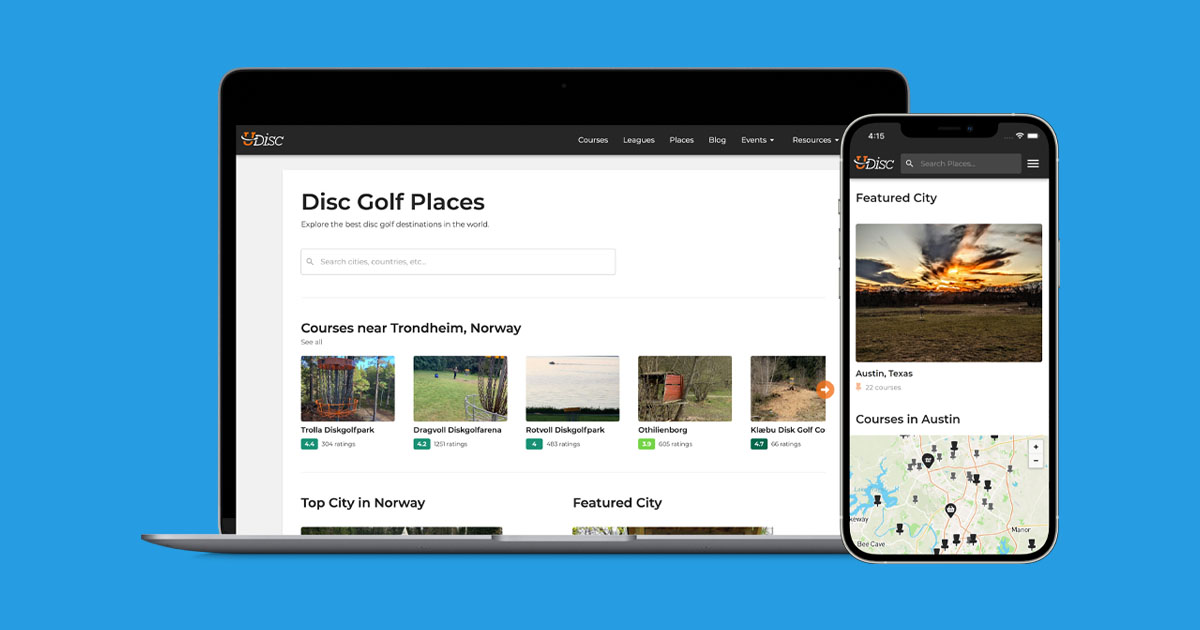 If you're anything like us, you're constantly daydreaming of more disc golf destinations to fit into your life. 
That scenic highway landscape you just sped by? Its rolling hills would make for a nice disc golf course – there were definitely enough trees to carve out some fairways. Vacation coming up in the spring? There are probably four or five courses you can check off your bucket list if you really work at it. And that newly vacated downtown storefront? It's the perfect spot for the hybrid disc golf store/coffee shop you and your league buddies have fantasized about, a high-traffic space where the sound of steaming lattes is complemented by the ringing of chains from the disc golf videos you'll play for customers.
In short, you're always looking for more disc golf. That's why we think you'll love UDisc Places.
Explore The World's Best Disc Golf Destinations
UDisc Places is your one-stop shop to find the best disc golf courses, stores, leagues, and more. You can search for disc golf near you, learn more about a city or town you've heard has a good reputation, or simply get lost exploring random locales. Browse worldwide disc golf course rankings, find the top 10 disc golf cities in your state, or even plan out your next road trip – there are opportunities aplenty.
When you first land on UDisc Places, you'll be greeted with the top disc golf courses from UDisc's online directory within 50 miles of your location sorted by ranking. That means if you're in Portland, Oregon, you'll see Pier Park, and in Portland, Maine, you'll get Sabattus Disc Golf. Even in scenes with no courses of note – like Portland, Texas – you'll get something. In this case, it's Live Oak Park in nearby Ingleside.
Keep scrolling and the fun continues. The top city in your country will show up on the left with its most starred photo (more on that later), and on the right is our personal favorite Places box: the Featured City. This one changes every time you come to Places, and we highly encourage refreshing the page as a way to pass the time. Just while writing this article we've landed on:
All from hitting the refresh button! It's like exploring the disc golf world all from the comfort of your browser. We can see all of the 807 disc golf courses in Finland without getting on a plane.
In related news, we are now ready for a disc golf road trip to Flagstaff, Arizona, and its 10 gorgeous courses.
Browse Lists of Top Countries and Cities, Poke Your Rivals
After the featured boxes, it's on to the lists: top cities worldwide and top countries. The top 10 are front and center, but clicking "see all" on either column will transport you to a full rankings page that features 81 countries and 500 cities. Did you know there are two disc golf courses in Saudi Arabia? It clocks in at number 56 on the worldwide rankings. Number 56 for cities, meanwhile, will put you in Orlando, Florida, which boasts six disc golf courses.
(This is the part of the article where we encourage you to look up your city, note its rank, and proceed to rub it in the face of other well-known areas. This writer, for example, is in 95th ranked San Diego. Take that, number 115 Santa Cruz! Friendly rivalries are what disc golf is all about, right?)
Plan Your Next Disc Golf Trip
If you head back to the Places landing page and scroll all the way to the bottom, you'll find one last important feature: nearby disc golf destinations. This list gives you the best disc golf cities within 350 miles, perfect for planning your next vacation. We can hit Phoenix, Arizona, and experience the 3rd ranked disc golf hotspot in the Grand Canyon State, complete with a detour to famed disc golf store Spinners on the Green.
And that's all just from the UDisc Places landing page. The search bar in the top navigation bar? That's your golden ticket to exploration.
Want to know all about the best disc golf courses in Colorado? Type it in. Drill it down even further and you can find all the top-ranked places to play in Denver or Boulder.
Let's say you have a work trip taking you to Ogden, Utah, next year. You can punch it up in the search, find the best courses, and even make sure you'll be in town on league night. Places will also display the best food and drink destinations in the future, so make sure to check back before you hit the road.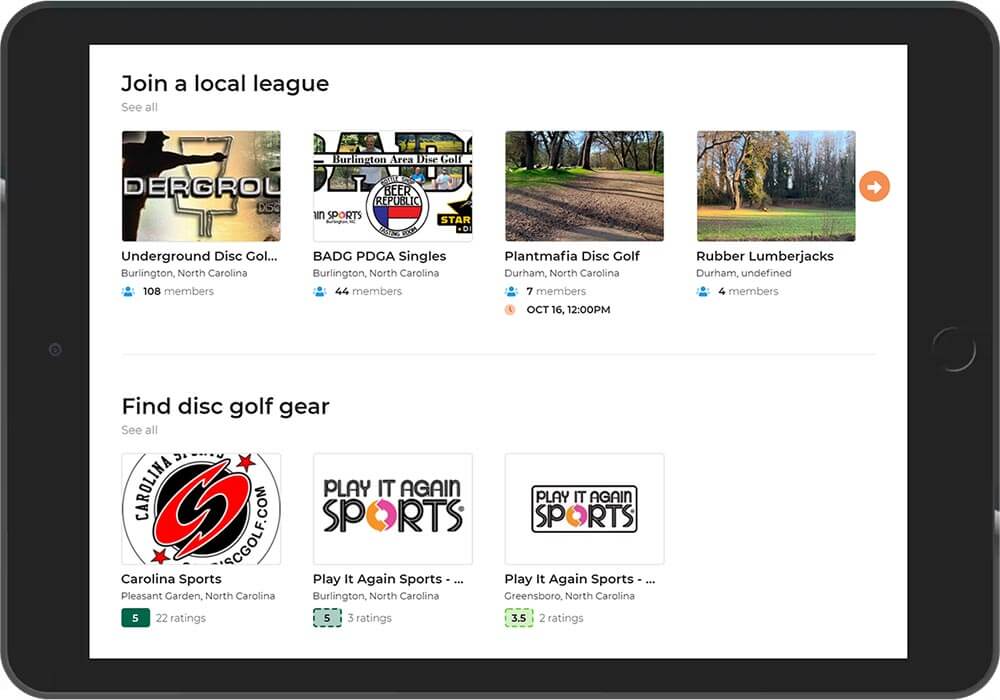 Places Is Player-Powered
Like everything with UDisc, Places is driven by disc golfers. That means if you find a city and the featured photo isn't so pretty, or you think a course or store should be ranked higher, the power is in your hands.
Want to change the lead photo for your town or course on UDisc Places? Here's how:
Open the UDisc app
Find your preferred course
Scroll down to the photos
Tap on a photo to open it
Tap on the "star" to favorite that photo
The more a photo is starred, the more likely it is that it will become the main photo on a Places page. So if you want to continue being creeped out by the most popular photo for Arrowhead Disc Golf Course in Louisville, Kentucky, do nothing. If you don't want your disc golf with a side of nightmares, though, star some other photos!
The same goes for stores, courses, and everything else in Places: these destinations all thrive on your ratings and reviews, so help give the community the information it needs and keep everything up-to-date via the app.
Whether it's near, far, or somewhere in between, UDisc Places will have the answer. It's everything you need for disc golf, all in one place.