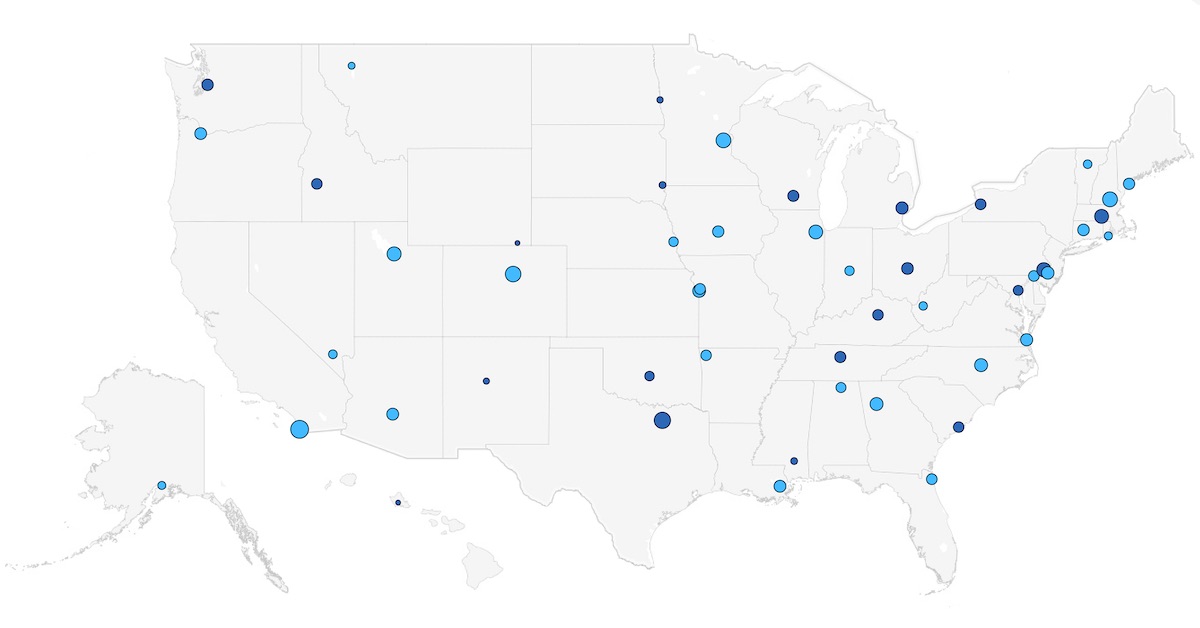 It's the most wonderful and/or contentious time of the year: our annual release of the most popular disc golf course in each U.S. state. Interestingly, just like from 2018 to 2019, exactly 20 states had a new course emerge as their most popular in 2020 as compared to the previous year.
Keep in mind this list has nothing to do with a course's rating on UDisc but simply how often it was played. If you're looking for the best course in your state, go to UDisc Places and search for your state. The first course you see will be the state's highest-rated. That course could even be one of the world's top 100 disc golf courses.

It's also worth noting that an analysis of the 2019 list from last year found that the difference between "popular" and "good" disc golf courses might not be as wide as many believe.
Below we highlight some of the most interesting changes and trends before revealing the full list at the end of this piece.
A Note About This Year's Numbers
We have to point out that some of this year's changes could be due to how different states and cities responded to the pandemic. However, assessing the exact impact of those measures would be extremely difficult.

For example, California's Morley Field has been the most-played course in the U.S. since we began releasing this annual list, but Texas' top course made huge strides toward catching it this year. Is this due to a surge of disc golf playing in Texas or California's more stringent statewide precautions reducing the number of rounds played at Morley? It's likely some combination of those (and other) factors, but we have no way of knowing the extent of those factors' respective effects.

That said, while we're not skipping analysis altogether, we're going a bit lighter on it this year, allowing readers with a better knowledge of their local situations to speculate about why certain changes may and may not have occurred.
What's New?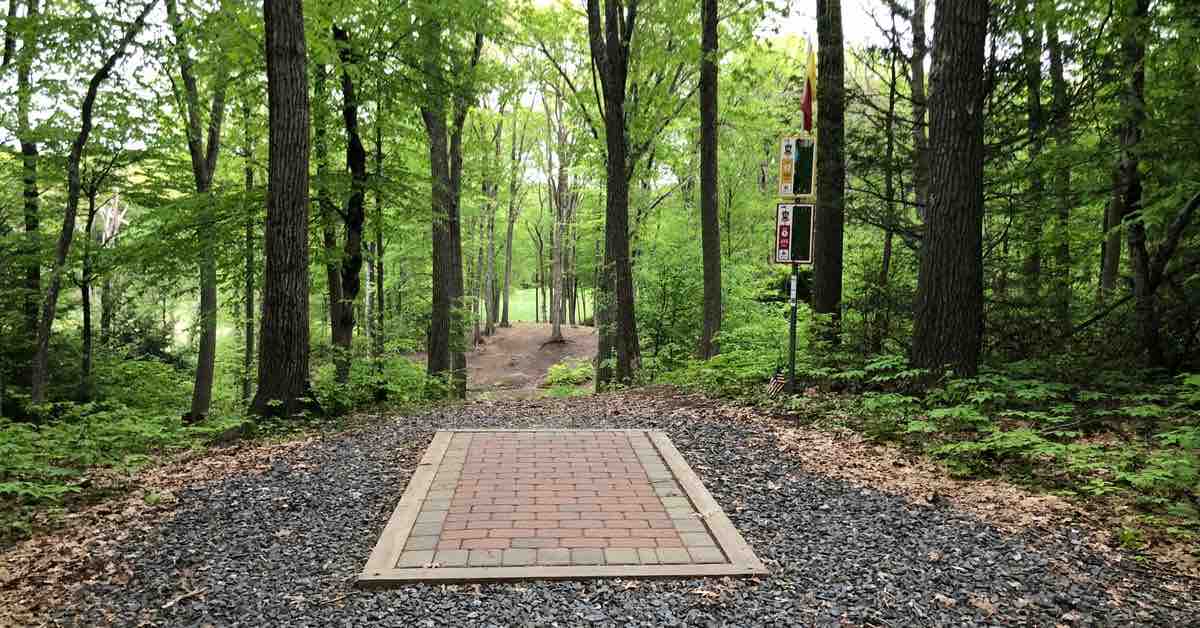 Some of the biggest news comes out of Texas, Massachusetts, and Pennsylvania.
In Texas, Alex Clark Memorial in McKinney took back the lead from Zilker Park in Austin. In fact, Zilker was only the seventh most popular course in the state this year behind courses from a variety of locations. Last year the story was the rise of Austin in the Texas disc golf scene. This year the story is that Texas is huge, disc golf in Texas is huge, and it is growing all across the Lone Star State.
In Massachusetts, 2018 and 2019 front-runner Borderland State Park has been supplanted by the picturesque home of the MVP Open, Maple Hill in Leicester. Maple Hill has been climbing the list the past few years, but in 2020 it took an authoritative lead, likely because Borderland's disc golf facilities have been closed during the pandemic.
Finally, every year we organize our list by putting the states' top cities in order from most to fewest rounds logged. In 2018, Pennsylvania's most popular course, Schenley Park, put the Keystone State into 24th place. Pennsylvania rose to 13th last year. In 2020 it broke into the top 10 – sixth place – with Philadelphia's Sedgley Woods course taking over the reins as its top course.
What's the Same?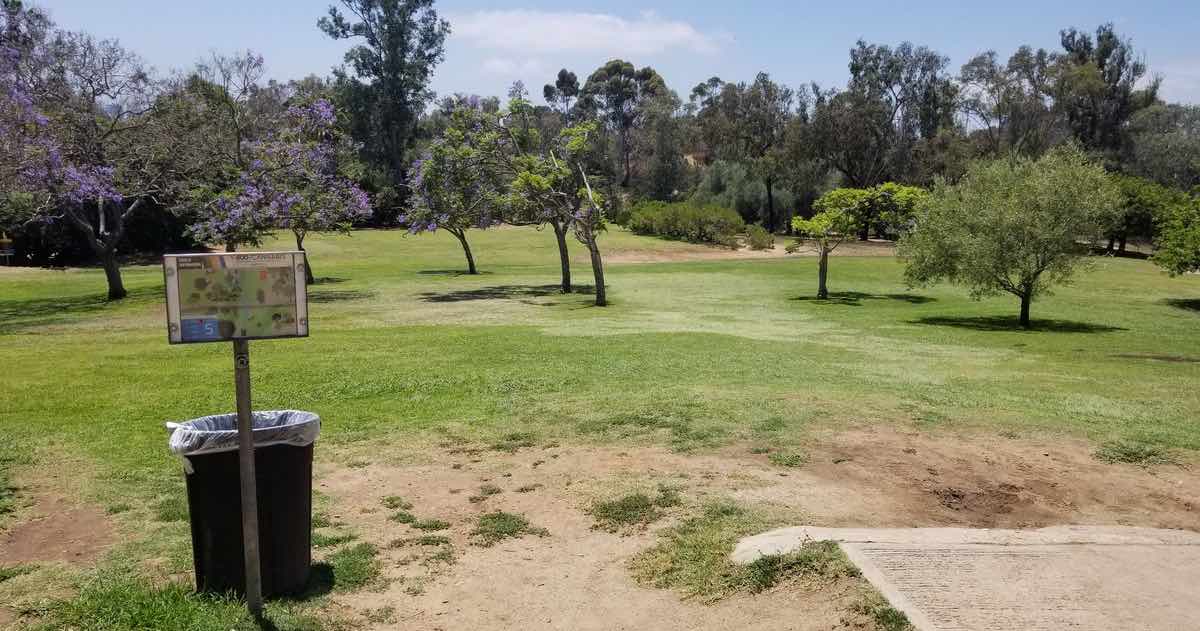 It's been a boom year for disc golf, and we've seen quite a bit of growth in the numbers of rounds played, yet a lot has remained the same even with that increase. One of the most noticeable similarities is that the first five states to appear on the list this year are the exact same as before: California, Texas, Colorado, New Hampshire, and Minnesota, respectively.

Another interesting bit of consistency near the top is that of the first 20 states appearing on the list, only five have a different course in the top spot. That means 75% of this year's changes occurred outside of the top 20. There's no clear geographic trend to the states with a new champ. Exactly half are east of the Mississippi River and exactly half are west of it.
What's the Most Popular Disc Golf Course in My State?
Here's the full list of the most popular disc golf course in each state. Keep the following in mind as you read:
The list is in order of most to fewest rounds logged.
A $ indicates a pay-to-play course.
+/- is how many spots the 2020 top course in a state rose or fell in the rankings in relation to where the state's top course was on our 2019 list. For example, Massachusetts' top course was #6 in total rounds in relation to other states' top courses in 2019; this year it was #8 and has a

▼2

in this category.
Given that this is based on rounds logged in UDisc, a course hosting a UDisc League likely had an advantage in these standings.
State
Course Name
City
New Champ?
+/-
1
California
Morley Field $
San Diego
2
Texas
Alex Clark Memorial DGC
McKinney
Yes
3
Colorado
Johnny Roberts DGC
Arvada
4
New Hampshire
The Hollows North
Manchester
5
Minnesota
Blue Ribbon Pines $
East Bethel
6
Pennsylvania
Sedgley Woods
Philadelphia
Yes

▲

7
7
Utah
Creekside Park
Millcreek

▲

1
8
Massachusetts
Maple Hill $
Leicester
Yes

▼2

9
Illinois
The Canyons at Dellwood Park
Lockport

▲

6
10
North Carolina
Kentwood
Raleigh

▼3

11
Georgia
Oregon Park
Marietta

▲

1
12
Kansas
Rosedale Park (Up Top)
Kansas City

▲

2
13
New Jersey
Stafford Woods
Voorhees Township

▼3

14
Michigan
Firefighters Park
Troy
Yes

▲

4
15
Virginia
Bayville Park
Virginia Beach

▲

11
16
Louisiana
City Park DGC
New Orleans

▲

16
17
Arizona
Vista Del Camino Park
Scottsdale

▼1

18
Oregon
Pier Park
Portland

▼7

19
Ohio
Blendon Woods DGC
Columbus
Yes

▲

4
20
Connecticut
Page Park
Bristol

▲

10
21
Washington
Lakewood King County Park
Seattle
Yes

▼12

22
Iowa
Grandview Park
Des Moines

▼1

23
Maine
Pleasant Hill $
Scarborough

▼4

24
Tennessee
Seven Oaks
Nashville
Yes

▲

9
25
Wisconsin
Hiestand Park $
Madison
Yes

▼8

26
New York
The Ravine at Chestnut Ridge
Orchard Park
Yes

▲

8
27
Missouri
Water Works Park
Kansas City

▼2

28
Kentucky
Shillito Park
Lexington
Yes

▲

3
29
Delaware
White Clay Creek State Park
Newark

▲

8
30
Florida
Ed Austin Park [Fore Palms]
Jacksonville

▼10

31
Idaho
Ann Morrison Park
Boise
Yes

▼2

32
South Carolina
Park Circle
North Charleston
Yes

▼4

33
Arkansas
J.Beast
Springdale

▲

6
34
Alabama
Brahan Springs Park
Huntsville

▼12

35
Maryland
Kinder Farm Park $
Millersville
Yes
36
Oklahoma
Griffin Park
Norman
Yes

▲

2
37
Nebraska
Seymour Smith Park
La Vista

▼10

38
Indiana
Hazel Landing
Indianapolis

▲

2
39
Nevada
Mountain Crest
Las Vegas

▼15

40
Vermont
Center Chains
Waterbury Center

▲

4
41
West Virginia
Valley Park
Hurricane

▼5

42
Rhode Island
Curtis Corner Athletic Field
South Kingstown

▼1

43
Alaska
Kincaid Park
Anchorage

▼1

44
South Dakota
Tuthill Park
Sioux Falls
Yes

▲

2
45
Montana
Lawrence Park
Kalispell

▼2

46
Mississippi
Tatum Park
Hattiesburg
Yes

▼1

47
North Dakota
Oak Grove Park
Fargo
Yes

▲

2
48
New Mexico
Roosevelt Park
Albuquerque
Yes

▼1

49
Hawaii
Kupuohi
Waipahu
Yes

▼1

50
Wyoming
Dry Creek Parkway
Cheyenne
Yes