Find the full list of Top 5 Disc Golf Cities — International here.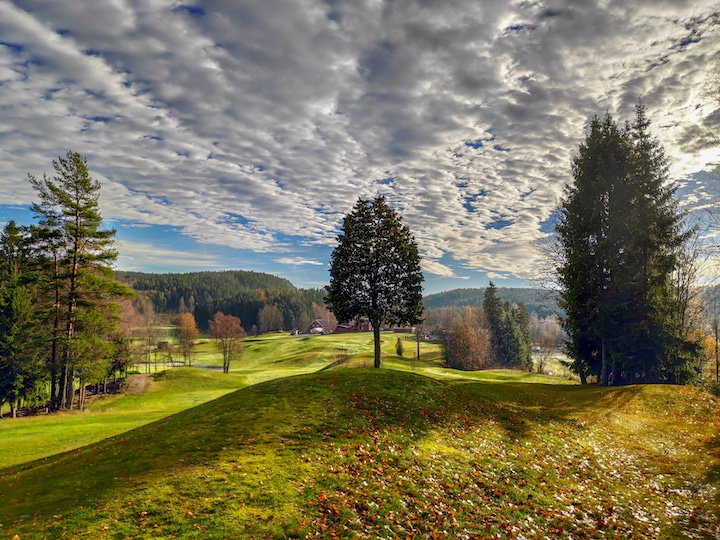 STATS
Out of nearly 500 international metropolitan areas outside the US that we examined, here's how Oslo, Norway stacked up:
Quantity Rank:
 9


Quality Rank:
 2


Overall Grade:
 81/100

See all courses in or near Oslo here on the UDisc Courses website or in the UDisc app's course directory.
Quantity rank reflects the number of holes available for play within radiuses of roughly 30, 80, and 160 kilometers (20, 50, and 100 miles) of the city, and the quality rank reflects the average ratings of local courses within those same distances. In both cases, the closer in to a city's center a hole/course was, the more it counted toward its score. The overall grade was determined by how each city compared with this year's #1 international city.  
THE FLYOVER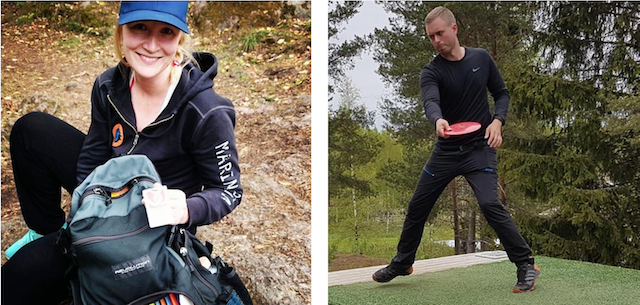 The total area of Oslo, Norway is 454 km2 (around 175 mi2), or about the size of two Bostons. However, though Oslo does have areas where businesses, apartments, and streets dominate, the majority of its area—about 68% of it—is actually a forest. This forest, called the Oslo Marka, rings the city, and its importance to Oslo's residents is so high that there are laws in place that forbid expansion of the city into it.
And if you ever get to know most any Norwegian, you'll realize why such a massive outside space is vital to their lifestyle. Access to outdoor recreation isn't just a luxury, but an essential part of the country's identity. Even in the dead of winter, a traditional weekend family activity consists of packing a lunch (obviously, oranges, a Kvikk Lunsj—a Kit Kat-like candy bar—and hot black currant juice are musts), strapping on skis, and spending the day exploring the well-groomed trails throughout Norway.

It's no surprise that a culture with such a strong tradition of outdoor recreation has taken to disc golf like reindeer to fresh Spring leaves. And Oslo, being the country's most populous city, is home to the largest and fastest-growing community for the sport in the country. Even better, the majority of the city's courses are accessible by public transport, so even if you end up in the city without a car, you can make your way to them with relatively little hassle. 

Here to make sure we don't wander aimlessly through the Oslo Marka are Eirin Korvald and Fredrik Runsjø. Korvald is a former board member of the local Muselunden Frisbeeklub and won 2018's Golden Hammer, an award given annually to a standout Oslo disc golf volunteer. Runsjø is an active member of the Oslo disc golf community, winner of the Oslo Tour in 2016 and 2018, and often competes internationally.
WHAT GOLF CAN I EXPECT?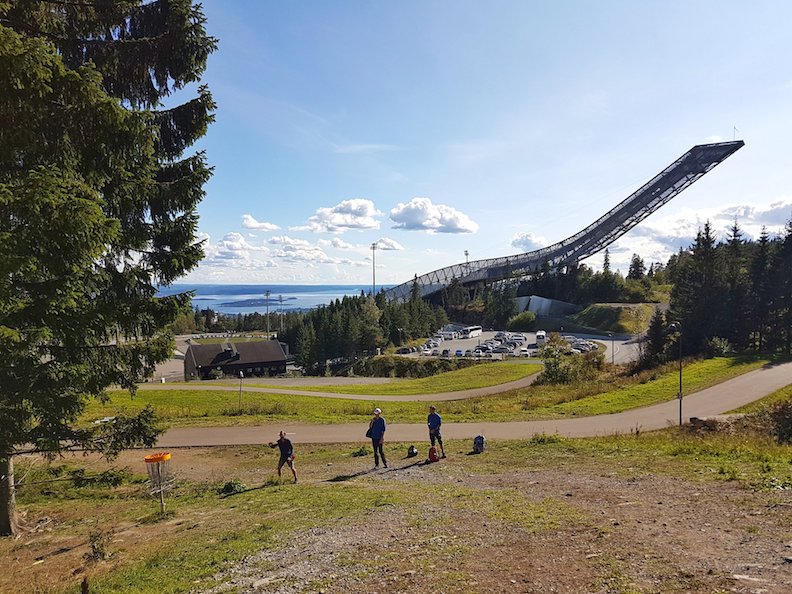 "There's a little bit of everything in Oslo," said Korvald. "You have the open courses based in parks and wooded courses."

Runsjø had a similar assessment, but added that visitors could expect "great variation in both elevation and landscape" and that they'd get their hearts' content of "Scandinavian scenery." Expect to see lots of evergreens, blueberry bushes, and exposed rock.
One course, Holmenkollen (featured in the picture for this section), has all of that plus a view of the ski jump Holmenkollenbakken and, beyond it, the Oslo Fjord.
COURSE HIGHLIGHTS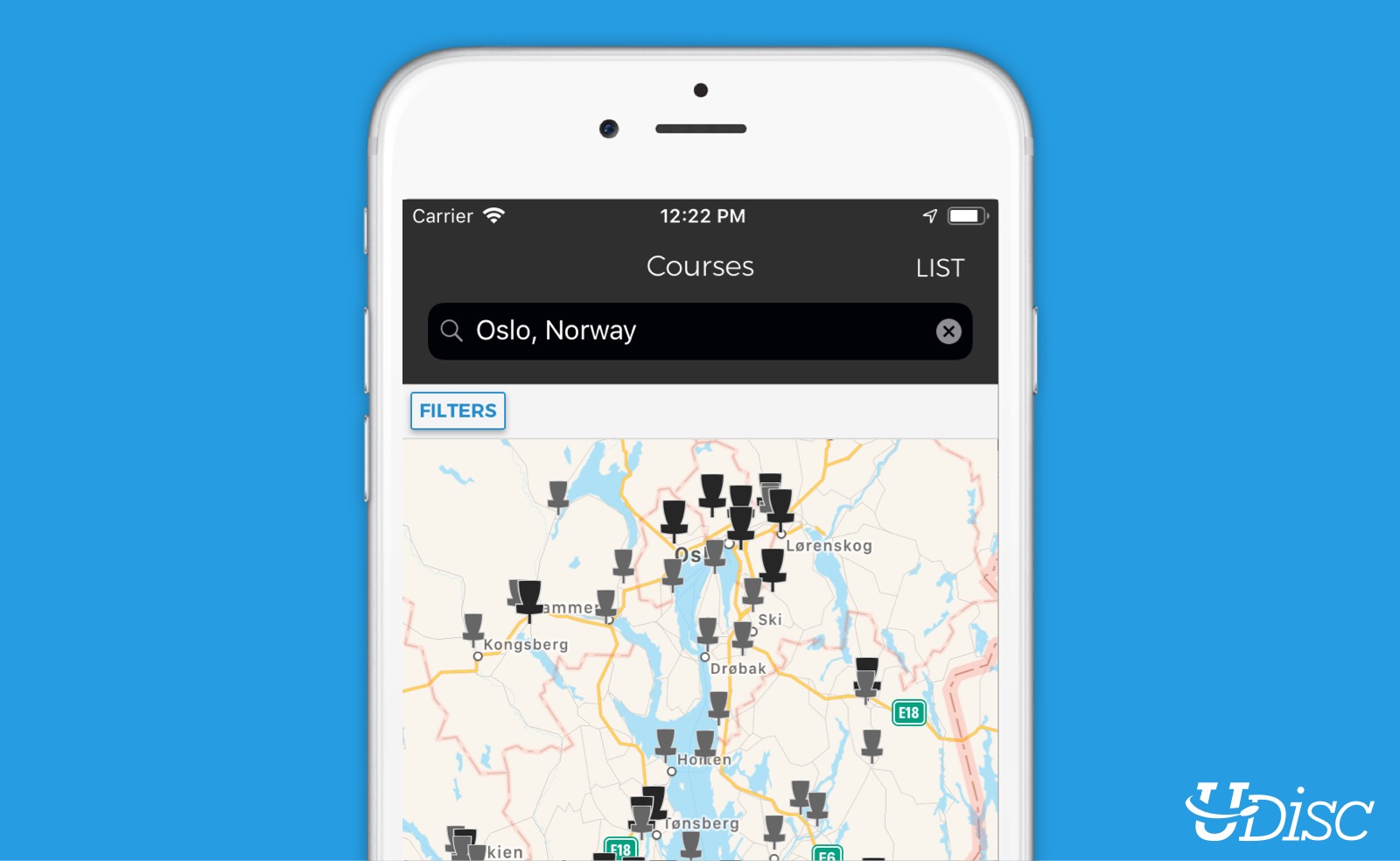 Click the name of any course in this section to see reviews, average ratings, its exact location, and, likely, photos on the UDisc Courses website.

Krokhol: Opened in 2018, Krokhol is the newest addition to Oslo's course repertoire but hasn't needed long to become a sensation. It snagged #9 on our 2019 list of World's Best Disc Golf Courses. Korvald called it simply a "stunning place" and Runsjø had nothing but praise for it, as well.

"I'd say that 18 holes at Krokhol feels like an adventure where you explore and unlock more and more of the forest as you go, and you keep feeling amazed," he said.

Coming in at 2,518 meters (8,261 feet), Krokhol was built on the site of a ball golf course that closed nine of its holes and features rolling, grassy fairways lined by evergreen woods. Runsjø said the course has lots of elevation and a mixture of short, wooded holes and long, more open grassy fairways "where both distance and accuracy off the tee come in handy." For anyone aching to get a glimpse of the course, you can watch this flyover of the course by SM Disc Golf Productions (or look at the picture at the top of this article). 
Though it's around 25 minutes by car outside of the city center (accessible by bus in about 30 minutes), the trip is worth the scenery and quality of golf that awaits anyone who plays Krokhol. To boot, there are a cafe and restrooms for those looking to spend the day there. Also, a dedicated disc golf shop just opened at course in 2020.
Stovner: The most challenging 18-hole course in Oslo proper, Stovner is a favorite of both Korvald and Runsjø. Runsjø described playing the course as "park-style golf with lots of variation in elevation, length, and shot selection," and Korvald emphasized its "long fairways" that are "especially demanding when there are windy conditions." And though you might read "park-style" and think of the hyzer-fests of tournaments like the Memorial, the designers of Stovner often use mandatories and out-of-bounds (OB) to force players to throw a variety of shots and to throw them accurately to avoid penalties. Runsjø pointed out a perfect example of this.

"One of my favorite holes is a par 4 featuring an initial left to right curve through a sideways triple mando under a bridge," Runsjø said. "A good first shot will leave you with about a 300-350 foot [91-107 meter] approach with a treacherous OB trap on the left side."

You can also see a flyover of the hole from SM Disc Golf Productions below:

Other benefits of playing Stovner are that along with the 18-hole course, there is also a short 9-holer perfect for warm-up or cool-down rounds and another course, the 12-hole Forsheimer (Oslo's most wooded and toughest course), is within walking distance of Stovner.
Other notables: Holmenkollen (not a hard course, but it offers spectacular views), Ekeberg (the oldest disc golf course in Norway and the #5 most-played in the world by logged UDisc rounds)
THE LOCAL ROUTES
Gear: Disc golf is popular enough in Norway that Runsjø said that "most sports stores have a good selection of Innova, Discmania, and Trilogy plastic."

If you plan to try out Krokhol (which you really, really should), you can visit Krokhol Disc Golf Shop while you're there. Tell them we sent you.

For a dedicated disc golf store inside Oslo city with local experts, both Korvald and Runsjø said that Guru Disc Golf is the place to go. You can also check out more of the area's disc golf equipment retailers in the UDisc app's disc golf shop directory (see how to do that here) or on our Stores website. 
Guides: If you want some tips on where and when to play or would like to try and meet up with a local in Oslo, the best thing to do is to join the Facebook group Diskgolf Reiseplanlegger and make a post there (posts in English would definitely be understood). 
Leagues and Weeklies: In the warmer months, there is free league play almost every day of the week hosted by different clubs. Clubs in Oslo are connected to courses, so whichever club is hosting the league is simply playing their course. Again, the Diskgolf Reiseplanlegger is a good option to find out which club is having its league on which night. You could also ask on the individual clubs' Facebook pages: Muselunden, Stovner, Pancake diskgolf, and Ekeberg Sendeplateklub. 
EAT, DRINK, SIGHTSEE
Even the most ardent disc golfers need some nourishment and to take time to experience places away from courses (or have people traveling with them who prefer sightseeing to disc golfing). Here are some of the best food, drink, and non-disc golf options Oslo has to offer.
Chow Down and Drink Up: If you're looking for traditional Norwegian food (for example, reindeer meat patties with lingonberries), you might want to try out the cafeteria-style setting and—for Oslo—reasonable prices of Kaffistova. Looking for just a burger and a beer? Runsjø said if you go to the Aker Brygge section of town, you can get a table at the Beer Palace and order a burger from the next-door Burger Joint. For those with a sweet tooth, almost any bakery will have their version of the Norwegian bolle (essentially a cinnamon roll traditionally made with cardamom) or you can grab a waffle at Harald's Vaffel—a place Runsjø said "started out as a waffle shop out of an apartment window and is now one of the best waffle places around."

If you're looking for breweries, both Amundsen Bryggeri & Spiseri ("Spiseri" means it also has food) and Schouskjelleren Mikrobryggeri are great options. And, finally, Oslo is home to some of the best coffee roasters in the world, and if gourmet coffee is a passion of yours, check out Tim Wendleboe and Supreme Roastworks.
Three Sights to See: In no particular order, here are three things to do off the course in Oslo.
1. Norwegian Museum of Cultural History and the Viking Ship Museum: Take a bus out to the peninsula of Bygdøy and have the chance to visit two museums very close to one another. The Cultural History Museum is mostly outdoors and features rebuilt traditional Norwegian buildings. You learn a lot about the history of Oslo and Norway in general while spending time in an idyllic location. In the Viking Ship Museum you get to see recovered Viking sailing vessels and other artifacts and learn a ton about those ancient raiding bands of Norsemen. You can buy a joint ticket to both museums and there's a bus you can take to easily visit both in one day.
2. Akershus Fortress: A castle originally built for the defense of Oslo and to give royalty a place to live. Now a museum, Akershus has played many roles since it was built, and you can learn all about them and tour the inside of the castle when you visit.
3. Oslo Marka: We're not entirely sure, but we've heard it's possible to go on hikes without a bag full of discs. If you think that sounds like fun, you should try exploring the Oslo Marka, which is full of well-marked trails and various points within an easy walk to public transport. For suggestions on how to plan a hike, start out by visiting this site.
Note: When creating our Top 10 Cities — USA list, we were lucky that the data simply worked out to feature cities from 10 different states. But we liked how this gave us a chance to give readers glimpses not only of different types of disc golf but slightly different cultures in each article. In order to keep that variety in this series, Top 5 Disc Golf Cities — International only considered the top city from each country, meaning that no country is featured more than once on this list.