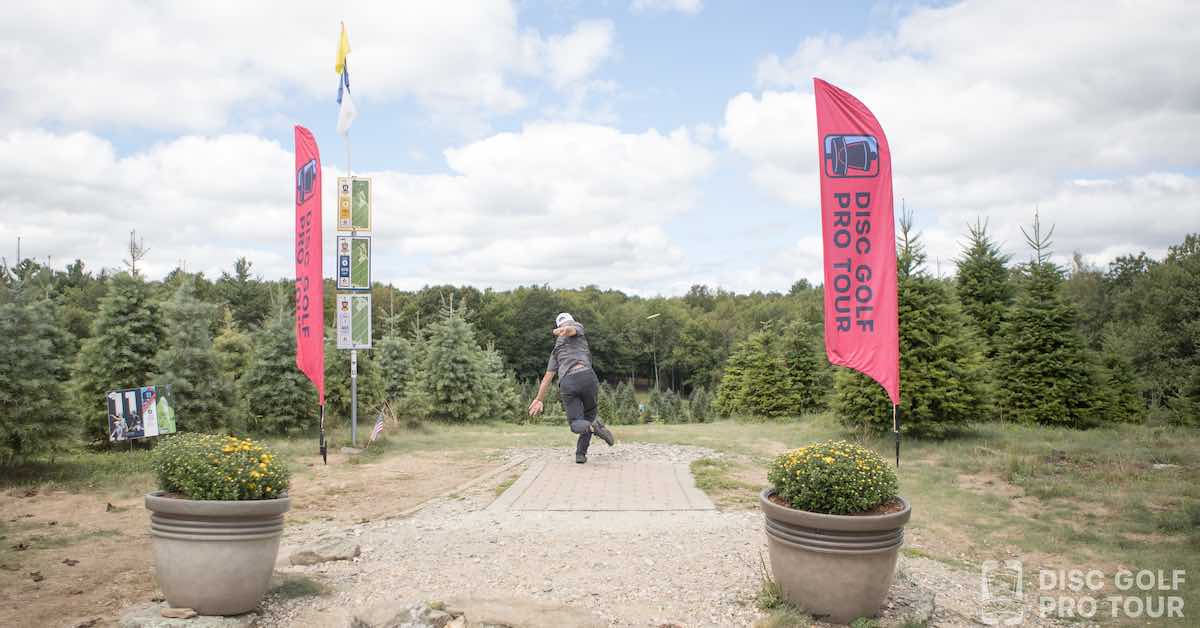 After months of visiting some of the best courses in the country, the Disc Golf Pro Tour finally hit the cream of the crop.
Maple Hill is the best disc golf course in the world, and it also annually hosts one of the best and most exciting disc golf tournaments in existence, which has been known as the MVP Open since 2018. The top players in the land converged to tackle the legendary New England track from September 3-5, 2021.
With its varied terrain, water hazards, plentiful woods, and diversity of fairway shapes and lengths, Maple Hill is designed to expose any weakness in a player's game, be it distance, accuracy, or touch. The winner always needs mental composure and all the shot shapes to take home a coveted win at the course.
Learn more about the 2021 MVP Open below, where we fill you in on tournament history (including what happened in 2021), the course, past highlights, how to watch it, and more.
What Happened at the 2021 MVP Open at Maple Hill?
You can find individual scores on every hole, in-depth stats, and more at the UDisc Live results page for the 2021 MVP Open.
OPEN
Who won the 2021 MVP Open?

Who shared the podium at the 2021 MVP Open?



What happened at the 2021 MVP Open?


Adam Hammes won the 2021 MVP Open, dismantling a large lead Eagle McMahon had built up before the final round.
Through the first two rounds, McMahon had created a significant cushion for himself. He had shot the lone hot round of 9-under par in the first round and then tied other players for the hot round of 8-under par in round two. That level of play had earned him a four-stroke lead as the third and final round started. His score stood at 17-under par.
Two players, Joel Freeman and Adam Hammes, were tied in second four strokes behind McMahon at 13-under. They were joined on the lead card by Matt Orum at 12-under.
But over the course of the front nine, a pattern emerged: McMahon kept finding early trees from the tee while Hammes hit his lines. At a tournament where the best
total
score all weekend was 10-under par, Hammes went 7-under through just the front nine. In contrast, lack of accuracy in the woods put McMahon at just even par through the same stretch. As anyone who just did the math knows, that means Hammes went from being down by four to up by three in just nine holes.
However, the fairways at Maple Hill begin opening up after the front nine, and McMahon charged. When Hammes made his first big mistake from the tee on hole 10 – an extremely uphill par 3 – and found a tricky spot in the woods on the left of the fairway, McMahon took advantage. He put his drive in Circle 2 and nailed a nervy putt for birdie. Hammes, who had laid up from the woods to just inside C1, missed his bid to save par and lost two strokes to McMahon.
Over the next two holes, McMahon made up two more strokes, carding birdies on 11 and 12 (both par 4s calling for long drives in open areas from the tee) while Hammes parred them both. McMahon again had a lead (one stroke), but not for long. Hammes birdied hole 13 while McMahon had to settle for par after missing a C2 birdie bid, tying the two leaders at 20-under par with five holes to play.
Both players parred hole 14, but the woods were again Hamme's friend on 15. He parked a drive on the tightly wooded, 323-foot/98-meter hole while McMahon's shot found a tree outside of C2. McMahon's birdie bid hit the cage, allowing Hammes to tap in to take the outright lead.
Hole 16 flipped the script as Hammes was the one who found a tree and got put in a difficult position while McMahon's disc flew straight down the fairway and just outside of C1. But Hammes dodged a bullet as he was able to lay up to tap in range for par and McMahon missed his chance at birdie.
On the par 4 hole 17, neither Hammes nor McMahon had ideal tee shots and both had to manufacture upshots from challenging positions. McMahon again found himself in C2 but missed the putt. Hammes took a risk on hitting a gap in the woods, and it paid off. He landed in C1 and hit his birdie putt to take a two-stroke lead into the par 4 final hole.
Though Hammes' drive was far from great, he was able to put his upshot into a position where par was all but assured. McMahon had had a perfect drive, but after he saw Hammes in position for the easy par, he decided to run the basket for an eagle. The attempt landed in the OB surrounding the tight green, leading to a bogey for McMahon that put him in a tie for second with Ricky Wysocki, who'd had a great round on the chase card.
Hammes' victory was his first ever on the DGPT and his second PDGA Elite Series win, both of which have come in 2021. His first was at the PDGA National Tour event, the
Santa Cruz Masters Cup
.

Standout stat:


McMahon missed a lot more C2 putts than he typically does at the MVP Open. Before the event, McMahon's 2021 average from C2 was well over 30%. At the 2021 MVP Open, he never broke 25% in a round and made just 16% of all his efforts from C2 over the course of the tournament. Had McMahon made about 30% of his 19 C2 putts throughout the tournament, that would have added three strokes to his final score – the exact distance between him and Hammes.
OPEN WOMEN

Who won the 2021 MVP Open in Open Women?


Who came in second and third at the 2021 MVP Open in Open Women?


What happened at the 2021 MVP Open in Open Women?


Standout stat:


Who Were the Favorites to Win the 2021 MVP Open?
Using the formulas and stats that power the Disc Golf World Rankings, we calculated what players' recent performances at big events suggested about their chances of beating other top players at the 2021 MVP Open.

Though it's not feasible for us to produce an accurate win probability looking at one player versus every other registered player, we can pit a certain number of top players against each other and see what their chances of emerging victorious within that group are. To produce the stats you'll see in this section, we pitted the top 10 players based on World Ranking in the Open and Open Women's divisions against each other to see what their chances of winning within that group were.

Notes on the Stats

All of the stats below other than "2021 Finish" were calculated before any player threw a single shot at the 2021 MVP Open and were not changed to reflect how winning chances altered as the tournament plays out.

These probabilities were based on player performance at all their recent events and didn't take into account the type of course being played and how players' specific skill sets matched it.
If you're on mobile, swipe left to see the full table.
| | | | | | | | | |
| --- | --- | --- | --- | --- | --- | --- | --- | --- |
| Player: Open | World Rank Before Event | Winning Probability Before Event | 2021 Finish | | Player: Open Women | World Rank Before Event | Winning Probability Before Event | 2021 Finish |
| Eagle McMahon | 1 | 25.2% | T2nd | | Paige Pierce | 1 | 57% | 3rd |
| Ricky Wysocki | 2 | 25% | T2nd | | Catrina Allen | 5 | 16.8% | 1st |
| Paul McBeth | 3 | 18.4% | 11th | | Missy Gannon | 6 | 10.3% | T5th |
| Calvin Heimburg | 4 | 11.3% | T4th | | Sarah Hokom | 7 | 5.8% | T7th |
| Kyle Klein | 5 | 6.4% | T40th | | Hailey King | 8 | 5.2% | 4th |
| Kevin Jones | 6 | 3.6% | T34th | | Lisa Fajkus | 9 | 1.4% | T12th |
| Chris Dickerson | 7 | 3.6% | T17th | | Heather Young | 10 | 1.3% | T7th |
| Matt Orum | 8 | 2.6% | T4th | | Ohn Scoggins | 11 | 1.2% | 10th |
| James Conrad | 9 | 2% | T21 | | Jessica Weese | 12 | 0.7% | T21st |
| Andrew Marwede | 10 | 1.8% | T7th | | Ella Hansen | 14 | 0.5% | T7th |
Tournament Background

The Maple Hill disc golf course opened in 2002 and has hosted a big tournament since 2004 that has steadily grown in attendance and esteem. The event started out as the Marshall Street Disc Golf Championship and was founded by Steve Dodge along with his cousin Jason Southwick and Joe Proud. In 2008, Dodge took over the tournament and Southwick took control of Marshall Street Disc Golf, a disc golf shop located right around the corner from Maple Hill.

Dodge managed Vibram's former disc golf operations for many years, and the event at Maple Hill was long known as the Vibram Open. When Vibram left the sport, disc golf equipment manufacturer MVP picked up the title sponsor role.

No matter what the tournament has been called, it has been been a tour stop pros have looked forward to hitting almost since its inception. Part of the reason for this has to do with how the event is held on an idyllic, privately-owned expanse of New England countryside – which is also a Christmas tree farm – that has been in Dodge's family for generations. It's a picturesque backdrop for the many side events and games (distance contests, putting contests, table tennis, darts, skeeball, and more) that are the norm at Maple Hill events.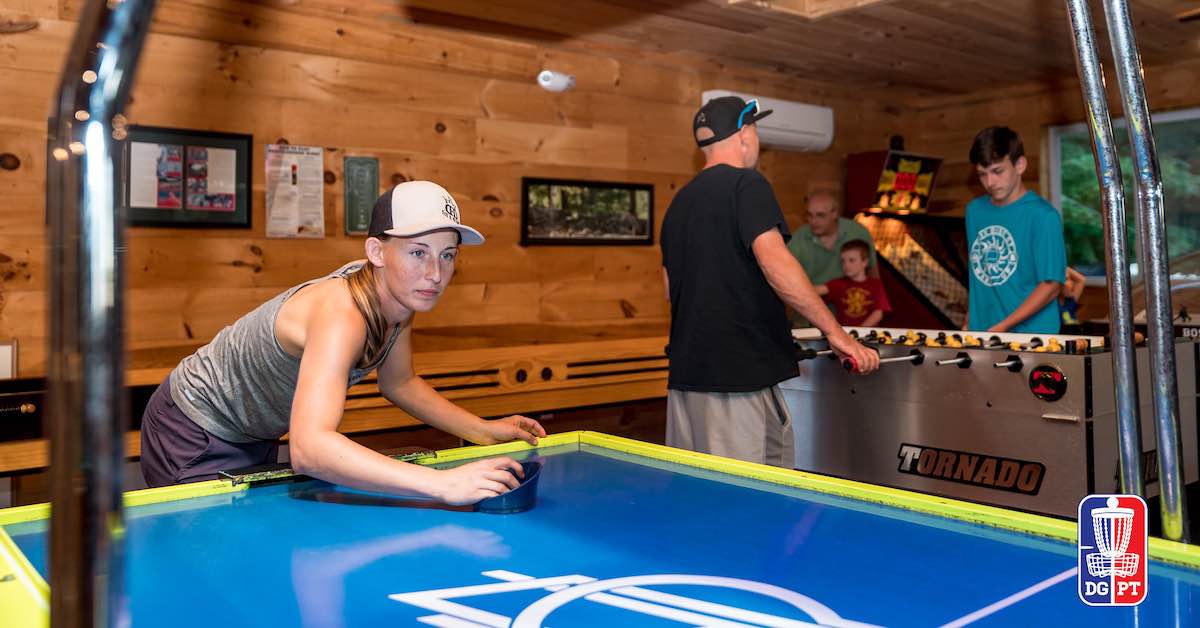 "Everything in and around the tournament happens on the farm," tournament director Steve Dodge said. "You can show up, play your round, and just relax and have fun with all of the other players, spectators, and staff. It's just a great big family, on a family farm, having fun and competing at a very high level."

Along with the warm atmosphere carefully crafted to suit the tastes and interests of disc golfers, the course itself has always been the other main draw for competitors. Maple Hill was designed to be one of the world's best courses from the very start and was actually the best in 2021. The property has terrain and obstacles course designers dream of, and the design exploits that potential to its fullest. To learn more about what this special course is like and its history, give our feature piece, "World's Best Disc Golf Courses: Maple Hill," a read.

The event also has a unique place in recent disc golf history: the 2016 Vibram Open at Maple Hill was the first DGPT event ever held. Newer disc golf fans may not know that Dodge founded the DGPT and ran and owned the majority stake in it until late 2019. So when he launched the DGPT in 2016, it was a no-brainer to kick the new venture off at his own well-loved course and event.
Because the location and tournament are so renowned, nearly every top disc golfer attends the annual competition at Maple Hill. This has contributed to the feeling in recent years that a win at Maple Hill means a lot more than a win at most other venues. Getting the W in Massachusetts isn't quite earning a Worlds or a U.S. Disc Golf Championship title, but in many players and fans' eyes, it's not far off.
The Course
Below you'll find information about the course where the 2021 MVP Open was played.
Number of Holes: 18
Length: 8,577 feet/2,614 meters (Open), 7,234 feet/2,205 (Open Women)
Par: 60

Description: Maple Hill was established in 2002 but has evolved and adapted as the game of disc golf has grown. Almost two decades later, it has five distinct layouts (Red, White, Blue, Gold, and Diamond) and numerous offshoots or combinations of those layouts.

For the 2021 MVP Open, the Open field will play the Gold layout while the Open Women will play the Diamond layout.

A big reason Maple Hill is so loved is the wide variety of shots it asks of players within just one 18-hole round. It has dense woods, water carries, short holes, long holes, elevation changes, OB lines, and a number of other features.

"Every hole gives an opportunity for being aggressive in trying to secure a birdie," Dodge said. "Additionally, every hole has the ability to bite you and cause a bogey. Pretty much every hole can offer a two-stroke swing, and that offers a lot of excitement for the spectators."

There were two changes to both layouts for the 2021 event.

The Open Women teed from the old Gold tee on hole 8 (fans who've seen previous MVP Opens will know it as the over-the-water shot where fans watch on in bleachers just behind the green). Instead of a 275-foot/84-meter, left-to-right shot across the water, it was a 300-foot/91-meter straight shot over the water. Hole 10 also looked a bit different. The previous dogleg was now a big, right-to-left hyzer up the hill.

Hole 8 was also changed for the Open field. The tee pad was backed up 60 feet/18 meters to add more drama to the hole. The ace run was still there, but hitting the small green was harder from a longer distance, adding even more risk to the hole. Hole 17 also saw an adjustment. The tee was moved back 100 feet/30 meters, making it a truer par 4 and all but eliminating the previous eagle chance the hole presented.

The drop zone on hole 8 changed, too. If players threw OB off the tee, they were faced with a 50-foot/15-meter downhill putt looking straight at the water. Trying to save par from the drop zone bought in the potential for a double bogey or worse.
Other Notables: Dodge said after adjusting the Diamond layout a bit to force the Open Women to take more technical lines in 2020, the focus this year was call for more power from that field.

In addition, viewers may have noticed more bleachers were added to the course for spectators, specifically on hole 18.
Past Highlights

Here are some of the standout moments from past competitions at Maple Hill.
2012: Hokom-Jenkins-Allen Battle
In 2012, Sarah Hokom, the reigning World Champion, and Valarie Jenkins, a three-time World Champion, sat on top of the leaderboard after three rounds at the 2012 Vibram Open. Trailing the two stars by one stroke was a woman by the name of Catrina Allen, who had secured her first National Tour win just two months before.
The three women would go shot for shot for the majority of the round, wowing the crowd with a three-way battle. By the time they reached hole 18, Allen and Jenkins sat on top, with a two-stroke advantage on Hokom. The small, OB-encircled green of hole 18 at Maple Hill meant it was still far from over.
Watch this clip from The Disc Golf Guy as Terry Miller and Allen break down the last hole.
2013: McBeth Breaks 50 and Earns 1121 Rating

It was a common belief in 2013 that no one would be able to break a score of 50 at Maple Hill (par at the time was 59). But Paul McBeth doesn't really believe in limits when it comes to disc golf. That year, McBeth shattered the 50 threshold by shooting a 14-under par 45, helping him win the event by 13 strokes over top-notch competition.

McBeth's efforts earned a PDGA rating of 1121, making it one of the highest-rated rounds of all time. For context, his two 18-unders were rated 1108 (2018 GLO) and 1098 (2019 WACO).

You can see some highlights of the round captured by The Disc Golf Guy:



2016: Bradley Williams Wins First NT & First-Ever DGPT Event Amid Chipmunkgate

The 2016 Vibram Open field featured most of the top players in the world at the time. World Champions Paul McBeth and Nate Doss were there. USDGC Champions Nikko Locastro, Steve Brinster, and Will Schusterick were there. Future USDGC Champions Nate Sexton and Jeremy Koling were there. And Ricky Wysocki, who would win his first Worlds six weeks later, was there, too.
All of those stars were rated higher than Bradley Williams. But after four rounds at Maple Hill, Williams was the last man standing.
It was Michael Johansen, Cale Leiviska, and Williams who separated themselves from the field. All three entered hole 18 of the final round deadlocked at 27-under par.
Leiviska found the foliage on the left side of the fairway off the tee and settled for a par while Johansen and Williams earned drop-in birdies. Leiviska finished third, but Williams and Johansen headed for a playoff.

The playoff was held on the par 4 hole 1 and par 3 hole 2 in a loop until one player finished a hole in fewer strokes. Both players birdied hole 1 and parred hole 2 during the first loop. Returning to hole 1, Johansen executed a great tee shot while Williams flipped his over to the right, leaving him among Christmas trees and with a tough approach to the OB-surrounded green.

Johansen's tee shot was still farther from the basket than Williams', so he threw first. His shot was a bit to the right but appeared to be tracking so that it would hit the front of a stone wall that marked OB and stop safe. However, it took a very unusual skip and went OB. Watch below in footage from Prodigy Disc:



If you listen, you'll hear Johansen say, "That was weird. Whatever."

It turns out that skip definitely had a weird origin. In an extremely strange twist of fate, it seemed Johansen's disc had been helped out of bounds by...a chipmunk.
That OB allowed Williams to play just for par from his awkward position and assure he'd get to continue at least through another playoff hole. When Johansen missed his long-range putt from the wall to save par, Williams tapped in for the win. Since the Vibram Open that year was both an NT and a Disc Golf Pro Tour event (a combo that has never happened since), Williams took his first wins for both types of events at that tournament. He also sealed his place in history as the winner of the first DGPT event ever held.
2017 Pierce Comeback
Valarie Jenkins was well in control after three rounds at the 2017 Vibram Open. She had shot the hot round twice and entered the final round with a six-stroke lead over Paige Pierce and a seven-stroke lead over Catrina Allen. All she needed was to coast to victory.
But during the final round, the rain started coming down and the bogeys began piling up for Jenkins. She struggled to grip her discs and wasn't able to find a birdie until hole 8 when she was already six strokes over par for the day. One hole later she gave her gained stroke right back and Pierce was sitting there waiting.
It wasn't until hole 13 that Pierce gained the outright lead, but the writing was on the wall. The rain clearly didn't have the same impact on Pierce as it did on the rest of the Open Women field. As Jenkins struggled for control, it was Pierce who ultimately did the coasting to the finish line. She won by a shocking four strokes to cap off a 10-stroke swing during the final round.
This birdie putt from the edge of Circle 1 on the difficult hole 4 green was the moment that swung the momentum in Pierce's favor:
Pierce eventually clawed her way into the lead. Her clutch layup on hole 17 and Jenkins' missed opportunity all but wrapped up the tournament:
How to Watch the 2021 MVP Open at Maple Hill
When was the 2021 MVP Open at Maple Hill?


Friday, September 3 to Sunday, September 5

Live Scoring


The scores and results of the 2021 MVP Open at Maple Hill are on
UDisc Live
. See shot-by-shot scores and a smorgasbord of stats.

Watch


Live coverage for the 2021 MVP Open at Maple Hill was broadcast exclusively on the Disc Golf Network. Next-day coverage of condensed, shot-by-shot rounds of the leading players were produced by various disc golf media companies and made available on their YouTube channels. Find all the information you need below.
If you're on mobile, swipe left to see the full table.