The 2023 MVP Open disc golf tournament in Massachusetts was from Thursday, September 14 to Sunday, September 17. The tournament was the second Disc Golf Pro Tour Playoff Event.
All three rounds were played at the world's best disc golf course, the legendary Maple Hill Disc Golf Course.
Click or tap a section below to find out more about the 2023 MVP Open disc golf tournament: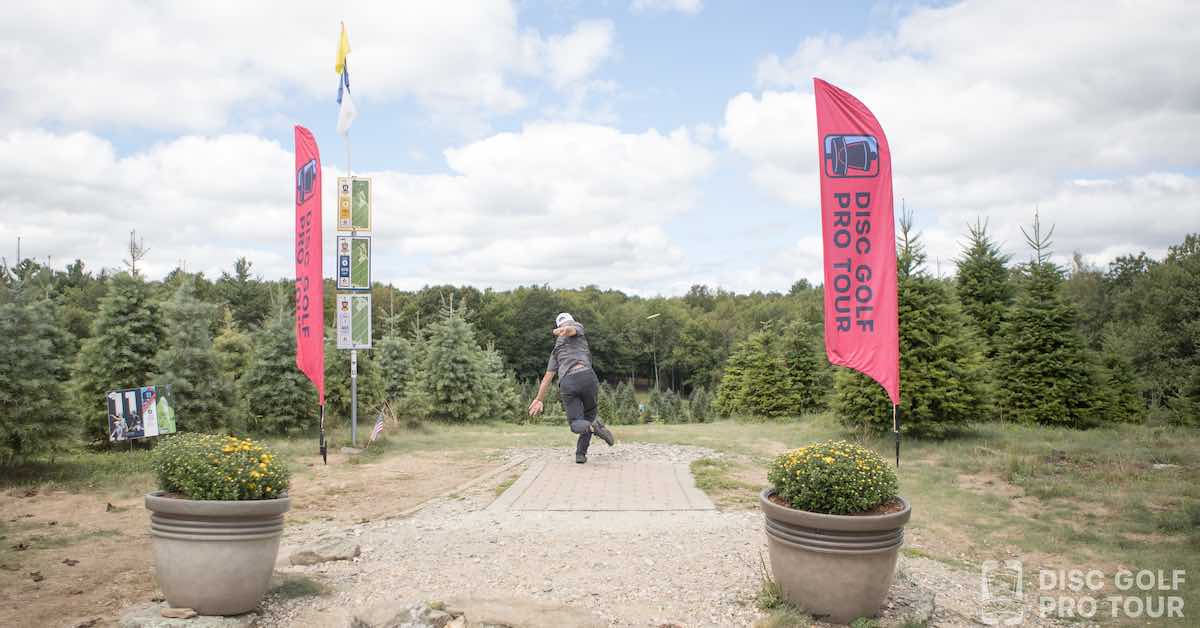 How to Watch the 2023 MVP Open Disc Golf Tournament: Live
You can watch archived live coverage of the 2023 MVP Open disc golf tournament on the Disc Golf Network (DGN).
The first round was streamed on the DGPT's YouTube channel (and is still available there) at no cost, but you'll need a paid DGN subscription to watch the live coverage of the other three rounds.
How to Watch the 2023 MVP Open Disc Golf Tournament for Free
You can watch the 2023 MVP Open disc golf tournament for free via JomezPro (FPO and MPO lead cards), Gatekeeper Media (MPO chase cards), and Ace Run Pro (FPO chase cards). All offer condensed, post-produced rounds on their YouTube channels.
Scores & Stats for the 2023 MVP Open Disc Golf Tournament
You can see shot-by-shot scores and in-depth stats for every round of the 2023 MVP Open disc golf tournament on UDisc Live for MPO and FPO.
2023 MVP Open Disc Golf Tournament Win Probabilities
Prior to the start of the 2023 MVP Open disc golf tournament, these are the players UDisc Live's pro disc golf Win Probability model gave at least a 2% chance to win in MPO and FPO:
On mobile, swipe left/right to see all columns.

These percentages were created prior to the start of the event and changed dramatically as it played out. To see how, check out Win Probability on UDisc Live.

Note that Win Probability doesn't always match up with Disc Golf World Ranking because Win Probability takes into account how players have historically performed on holes of specific distances and difficulties and compares that information just to holes they'll face at a single event. That means the probabilities above related to how players' historical performances suggested they'd do just at the 2023 MVP Open whereas World Ranking is a broader assessment of past performance.
Who Won the 2023 MVP Open Disc Golf Tournament?
Matt Orum (MPO, 23-under par) and Hailey King (FPO, 7-under par) won the 2023 MVP Open.
All Winners of the MVP Open at Maple Hill
MVP Open Disc Golf Tournament at Maple Hill History
The Maple Hill disc golf course opened in 2002 and since 2004 has hosted a big tournament that has steadily grown in attendance and esteem. The event started out as the Marshall Street Disc Golf Championship and was founded by Steve Dodge along with his cousin Jason Southwick and Joe Proud. In 2008, Dodge took over the tournament and Southwick took control of Marshall Street Disc Golf, a disc golf shop located right around the corner from Maple Hill.

Dodge managed Vibram's former disc golf operations for many years, and the event at Maple Hill was long known as the Vibram Open. When Vibram left the sport, disc golf equipment manufacturer MVP picked up the title sponsor role.
No matter what the tournament has been called, it has been been a tour stop pros have been anxious to hit each year almost since its inception. Part of the reason for this is the idyllic, privately-owned expanse of New England countryside – which is also a Christmas tree farm – that has been in Dodge's family for generations. It's a picturesque backdrop for the many side events and games (distance contests, putting contests, table tennis, darts, skeeball, and more) that are the norm at Maple Hill events.
"Everything in and around the tournament happens on the farm," tournament director Steve Dodge said. "You can show up, play your round, and just relax and have fun with all of the other players, spectators, and staff. It's just a great big family, on a family farm, having fun and competing at a very high level."

Along with the warm atmosphere carefully crafted to suit the tastes and interests of disc golfers, the course itself has always been a huge draw for competitors. Maple Hill has reigned as the world's best disc golf course for the last three years running. The property has terrain and obstacles course designers dream of, and the design exploits that potential to its fullest. To learn more about what this special course is like and its history, give our feature piece, "World's Best Disc Golf Courses: Maple Hill," a read.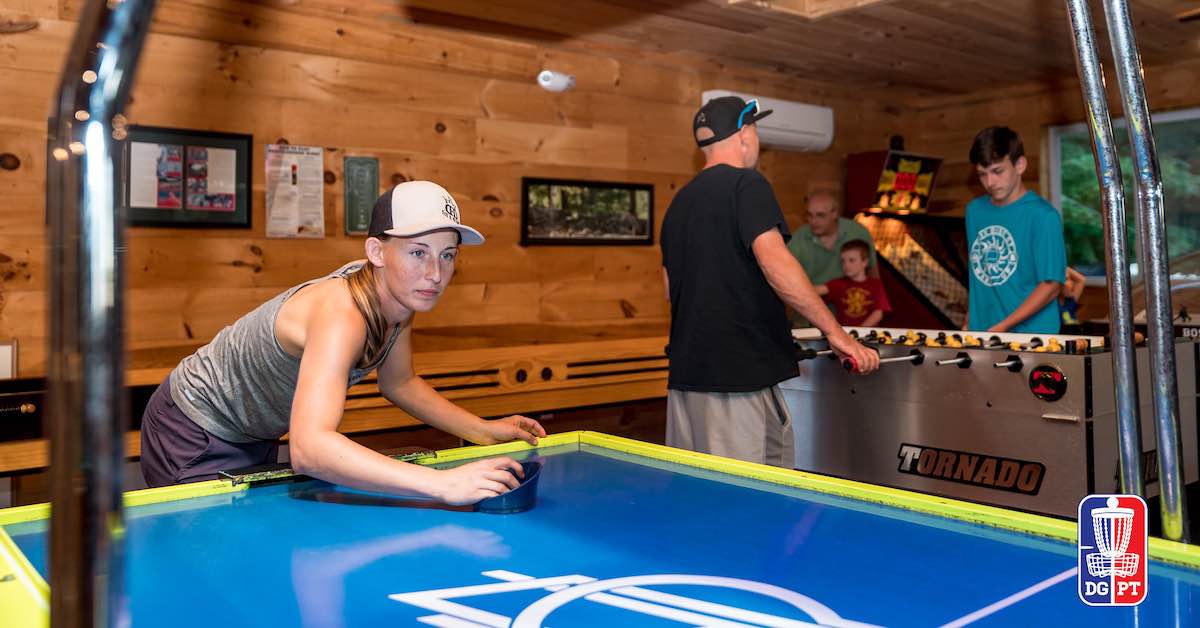 The event also has a unique place in recent disc golf history: the 2016 Vibram Open at Maple Hill was the first DGPT event ever held. Newer disc golf fans may not know that Dodge founded the DGPT and ran and owned the majority stake in it until late 2019. So when he launched the DGPT in 2016, it was a no-brainer to kick the new venture off at his own well-loved course and event. You can learn more about this part of the DGPT's early years in the first of our three-part series on DGPT history.
Because the location and tournament are so renowned, nearly every top disc golfer attends the annual competition at Maple Hill. This has contributed to the feeling in recent years that a win at Maple Hill means a lot more than a win at most other venues. Getting the W in Massachusetts isn't quite earning a Worlds or a U.S. Disc Golf Championship title, but in many players and fans' eyes, it's not far off.