'Release Point' editor and writer Alex Williamson is a co-author of this guide.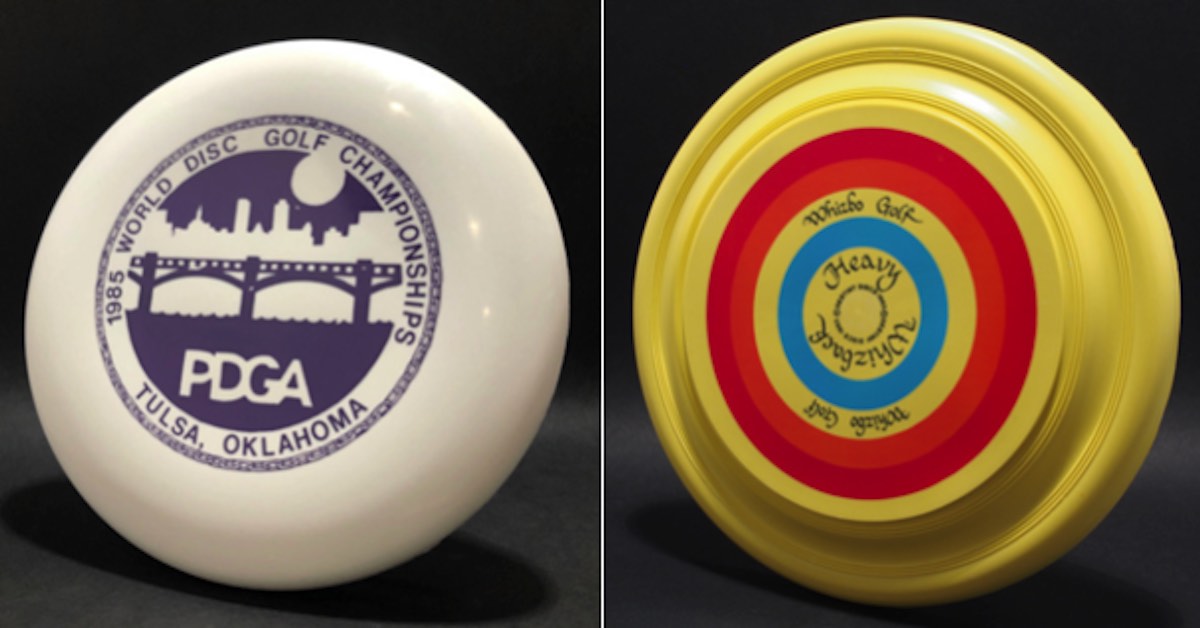 The disc golf disc making business is just like any other in the retail sector: brands often come and go. But the same way you might still find a Saturn at a used car lot or an auto collector who has a perfectly restored Pontiac muscle car from the '70s, discs from defunct disc golf brands pop up every now and then, and their appeal and usefulness vary.

This guide is meant to help anyone looking to know more about the companies that made those weird discs they found when cleaning attics and garages, leafing through used bins at the local disc golf shop, or maybe even when doing a little disc diving. It's also great for anyone who's simply curious about disc history.

So you're not disappointed, we want to be clear that this guide discusses what we were able to find out about the disc brands' histories and hallmarks of their discs, not the possible value their discs could have on the resale market.

Finally, we cover over 20 brands below, so this isn't a short read by any means. But the information about each brand is in very digestible chunks. If you don't have 20 or more minutes on your hands, we suggest bookmarking this article to read a little at a time whenever you need a short break to let your inner disc nerd out.
Where Did the Information Come From?
First of all, it's extremely important to thank Jeff Homburg of the Professional Disc Golf Association Technical Standards Working Group (PDGA TSWG) as well as the Flying Disc Museum (FDM) for helping to make this guide what it is. All images of discs you'll find here are from one of those two sources.

Homburg has approved all discs for the PDGA since 1989 and he and his wife have spent around 700 hours photographing them, editing those photographs, and making them publicly available. Learn all about Homburg and some of the most interesting stories from his time approving discs in our piece "Meet The Man Who Approved Your Discs."

The FDM is a free, online resource where anyone can peruse photos of flying discs of all sorts (for disc golf, ultimate, and more) as well as find information and blog posts about some of those discs. Mike Hughes was our contact point at the FDM throughout our work on this piece. Read more about the museum's founding and ambitions to document every flying disc ever made in "A Growing Home Of Disc History: The Flying Disc Museum."

Homburg and fellow TSWG member Kjell Söderholm as well as some of those behind the FDM read this guide before we published it, too, fact-checking our research and adding valuable insights and bits of history.

Now, here's how the disc brands mentioned below got here.

To create this guide we used the PDGA approval list as well as other online resources of disc knowledge and the brands' websites/social media if they existed. We only talk about brands that fit the following criteria:
They are a manufacturer/distributor appearing on the PDGA approval list.

They have a disc that is PDGA-approved.

They have not had a PDGA-approved disc since 2017.

They no longer make/put their brand on discs. After we checked the first three criteria, we researched to see if they were still in operation.
Help Improve the List
There's no question some defunct brands could have escaped our notice during this process, and we'd love to make this guide as exhaustive as possible. Additionally, there are doubtlessly people out there who have more in-depth knowledge about some of the manufacturers in this guide who could help add details or suggest amendments to the information we present.

If you have any input on either of these fronts, write an e-mail with the subject "Defunct Discs" to releasepoint@udisc.com.
The Guide to Defunct Disc Golf Brands
We've broken the list into four categories: Big Brands (20+ models approved), Mid-Level Brands (6-20 models approved), Testing the Waters Brands (2-5 models approved), and One-Offs (one model approved).

If you want to make sure a manufacturer you're looking for is on the list before diving in, here's what it covers in the same order you'll find below (entries are alphabetical within each subsection):

Big Brands1

1. Vibram


Mid-Level Brands

1. ABC Discs
2. DiscWing Limited
3. DKG Disc Sports
4. Element Discs
5. Fly High Discs


Testing the Waters Brands

1. Aerobie
2. Destiny/Dynamic Disc (not to be confused with the modern and thriving Dynamic Discs)
3. DMI Sports
4. EMSCO Group
5. Las Aves Disc Golf
6. Ozone Discs
7. Pacific Cycle
8. Paradigm Disc Golf
9. Plastic Paradise or Disc Golf Stuff
10. Rip Disc Golf
11. Salient Discs
12. TOBU
13. UB Disc Golf - Hand Candy


One-Offs2

1. 1080 Disc Golf
2. Best Disc Golf Discs
3. Deity Discs
4. Disc King
5. Ferris State University
6. Hero Leports Company, Limited
7. Skyiron

1. A previous version of this post included both CHING Disc Sports and Quest AT in the 'Big Brands' section. Since publication, we have learned that both brands may not be as defunct as they seemed. We're digging into these stories and will share what we learn with you here on 'Release Point.'

2. A previous version of this post included Essential Discs in the 'One-Offs' section. The founder has since let us know that though the production process is moving slowly, the brand is very much still active and working toward bringing new molds to the market.

Big Brands (20+ models)

1. Vibram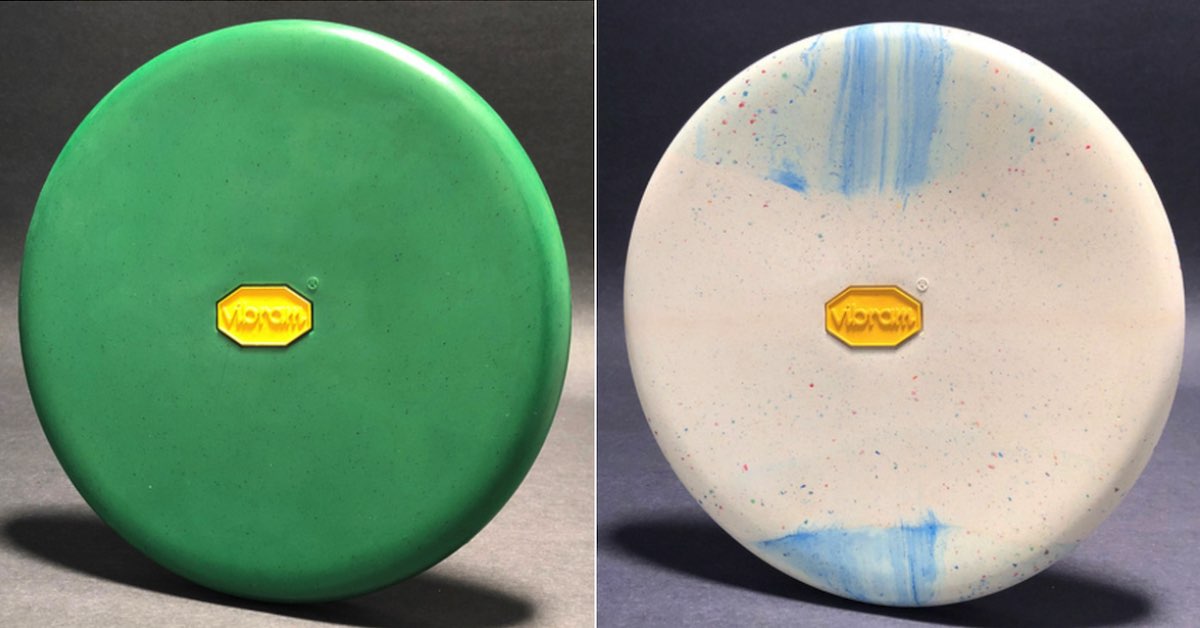 We're still sad about this one.

Vibram, the rubber shoe sole making company, is still around and odds are if you own a nice pair of hiking shoes, they have Vibram soles. But between 2009-2018, Vibram made some pretty darn good discs. Their hallmark was having rubber instead of plastic as their base material, which allowed them to create unique looks and textures that weren't possible with plastic.

Vibram caught on pretty quickly and they became a minor power in our sport. Their disc golf business was run by Steve Dodge for most of its existence before he left to start the Disc Golf Pro Tour. Not surprisingly, they were the main sponsor of the beloved tournament run each year at Dodge's course, Maple Hill in Massachusetts. Now named for disc manufacturer MVP, the event was called the Vibram Open from 2008-2017.

All that aside, the discs did well enough for a brand not named Innova or Discraft, but they also cost a lot to produce and were a bit expensive. A new Vibram disc could cost you $20 and they did not have a more affordable "base line" of any kind.

Also, while their discs felt and looked great, they were not the most durable (except for the Softs). So if you bagged Vibram, you would have to replace your discs pretty often (though some people swore they could be made better again by microwaving them with water inside). All this prevented Vibram from holding a larger share of the disc market and eventually the disc golf portion of their business didn't make sense to Vibram anymore, so they ended it.
Mid-Level Brands (6-20 models)

1. ABC Discs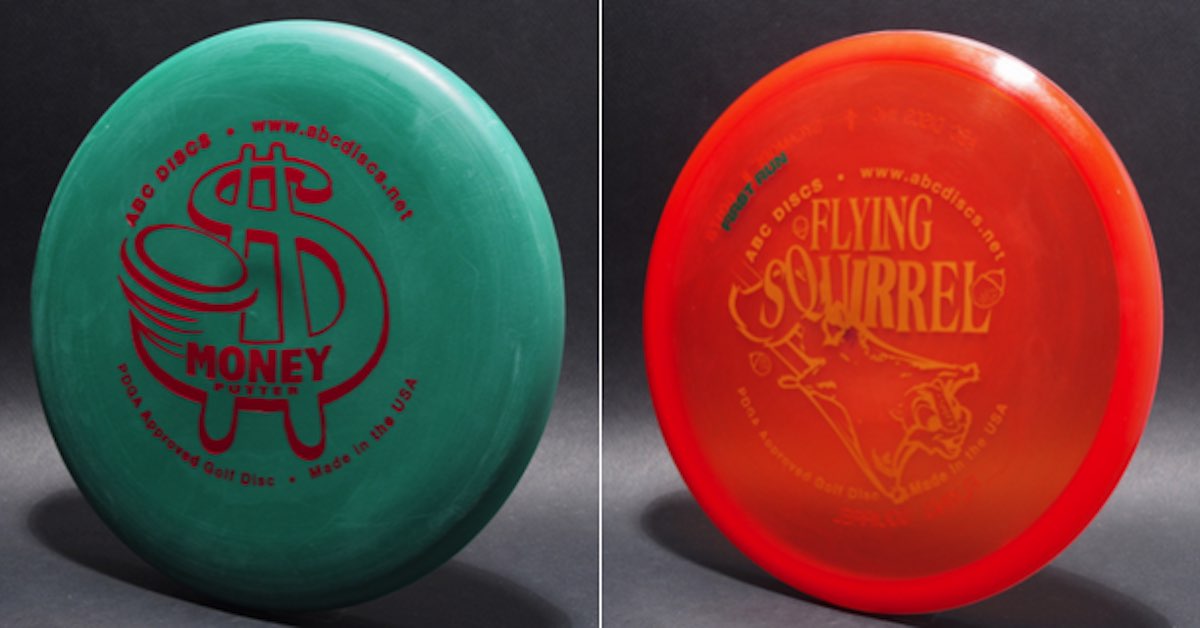 Based in Sycamore, Illinois, ABC Discs was mildly popular for a little bit in the early 2010s.
They had six discs that were PDGA approved: The Money, Gamma Ray, Secret Weapon, Flying Squirrel, Mission, and Bee Line. One author of this guide, Isaac, has thrown the Bee Line and Secret Weapon and thought they were pretty good discs and noted that the Secret Weapon is one of the most understable drivers he has ever thrown. He also enjoyed some of their unique plastic blends.

You can still find some ABC discs for sale at Infinite Discs and other online retail sites. Also, online retailer Infinite Discs' line of discs for kids called Dino Discs includes some discs based on ABC molds.  

Sadly, the founder of ABC, Dan Pastore, passed away in 2020.
2. DiscWing, Limited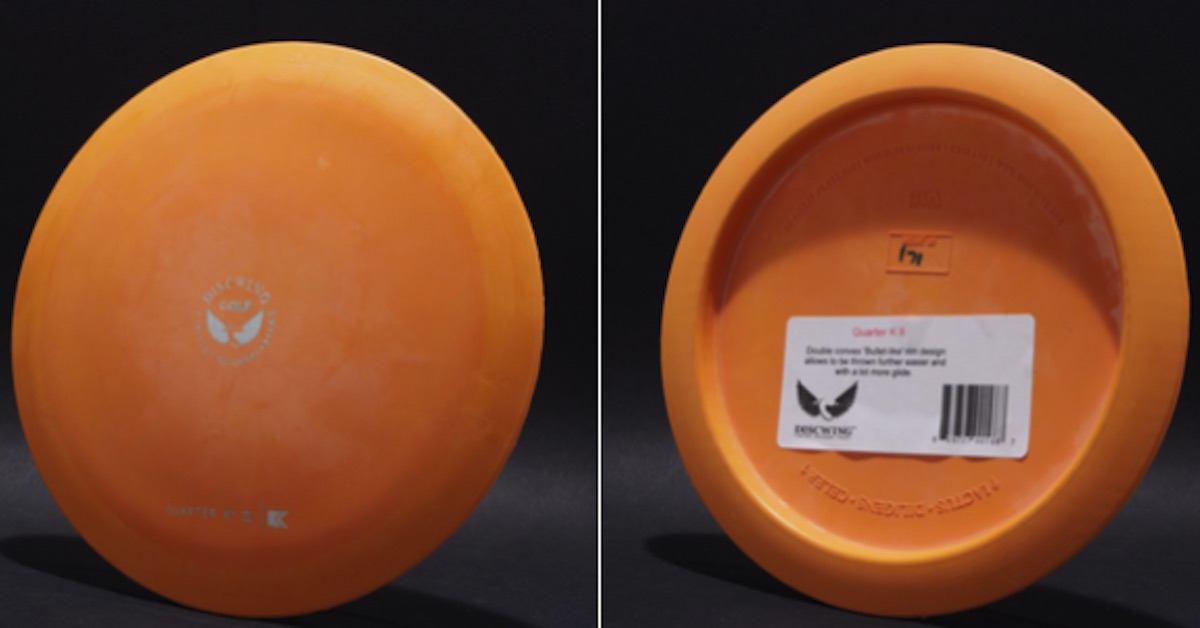 DiscWing was the original U.K. disc golf brand. Their founder, Johnny Potts, had revolutionary, physics-based disc designs that led to some distance drivers that were causing a stir back in 2005. Unfortunately, the first full production run of DiscWing's Quarter K driver didn't happen until three years later in 2008.

Hype only lasts so long, and it would take a mighty big wave of interest for people to ride it for three years.

Still, the Quarter K was modestly successful, enough to encourage DiscWing to bring another driver to market. That led to the creation of the Quarter K II, but this guide's co-author Isaac owns one and thinks he knows why the disc never caught on. The plastic feels strange and doesn't seem particularly durable, and its flight characteristics aren't anything spectacular. He actually wrote a review of it if you're curious to know more about his experiences with this disc.
3. DKG Disc Sports
This company had all of its eight discs PDGA-approved in 2010 alone. Its founders had an engineering background and created computer models to predict the flight paths of certain molds, which could explain why DKG had a bunch of molds from the get go. If you have software that can predict a disc's flight pretty well, you can reduce the amount of time you have to test the disc to send it out there (or at least you might think so).

We couldn't find the exact reason for DKG's downfall, but it could be that overinvestment in producing a diversity of discs rather than building consumers' trust in a few molds to start out with could have been a key factor.

The background of DKG is actually surprisingly similar to that of Denmark's Løft Discs, which had the most successful disc golf Kickstarter of all time in 2021. They, too, have developed a flight simulator to predict the flight of certain molds. However, they still did a lot of testing to perfect their modeling system and chose to start marketing with just one disc. Perhaps Løft's more cautious start will lead to a longer life for Løft than DKG enjoyed.
4. Element Discs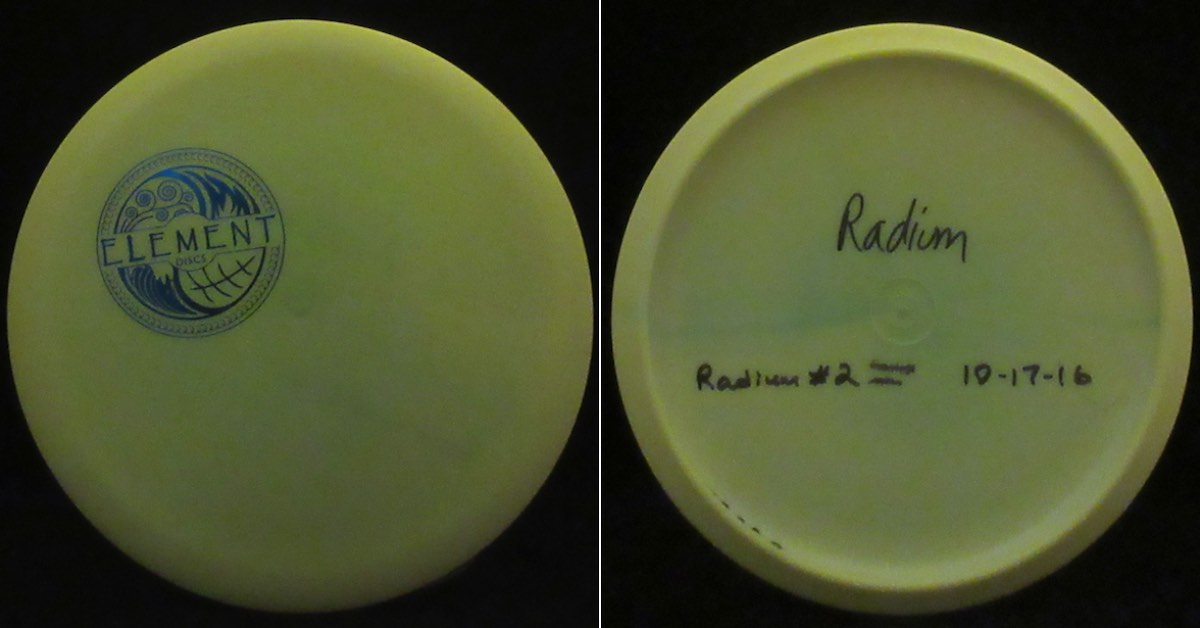 Element named their discs after – you guessed it – elements (yet another way Løft is like a defunct disc maker).

Based in New York, they produced discs from 2015-2016. Like DKG, they went on a bit of a mold spree, getting six discs approved within just one year (2016).  Their discs didn't prove popular enough to keep the company afloat, but some of their molds do live on. This is because those molds were bought by Above Ground Level, a disc-making company that had its first disc PDGA-approved in 2017 and is still producing and developing discs.
5. Fly High Discs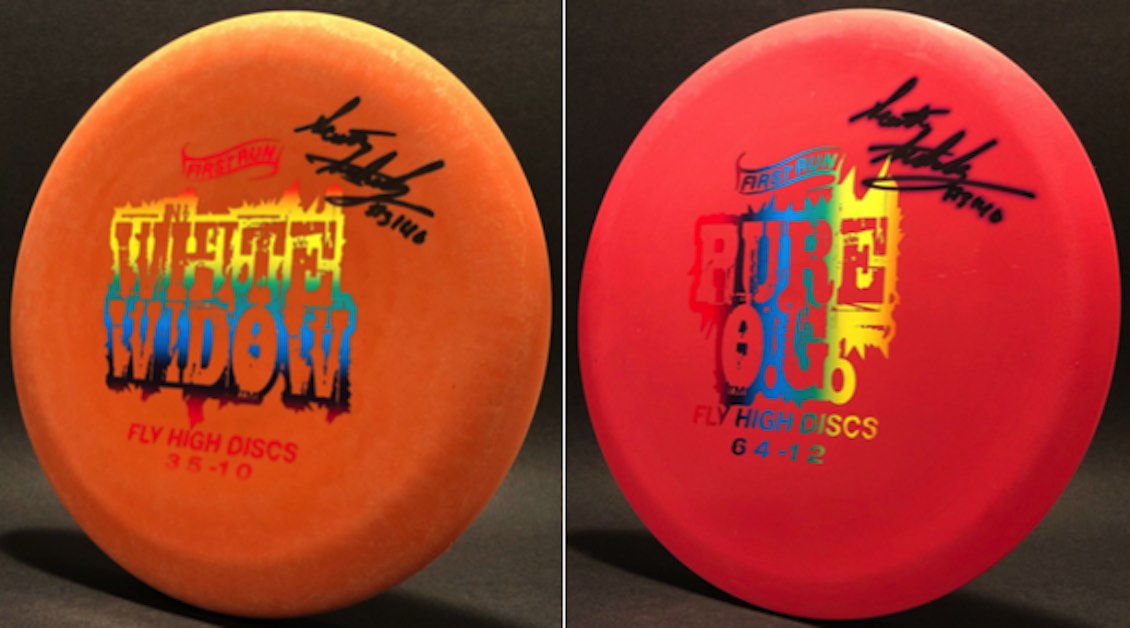 Fly High was the result of a collaboration between Scott Stokely and Colorado's Fly Green Disc Golf. Stokely was a top player in the late 1990s known for having a big arm and being one of the first pros to cultivate a power forehand shot. He came in second at the PDGA World Disc Golf Championships two years running, in '97 and '98.

He disappeared from the scene for quite a few years but has come back strong to disc golf recently with a book about his disc golfing past, tips videos, clinics, and, of course, helping launch and promote Fly High.

The discs were manufactured by extant brand Gateway and all were named after cannabis strains. That marketing decision was likely one reason the discs didn't sell particularly well considering they entered the disc golf market in an era when the sport was trying to shake its reputation as a game for hippies and move into the mainstream.

Jeff Homburg, head of the PDGA's Technical Standards Working Group, told us there were actually talks at the PDGA about disallowing these disc's names though they were ultimately allowed to stand. However, it's interesting to know that though the PDGA has never not allowed a disc name, Homburg said it theoretically could if it were "highly vulgar, racist, or offensive in some way deemed as crossing the line."
Testing the Waters Brands (2-5 models)

1. Aerobie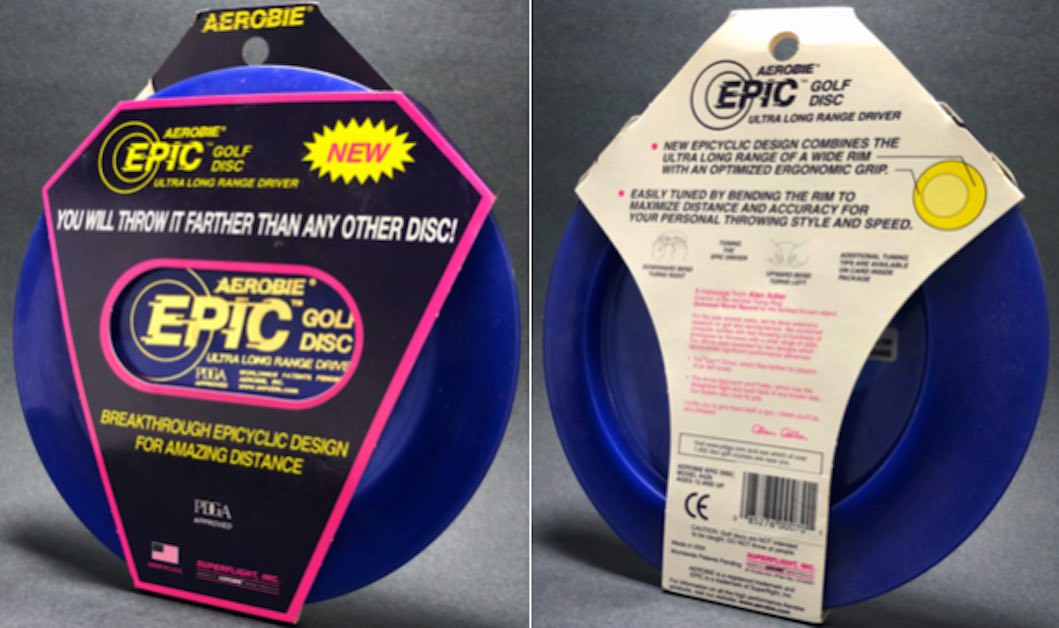 Aerobie as a company is still around and even making flying discs. You know those rings that fly forever? Those are from Aerobie.

They also make the coffee-making device called the AeroPress.

One thing they're not making anymore is a disc golf disc, though. When they were in the disc golf game, their most notable molds were the Epic and Arrow.

The Epic was made with an epicyclic design, which means that the flight plate was off-center. Also, Epics are tunable, so you can bend them in different ways to produce different flight characteristics (this was part of the design, not an accident). Some believe the Epic is the greatest overhand disc of all time. With the right technique, you can thumb an Epic for miles, and they are sought after by people who know how to use them.

The Arrow was pretty much the definition of a "lid putter."
2. Destiny/Dynamic Disc (not to be confused with the thriving Dynamic Discs out of Kansas)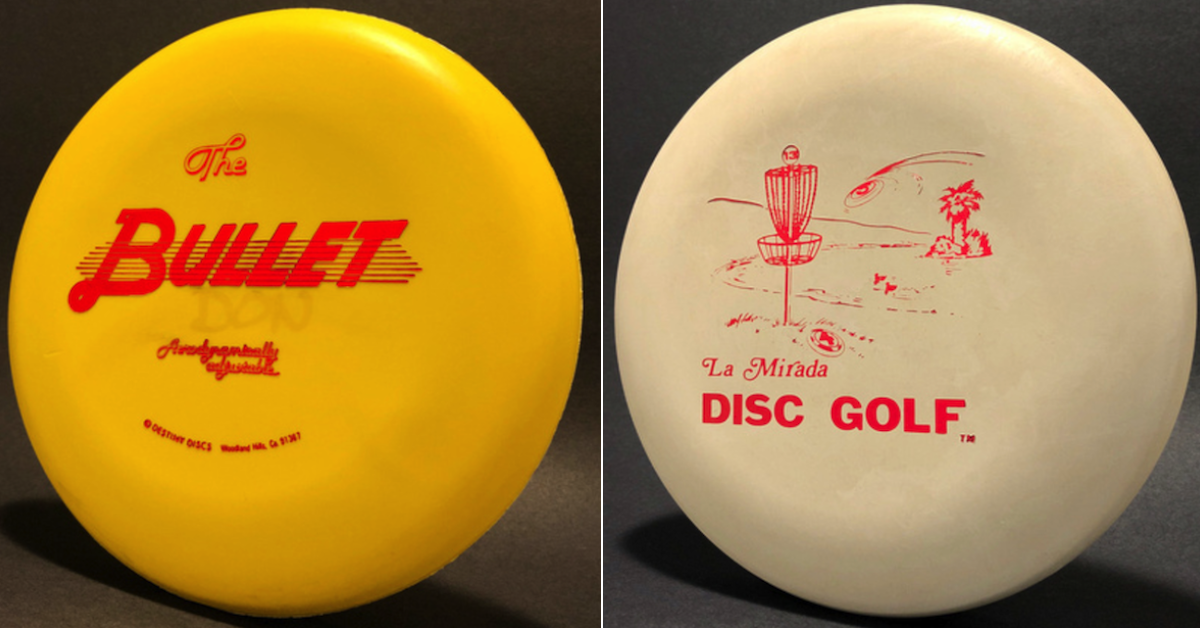 First, credit must go where credit is due. We knew about some Destiny/Dynamic Disc history just from oral and forum lore, but the details in this section come largely from the 2010 Disc Golfer Magazine article "Puppy Master." We highly recommend giving it a read.

Second, if you're familiar with Destiny/Dynamic's history, know that we're well aware that putting it in a category called "Testing the Waters" is a little strange given how seminal the company was.

Now, let's tackle the name thing. The first company name that Californian Jan Sobel released a disc golf disc under was Destiny Disc and its name was changed to Dynamic Disc in the late '80s*. By the time the current Dynamic Discs (also different because its name is plural) out of Emporia, Kansas, came along in the early 2000s, Sobel's company was no longer in operation.

At last, let's get to the discs themselves.

Destiny's Puppy disc golf disc is one of the most important discs ever made. Before it came out in the early '80s, disc golf discs were something like just heavier Frisbees and had diameters around 26 centimeters. Sobel decided to try making a disc with a smaller diameter than these Frisbee-like creations, and the experiment resulted in the Puppy, a disc that flew farther than anything before it and quickly gathered a huge fan base. The disc's diameter was 21 centimeters.

Sobel also threw a lot of plastic into his discs, with some weighing more than 200 grams.

The Super Puppy that came after the Puppy was the result of Sobel altering the Puppy mold to change flight characteristics a bit and was also very popular.

Many point to the Puppy's demonstration of the benefits of a smaller diameter as key to the development of Innova's original Eagle (more like the Aero than the Eagle we know today), which combined having a smaller diameter than traditional Frisbees with the groundbreaking beveled edge.

Sobel's desire to experiment and push boundaries is likely a big reason the company is no longer around, though. For example, he created a disc called the Bullet that had an even smaller diameter than the Puppy, was extremely stiff, and had a sharp edge, all of which made its name a little too apt. The Bullet not only flew fast and far but could also cause major injuries to anyone unlucky enough to get in its path.

Sobel's penchant for creating small-diameter, heavy discs catalyzed the PDGA's creation of standards for disc diameters (no smaller than 21 centimeters) and maximum weight (200 grams). Sobel wasn't one for standards and didn't alter his designs to conform to the evolving rules, and as other high-performing discs were made that did meet PDGA specifications, Sobel's creations declined in popularity. However, Super Puppies within the legal weight limits remained loved and in use at PDGA tournaments for many years.

PDGA Technical Standards Working Group chair Homburg told us that the one time he met Sobel, Sobel made it clear that he felt, in Homburg's words, "unfairly singled out" by standards like the weight and diameter restrictions.

"And I think he has a point," Homburg said. "Where should the line be drawn? It could have just as easily been drawn to disallow Innova's bevel-edged discs, but it wasn't."

To be clear, Homburg's role with the PDGA began years after the weight and diameter restrictions were put in place, and he actually actively protested the weight restrictions when they were enacted.

Notably, Destiny/Dynamic is the only company other than Quest AT to have a disc removed from the PDGA approval list. Its Dimple was originally approved but was removed once a standard regarding maximum stiffness was instituted. The PDGA gave Sobel a chance to make the disc with a more flexible plastic blend, but he declined.


* According to Kevin Fuller, an FDM founder, Sobel released a non-golf disc called the Floater under the company name Dreamflights Mfg. Co. before the Puppy was released and may have also worked under the Whizbo Company name before that. This information came from conversations Fuller had with Sobel's daughter.
3. DMI Sports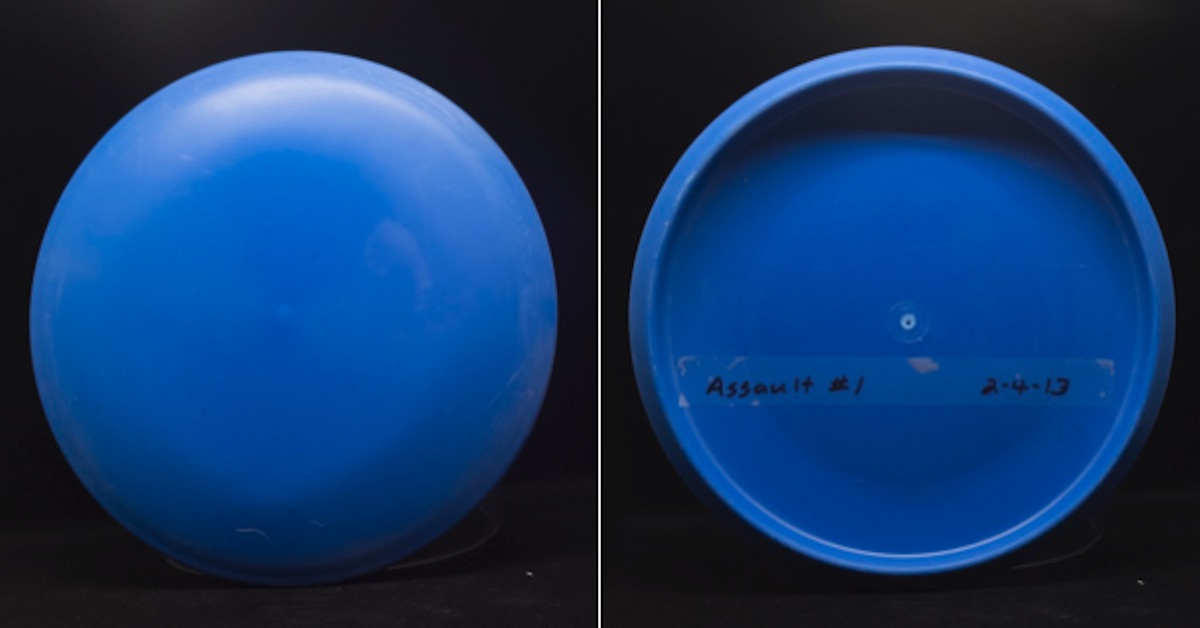 DMI is a brand that makes other sports equipment not related to disc golf. They decided to give disc golf a go with a cheap starter pack. Well, it was $30, but the discs were not high quality. It's not surprising the discs didn't catch on.
4. EMSCO Group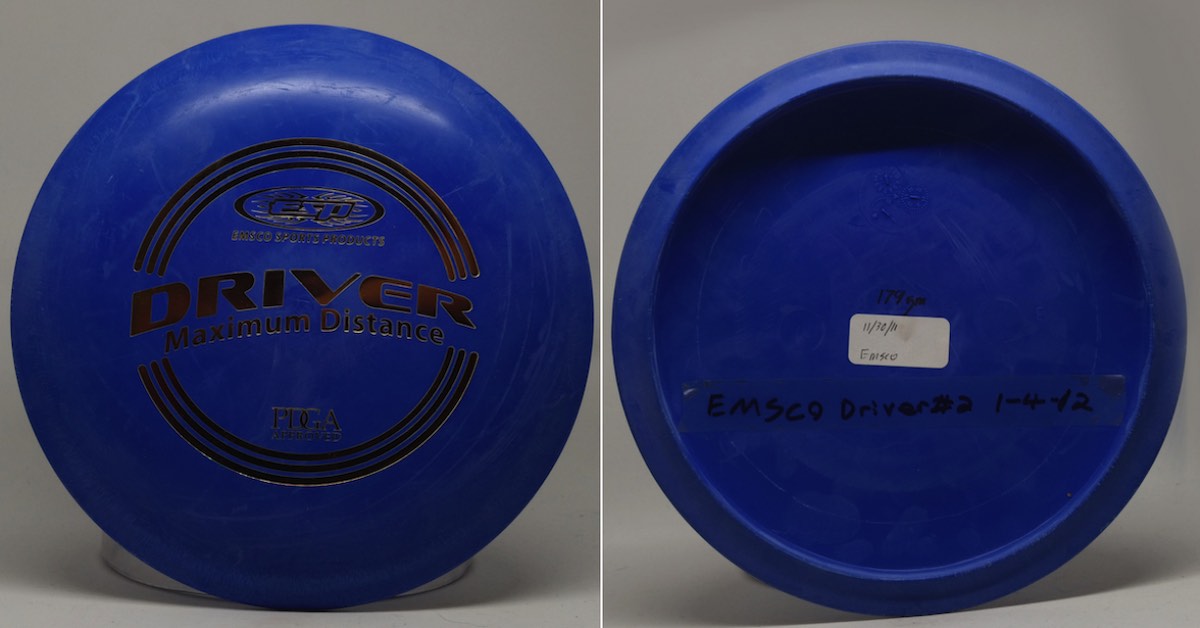 To be perfectly honest, it's hard to tell if this sports equipment brand's venture into making disc golf discs is truly over. They're here because they haven't added anything to their three-disc, budget starter pack lineup since 2012. Still, it is possible to find these discs at online retailers. That could be just old stock or they may make new runs every now and then. But if online reviews are anything to go by, no one will really miss these discs if they are gone.
5. Las Aves Disc Golf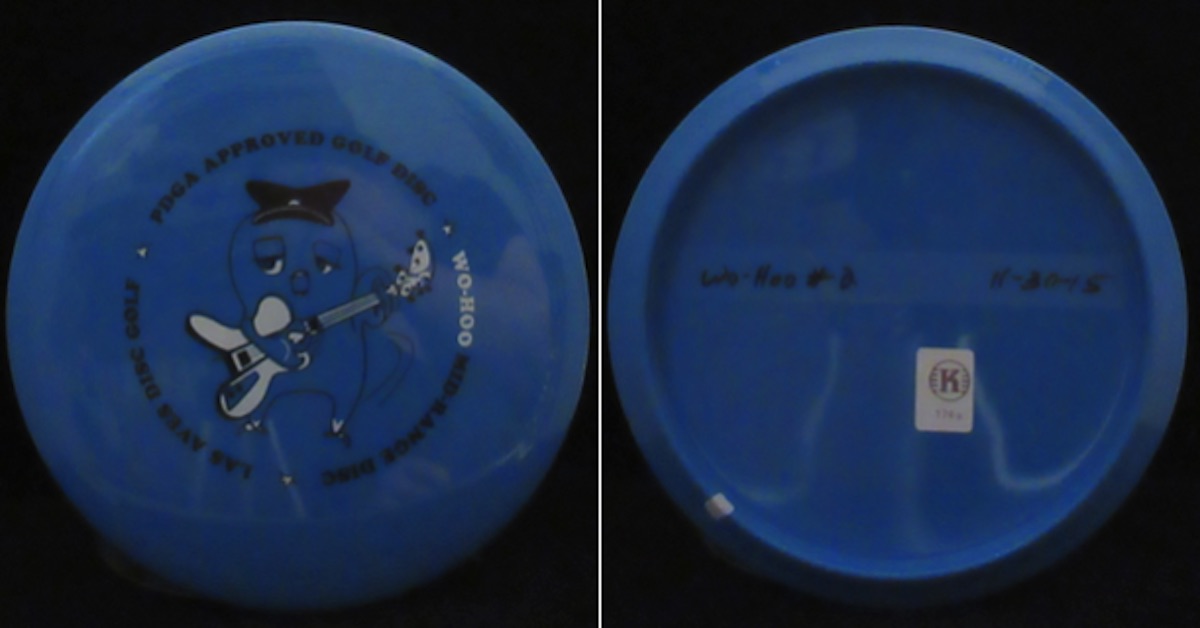 Las Aves was a Finnish disc brand, and they had two discs that were PDGA-approved back in 2015. For you Kastaplast lovers out there, it'll be interesting to know that Kastaplast produced these discs using their plastic (you'll notice the Kastaplast logo on the sticker in the right photo above).

Las Aves also made baskets, hoodies, and other disc golf-related gear.

With lots of competition in the northern European market from brands like Latitude 64, Westside, Innova/Discmania  – and disc names like the Ka-Kaa that were easy to poke fun at – Las Aves never managed to gain a foothold.
6. Ozone Discs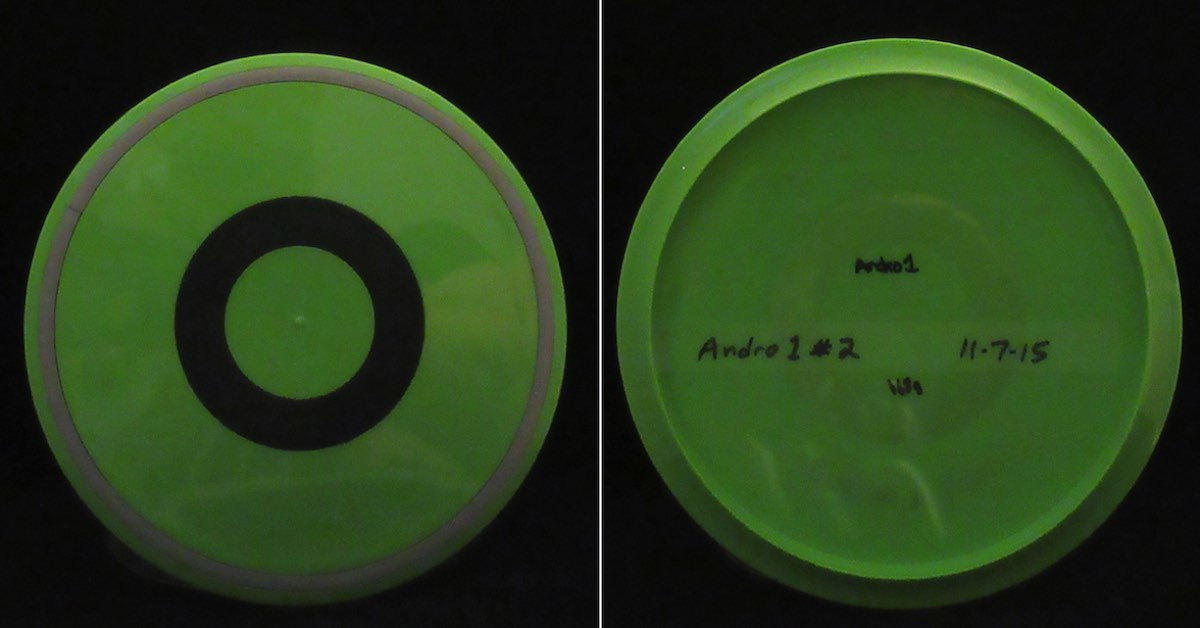 Ozone Discs had a unique idea that unfortunately didn't seem to pan out.

They applied for a patent for their innovative plastic insert technology. The concept was they would make discs that were the exact same mold, but a plastic ring would be integrated near the discs' centers after they'd gone through the molding process (see the black ring in the photo above). Ozone had different rings that altered how their discs interacted with the air, making them more and less overstable.

Essentially, the rings meant they could make discs with the exact same handfeel that still flew differently, no beating in required.

Ozone ran a successful Kickstarter to get their patented discs on the market. The Andro 1 and Andro C are the only discs made by Ozone that actually have that patented technology in them (the Andro 1 being a prototype for the Andro C). The Hyperion, which was their final disc, did not have that technology in it.

Shortly after the Hyperion was released to retail stores, Ozone went dark and we haven't heard anything from them since.
7. Pacific Cycle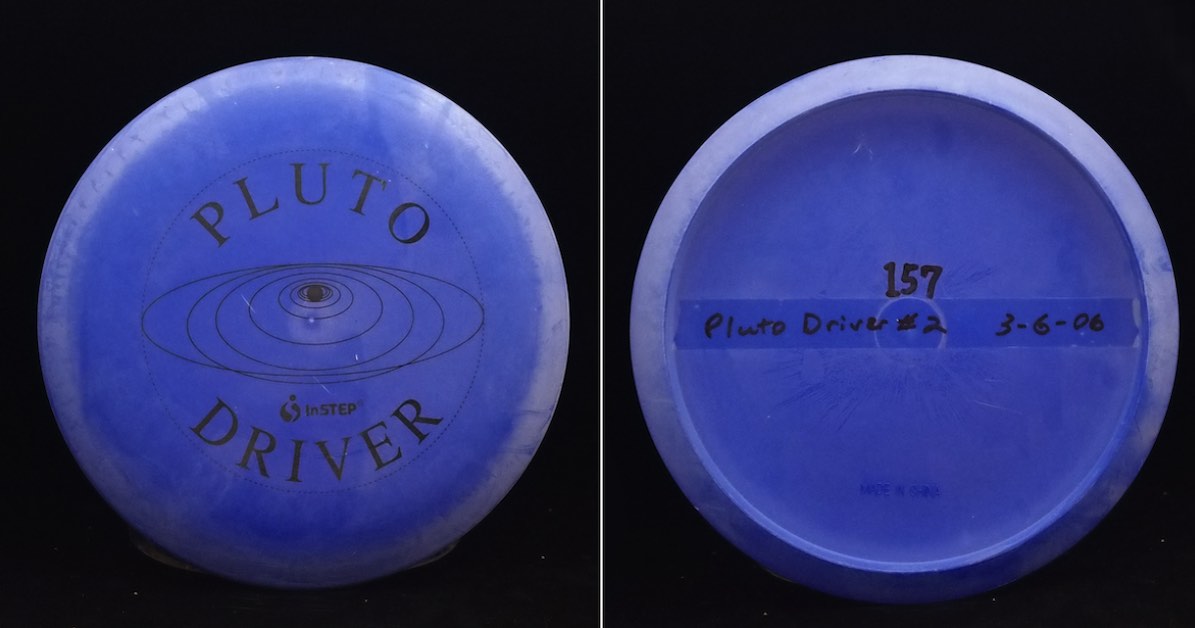 Pacific Cycle sold a very low-cost basket called the "Halex" or "In-Step" and they made three discs to go along with it. None of the them are gems in the rough.
8. Paradigm Disc Golf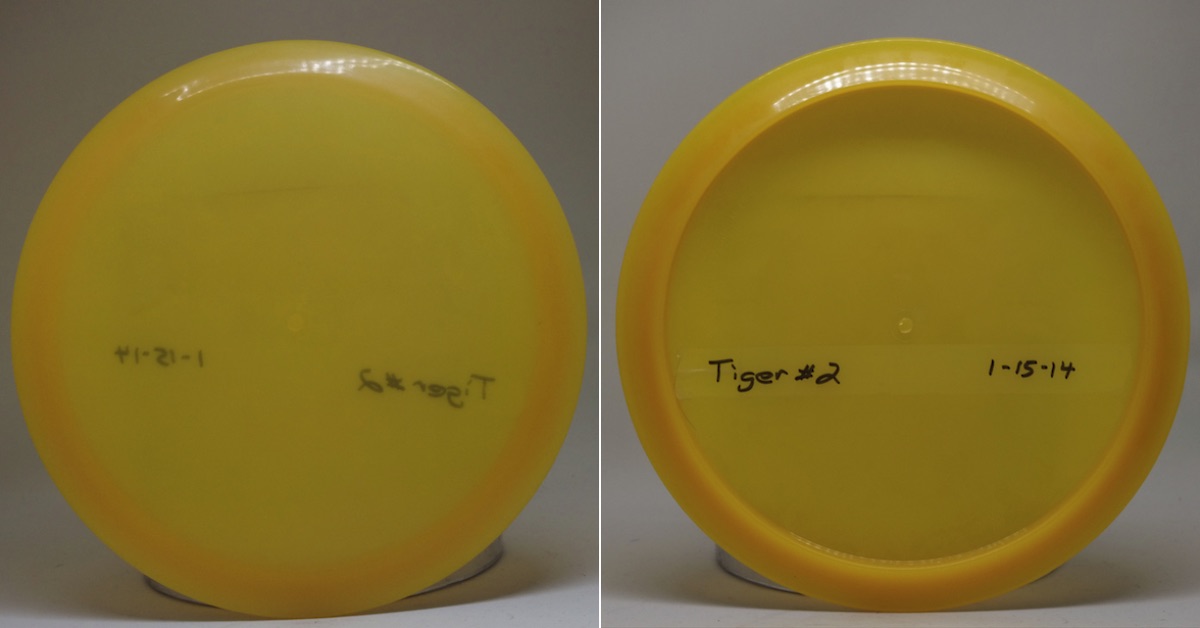 There's not much out there about Paradigm. It seems they actually made good discs since we were unable to find one negative review. All we can say for sure is that they had three discs approved by the PDGA, haven't made a Facebook post since 2016, don't seem to be producing discs anymore, and we'd love try their discs if we could find some.
9. Plastic Paradise or Disc Golf Stuff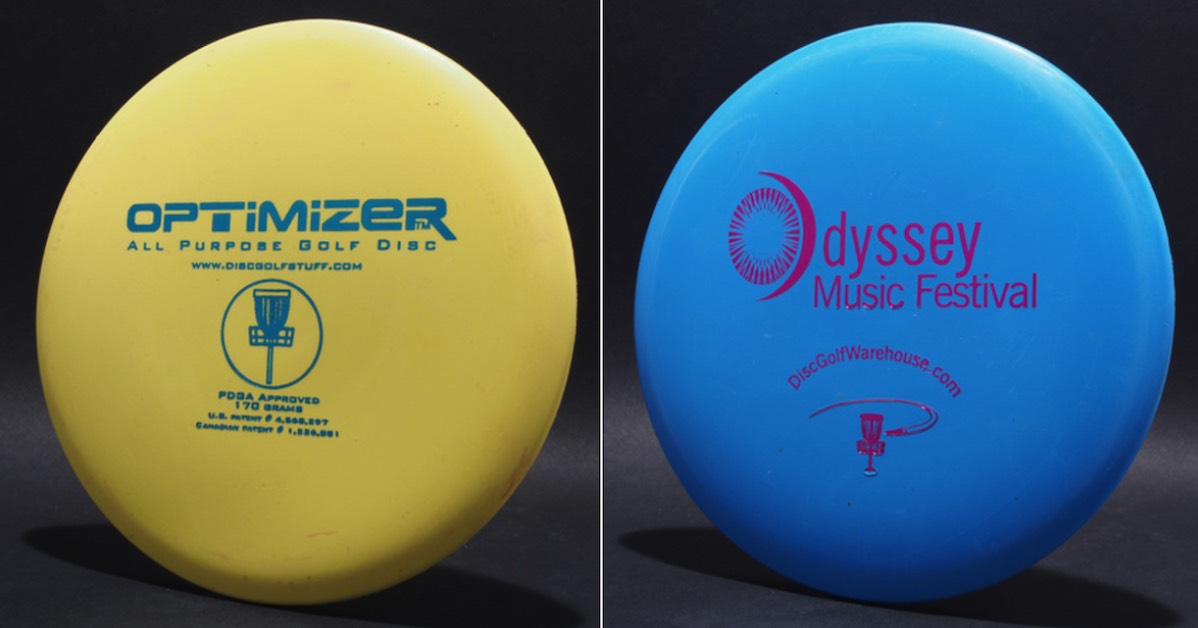 Plastic Paradise was a Canadian company, but its two approved discs called the Optimizer and the Maximizer were manufactured by Innova. The Optimizer actually appeared in a 2006 Innova catalog with no mention of Plastic Paradise.

Every now and then you will see a "worst discs" list with the Optimizer on it because it is extremely understable and hard to control. One person on a forum wrote scathingly that "if you drive around with it [an Optimizer] in your car, it will make you veer to the right."

The "discgolfstuff.com" domain that's printed on some of these discs still exists and seems relatively modernized, but we're not sure if the same people run the site now as made these discs. We've reached out to the email address given as a contact for the site owner with that question, but there hasn't been a response as of yet.
10. Rip Disc Golf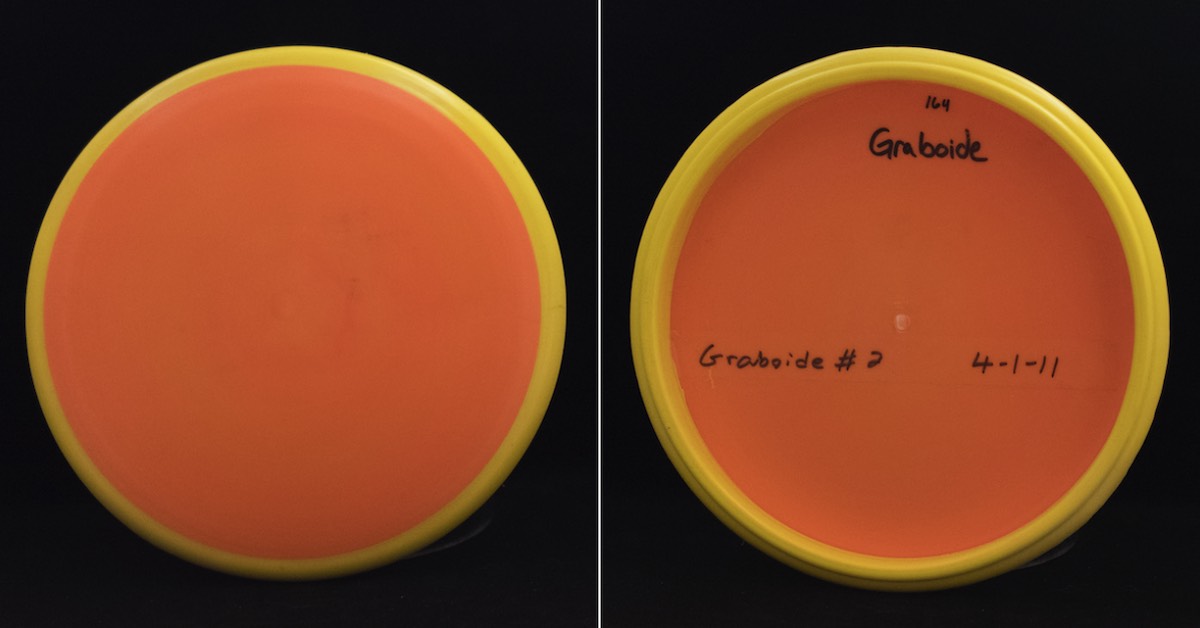 Rip was an Oregon-based disc maker that utilized overmolds (plastic rims that are not part of the original mold) on two out of three of the models they had PDGA-approved. Strangely, one of those discs (the Relic) was also vintage class.

From the reviews we have read, it seems as though their discs were just okay but nothing anyone was raving about. On their social media channels you can see that at one point they were trying to sell off their excess stock at $5 a disc and they updated their page to say "Rest in peace RIP disc golf" in 2020.
11. Salient Discs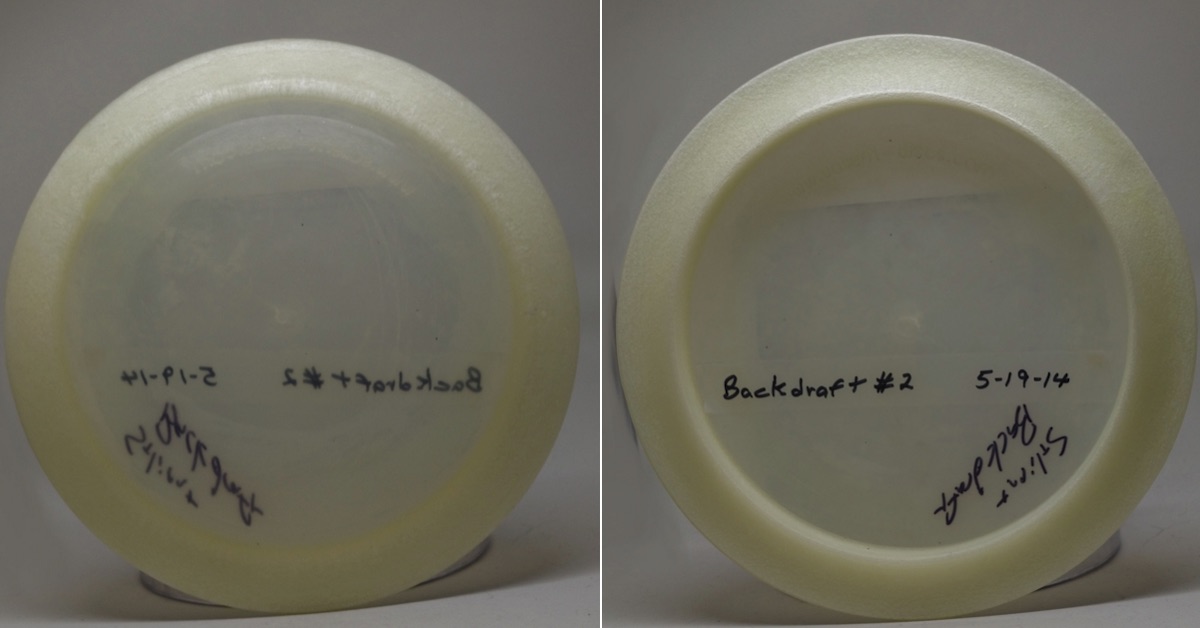 Salient was based in South Carolina and was at the center of disc golf drama in the 2010s.

On the equipment side, old forum posts suggest the company was not fulfilling the expectations of some consumers in regards to product quality and/or customer service. Salient owner Steve Boucher further complicated his company's relationship with the disc golf community by launching the American Disc Golf Tour (ADGT) and controversially refusing to work with the PDGA on it. He still managed to get the event aired on ESPN3.

It's a good indicator of the ethos of Boucher that at the ADGT event shown on ESPN3, no women played and a Hooters waitress in uniform carried the leaderboard.
To be fair, there also appears to have been a core group of people who really liked Salient's products, but the majority of what we can find of public opinion deemed their equipment average at best.

Both Salient and the ADGT filed for bankruptcy in 2016.
12. TOBU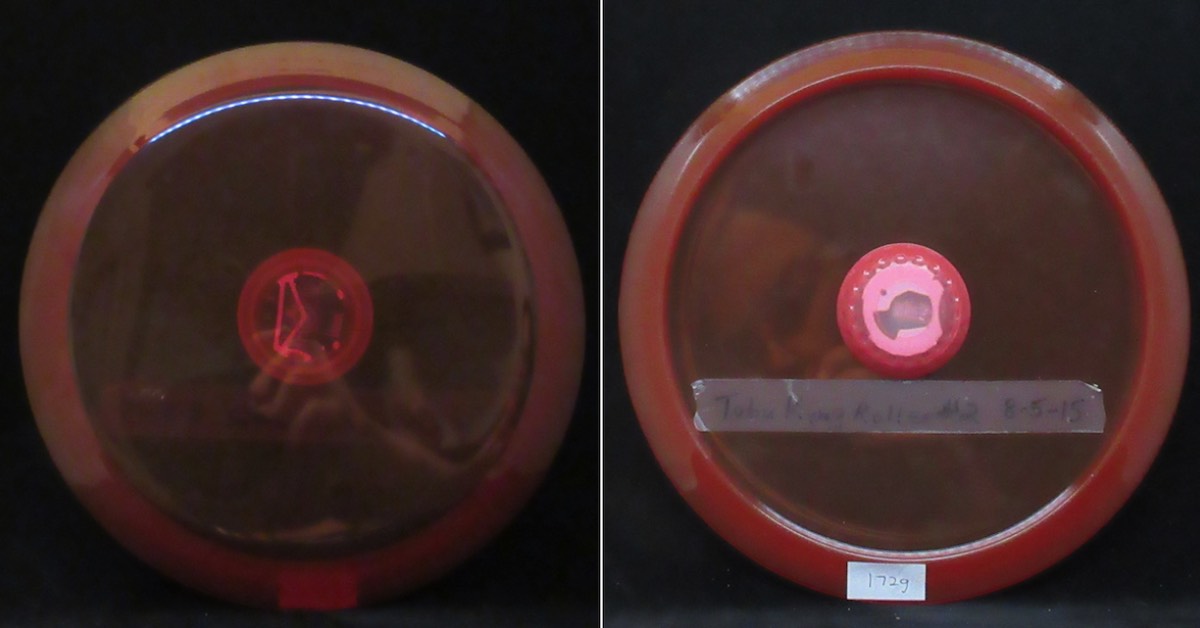 Another South Carolina-based manufacturer, TOBU is notable for making the first discs with a mechanical component ever PDGA-approved. They had a tracker that allowed you to locate your disc with a smart phone when you were within about 50 feet/15 meters of it. They also sold something you could attach to all discs that had a tracker device in it.

Though there was some stir when the discs were released in 2015 after a successful Kickstarter campaign, they made a wrong move by spamming disc golf social media pages with repetitive ads, which severely hurt their reputation. The discs were also over $30 each, a cost that apparently didn't seem worth it to enough disc golfers to make TOBU a success.
13. UB Disc Golf - Hand Candy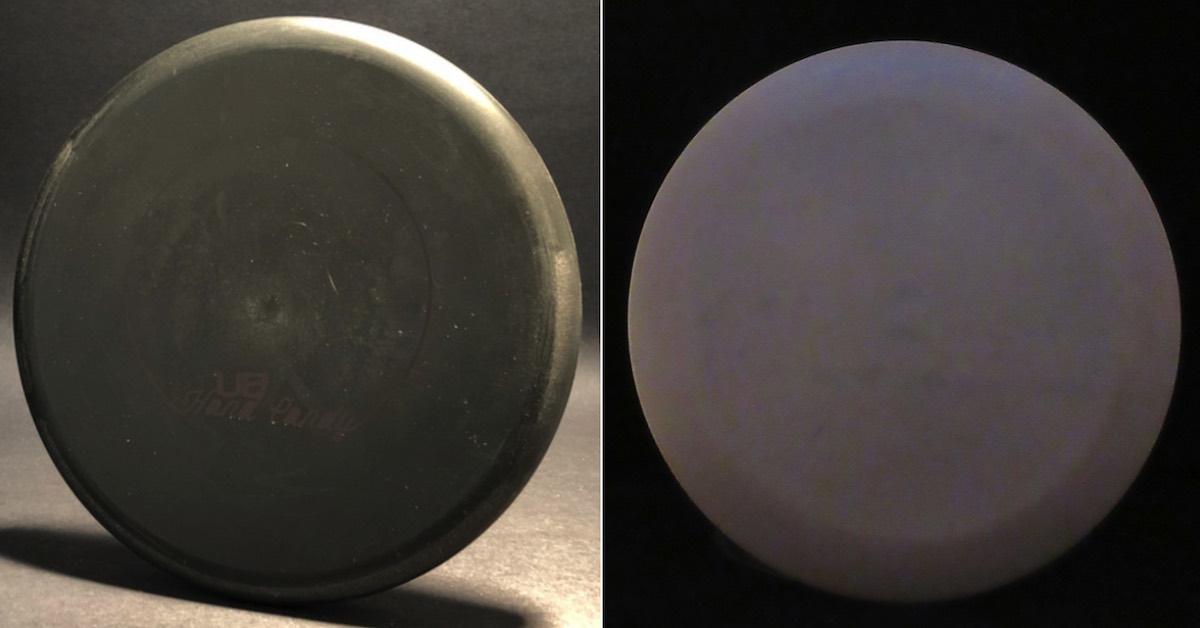 UB Disc Golf was a disc golf apparel company that entered the disc making game in 2013 and called its disc line Hand Candy. The company was owned by Michael Brouphy, who had a background in graphic art.

Reaction to the discs seems to have been mixed based on reviews we could find. In particular, a number of people had problems with the company's Procul driver. Advertised as an understable driver, it was often not that understable. It also sported a very thick rim that was uncomfortable for many players' hands.

The company's Facebook page hasn't been updated since 2014, so it seems all but certain that they're out of the game.
One-offs
1. 1080 Disc Golf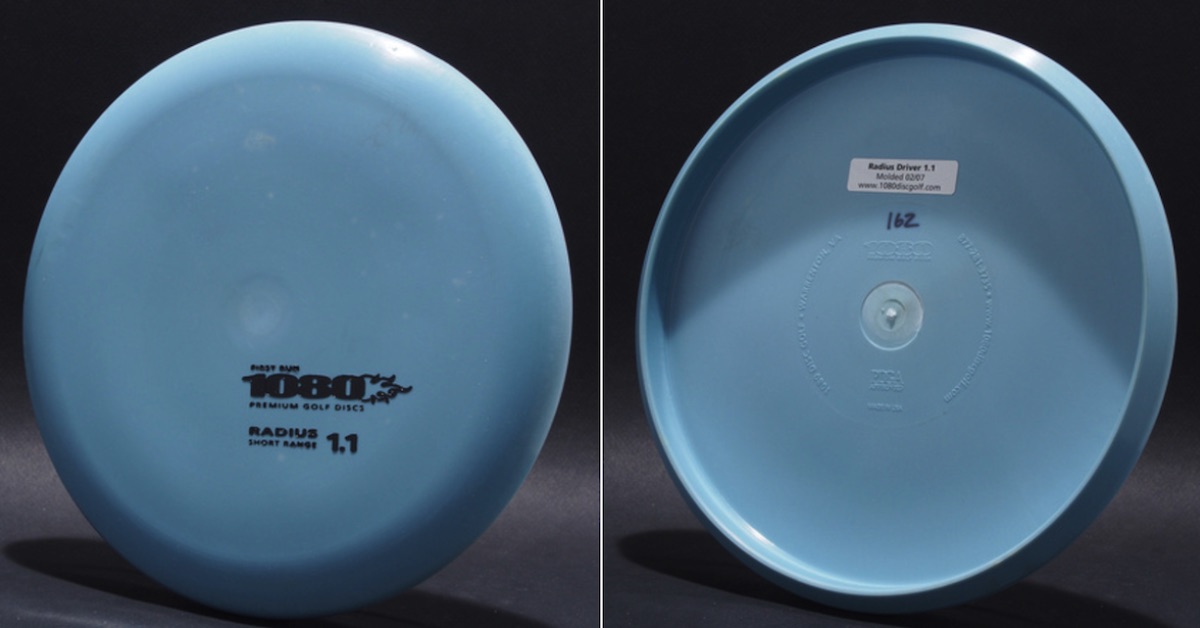 The idea behind this brand was to use special plastic blends to create "new" discs from other companies' molds. The only one that got PDGA-approved was the Radius, which was made with the same mold as the Gateway Warlock putter (a beadless Wizard). That disc came out in 2007 but the company never had a major breakthrough in the market.
2. Best Disc Golf Discs
Best Disc Golf Discs partnered with Innova to create their one and only disc, the MaxGlide. They advertised the discs as being ideal for players who threw between 250-350 feet/76-107 meters, promising it could add up to 50 feet/15 meters to their drives. Either that wasn't the case, or not enough players learned about this miraculous disc because we can't find it for sale.
3. Deity Discs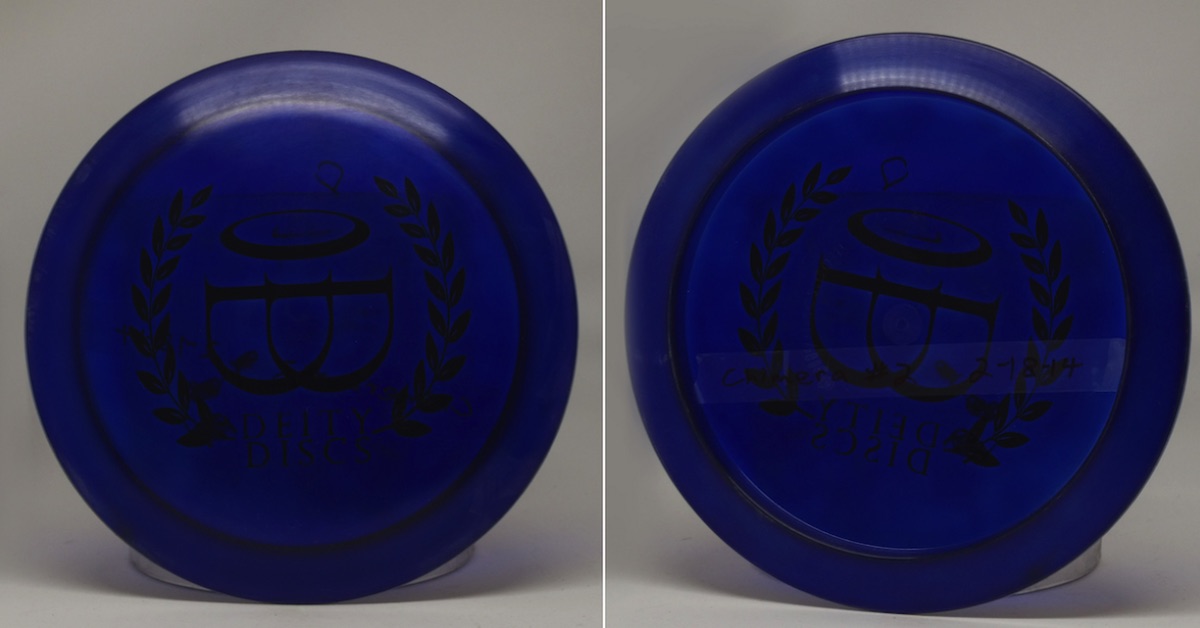 Deity Discs was last active in 2014 but had some pretty high profile names attached to it, including Matt Bell, Matt Orum, and the 2018 World Champion Gregg Barsby.

Their one approved disc, the Chimera distance driver, seems to have been well-received, but the company didn't make another model and no longer produces the Chimera.

You can watch a video of Barsby throwing a Chimera in 2014 below, though:


4. Disc King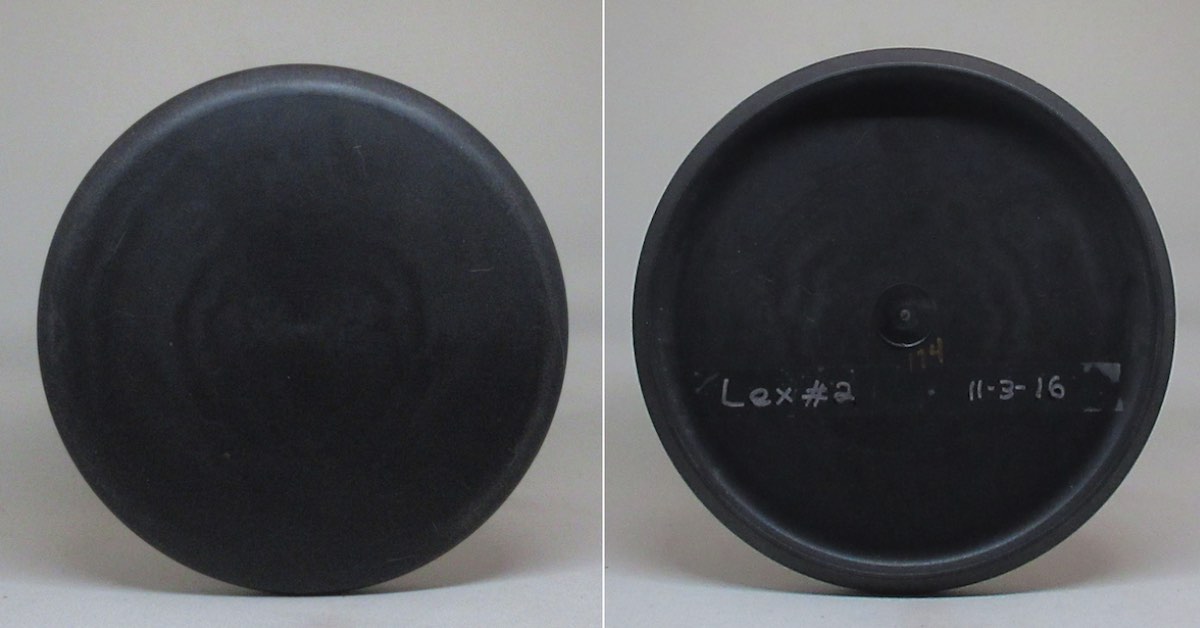 Disc King's one PDGA approved disc, the Lex putter, was originally produced under other defunct disc maker UB Disc Golf's brand. It was a wide-diameter putter that was made to be stable to overstable. One reviewer compared it to Kastaplast's cult favorite Berg. Our research seems to indicate they stopped being made in 2017.
5. Ferris State University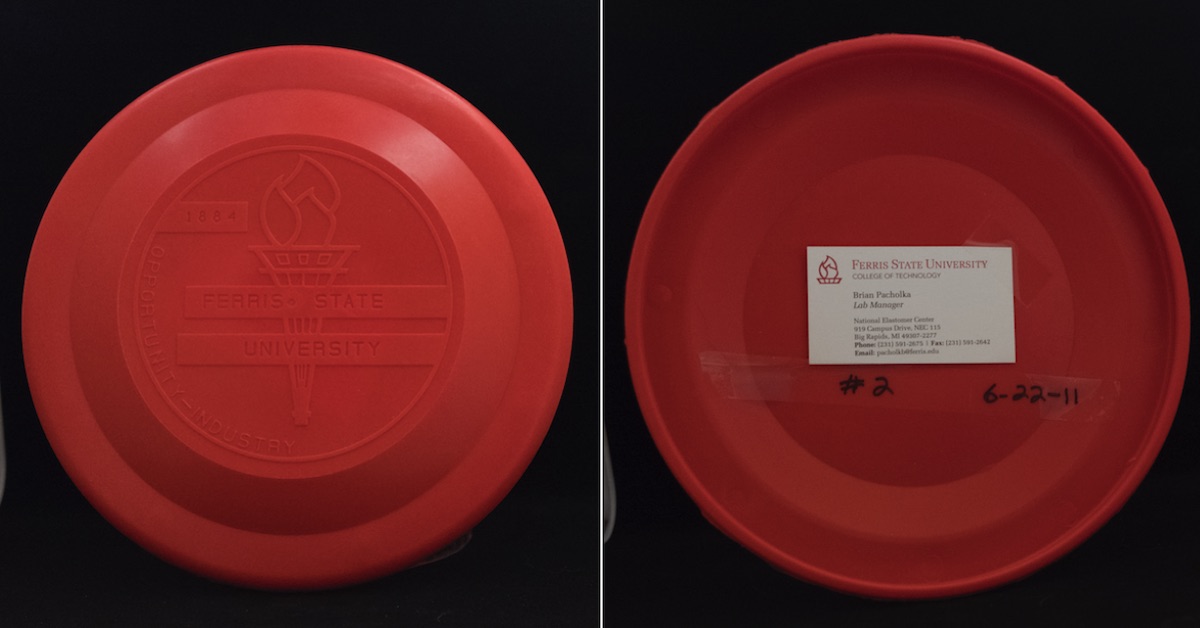 In 2011, college disc golf powerhouse Ferris State University wanted to help raise awareness and funds for breast cancer research by breaking the world record for most discs in the air at one time. They planned to throw 2,500 discs simultaneously before a football game to break the standing record of 1,903 and then sell the discs to attendees as souvenirs.

For this attempt, the school – which has a plastic engineering technology program – created a unique disc called the "Imagine," which is half of the school's slogan, "Imagine More." To be recognized as an official world record, the discs thrown had to be approved by the PDGA, which is why this disc is on the PDGA's approval list.

The attempt to beat the record fell short, with only about 1,500 people throwing discs.
6. Hero Leports Co., Ltd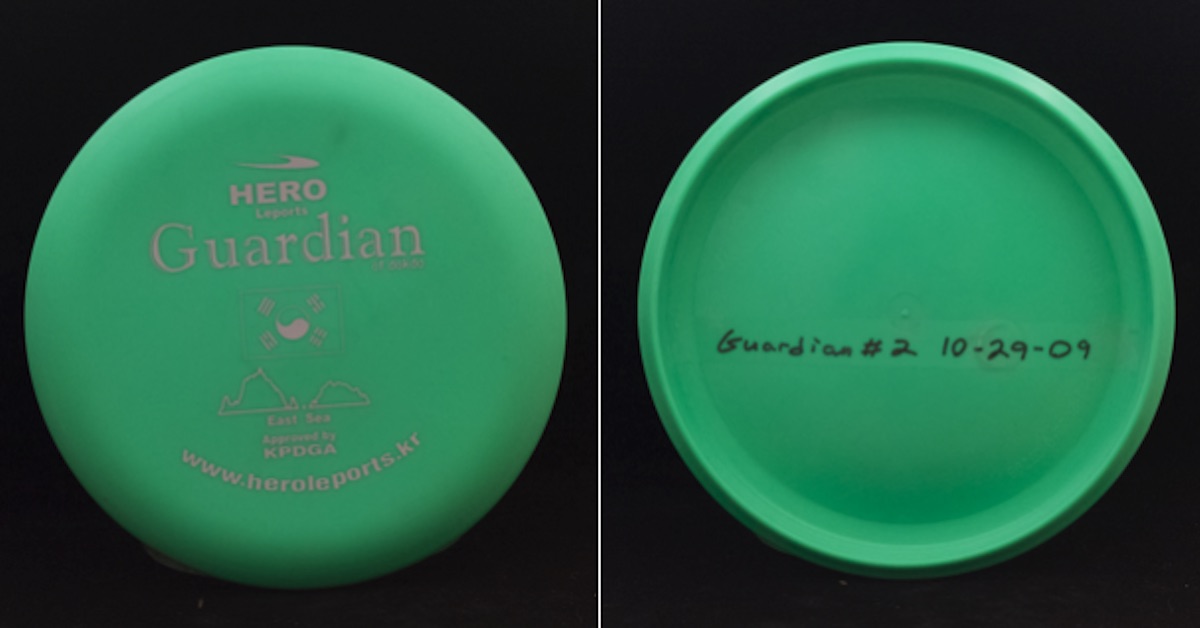 Hero Leports was out of South Korea, but there's very little out there about its one disc, the Guardian (approved in 2009). One online source (in German, which co-author Alex can read without any translation software) connects Hero Leports with Innova and says the Guardian is similar to an Aviar, but we can't confirm those claims. The post also says the disc was only available in South Korea. If that's true, it's a very unlikely find for most disc golfers.
7. Skyiron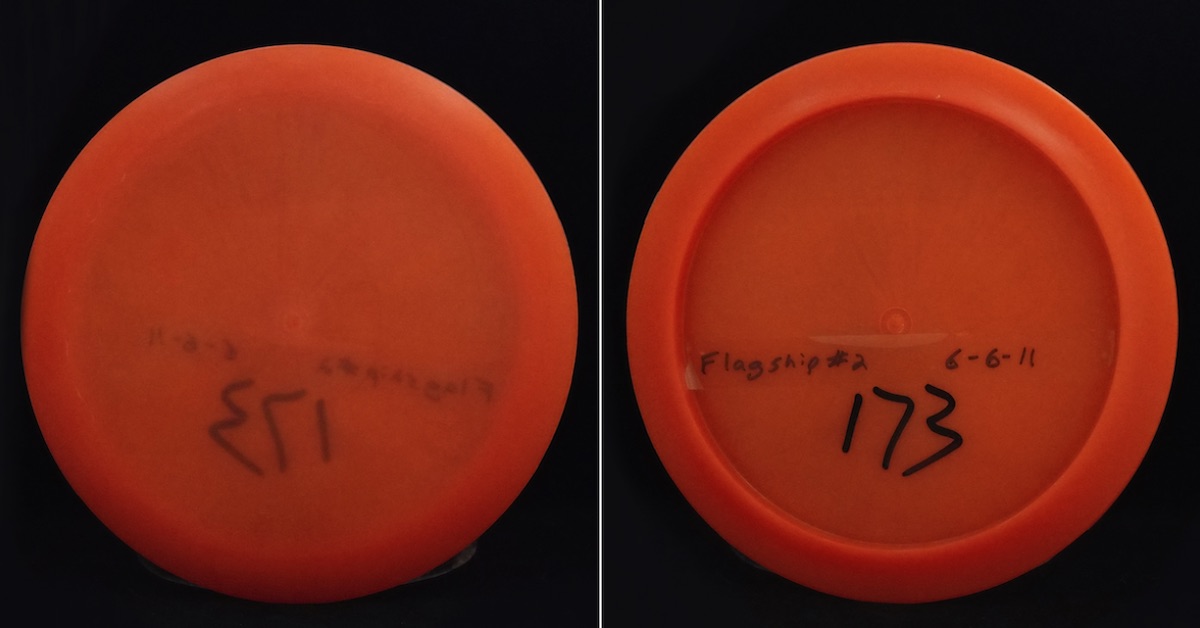 Ohio-based Skyiron had its one and only disc, the Flagship, approved in 2011. From the reviews we found, it seems the disc was very understable but liked by those who didn't have too much power and by roller throwers. Two years after the Flagship's release, the founder of Skyiron got a different job in the plastic industry and quit making discs.
Want More In-Depth Disc Golf Content?
Never miss any of our posts by subscribing to UDisc's Release Point newsletter.

Note: A version of this guide was previously published on the r/discgolf subreddit. That post's original author, Isaac Friedman, and Release Point editor Alex Williamson worked together to expand and fact-check the content in the original post to create the content above.