Disc Golf Travel Guide Czechia was produced through a partnership between proDiscgolf.cz and UDisc.
Welcome to Czechia!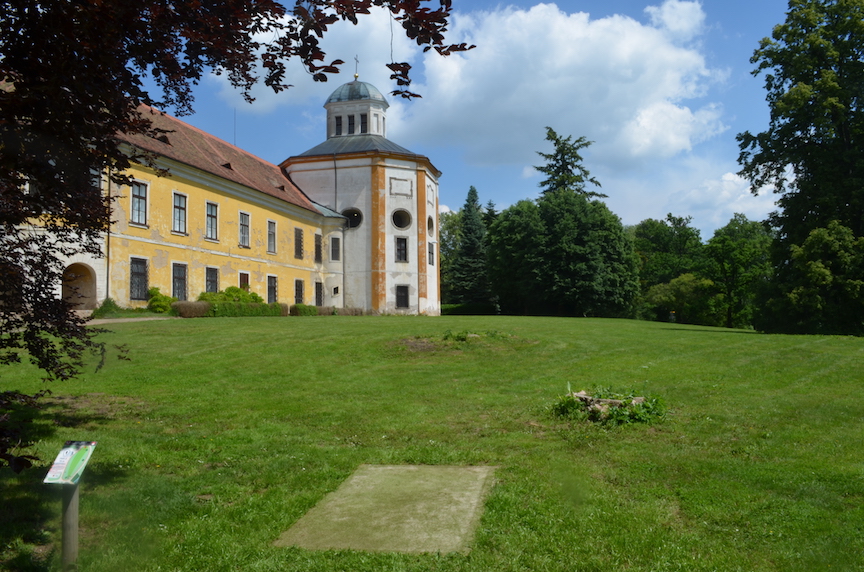 Czechia (the Czech Republic officially adopted this nickname in 2016) is a traveler's paradise for many reasons. It's home to beautiful and historic cities like Prague and Brno, riddled with castles and palaces in the rolling hills of its idyllic countryside, the birthplace of pilsners, and absurdly affordable. 

It's a disc golf traveler's paradise because it's all those things and, as of June 2019, it boasts 100 courses and counting.

But with Czechia's wealth of sites worth seeing and courses to play, it could be hard to figure out what places to include in your dream trip to the area. This guide—the product of personally crisscrossing the country playing courses, sightseeing, trying out hotels, and sampling the local fare—simplifies that.
This first part of our guide focuses on Czechia's capital, Prague. The other three parts take you more off the beaten path, but we promise they're paths you'll be glad you took:

Disc Golf Travel Guide Czechia—Part 2: Chateau Hostačov (a castle hotel with a private, 18-hole course)

Disc Golf Travel Guide Czechia—Part 3: Moravský Krumlov Near Brno (one of Czechia's favorite courses near the country's second-largest city) 

Disc Golf Travel Guide Czechia—Part 4: Eastern Czechia Near Ostrava (a disc golf hot spot few outsiders have any clue about)
Prague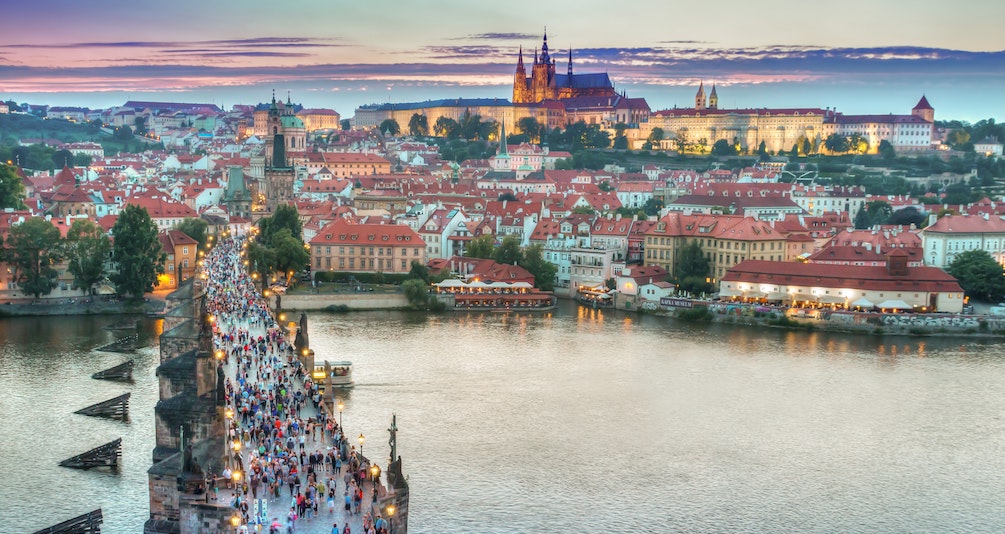 The Flyover
We'll admit it: as far as general tourism in Prague goes—what to see and where to sleep, eat, and drink—there's very little we can tell you that hasn't already been covered by the likes of Lonely Planet, Rick Steves, or any number of travel blogs. We do give a few suggestions in those areas, but our primary focus in this section is what courses are most worth your while during your stay in Prague. We point out the standout disc golf options inside of Prague's city limits, what makes them special, and how you can get to them.

Note: If you're looking for a Czech disc golf experience more off the beaten tourist path, part 2 of this guide focusing on Chateau Hostačov is right up your alley.
Getting Around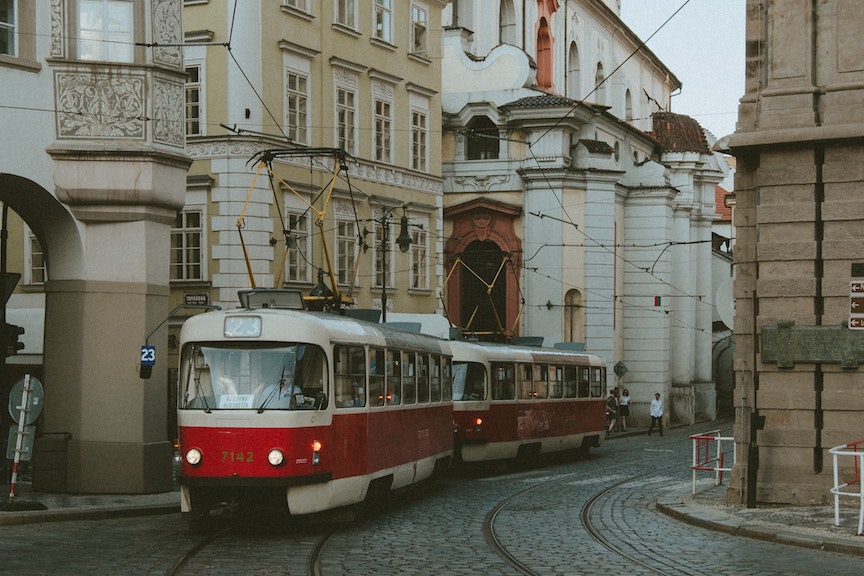 For immediate access to mobility, you can certainly use taxis or other car services in Prague, or you may decide to rent your own car. However, public transport is by far the cheapest way. For example, a 72-hour ticket to travel around Prague with unlimited rides on all city metros (subways), trams, and buses is just 310 Czech crowns—the equivalent of 12 Euros or $14 USD.

For more information about buying these sort of tickets, you can go to this website. You can use this site or Google Maps (if you open that link, the "transit" option is already selected for you) to find public transport routes and departure times.
Courses
Below are descriptions of the two best courses Prague has to offer, how to reach them, as well as short notes about other course options in the city.
Something important to know about Czech courses is that many of them are nine holes. However, having just nine-holes does not always signify a pitch-and-putt. Local designers often choose quality over quantity, and when there is only space for nine good holes, that's the number they create.

DiscGolfPark Ladronka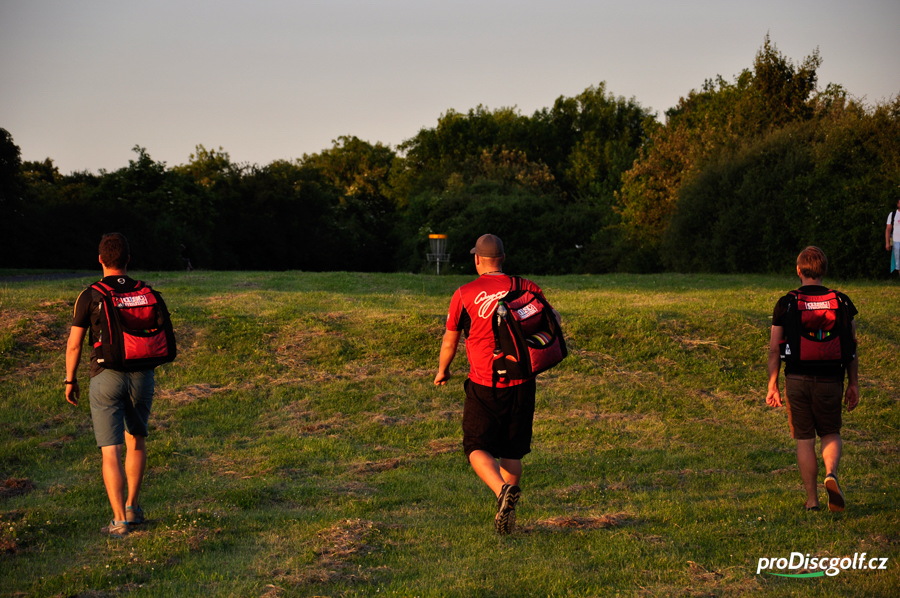 One of Prague's oldest courses is still one of its best. This nine-holer offers elevation, punishing rough, and a few holes requiring technical shots through trees. With its holes averaging 96 meters (316 feet) in length, it's not a "big" course, but there are a 128-meter (420-foot) par 3 for those looking to get in a long-distance pull and a 152-meter (500-foot) par 4 just itching to be eagled with a monster drive or long throw-in. Alternatively, if you're looking to take home a Czech ace as a souvenir, the 49-meter (160-foot) hole 7 is a good place to try (we have it on good authority that Avery Jenkins and Simon Lizotte tried it for about an hour and never got it; can you one-up them?).
Overall, Ladronka is accessible but offers enough challenge for players of almost any caliber to enjoy themselves. There is also a restaurant, Usedlost Ladronka, adjacent to the course if you need to sit down for lunch or a drink.
Be Aware
Ladronka is in a very popular park. When there's nice weather on weekends or holidays, it can become virtually unplayable due to the volume of park-goers. The best times to play are mornings during workdays.
How to Get There
Driving yourself: Simply use UDisc to navigate to the course. If you're unsure how to do that, read this.
Taxi or other car service: The restaurant Usedlost Ladronka is the perfect location to give a driver.
Public transport: Use Google Maps "transit" option to find possible connections (for how to buy tickets, see the "Getting Around" section above). Again, the restaurant Usedlost Ladronka that is right beside the course is a good destination to navigate to.
DiscGolfPark Běchovice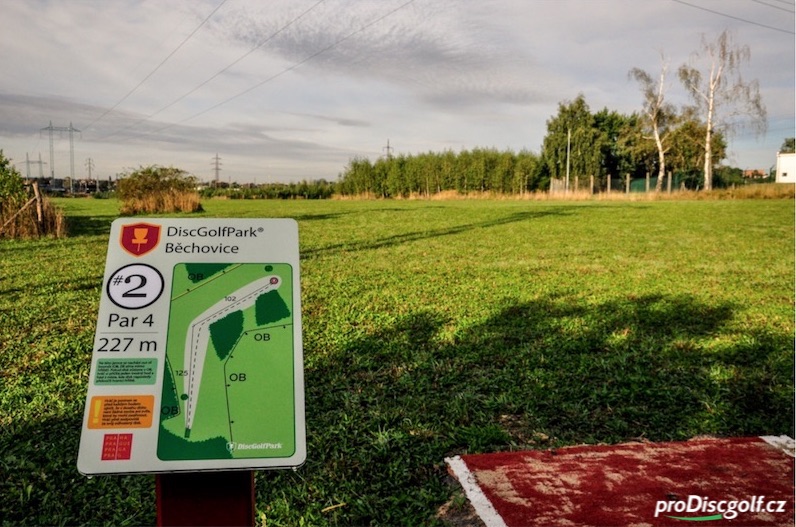 Though its relatively easy 62-meter (206-foot) starting hole might make you think otherwise, Běchovice—another nine-holer—is unquestionably the most challenging course in Prague. After the easy start, you take on one of the course's five par 4s, a 227-meter (745-foot) hole that doglegs right halfway up the fairway with young woods and thick brush on the right and an OB path to the left. The rest of the course gives occasion for open field bombs, medium-range placement shots, and a throw down a tunnel with thick rough on either side.  All the while there's plentiful OB and thick, prickly rough. It's a course that after you've played it once, there'll be at least a hole or two you'll want to play again for the sake of revenge. 

Another benefit of Běchovice is that it isn't frequented by picnickers or sunbathers, so this course is a great option for weekends and holidays.

Be Aware
Despite a lack of people simply hanging out in fairways, a path that runs through the area is well-used by cyclists and walkers. Be cautious when throwing. Also, Běchovice doesn't offer too much shade, so if you go on a clear, warm day, bring sunscreen and plenty of water.
How to Get There
Driving yourself: Simply use UDisc to navigate to the course. If you're unsure how to do that, read this.
Taxi or other car service: The address for the course is Mladých Běchovic 559, 190 11 Praha-Běchovice, Czechia.
Public transport: The course is right off the train stop Praha - Běchovice strěd, and this ride would be included in one of the public transport tickets mentioned in the "Getting Around" section. To find connection times, you need to locate your nearest train stop (Google Maps with "transit" selected is again a good option). 
More Options

Krejcárek: If you're looking for a good place to practice your putter throws, this little six-holer is perfect. Tight lines and steep drop offs with huge role-away potential give the beginner-friendly course enough character to be entertaining.
Europark: Another putter-only affair (some players may want something with a little more distance for the 81-meter/266-foot finishing hole), the main attraction of this course is that it's right next to a huge shopping center. If you're in need of a few supplies or clothes and feel like logging a new course while you're at it, keep this one in mind.

Note 1: Both courses are accessible by public transport that would be covered by the tickets described in the "Getting Around" section.

Note 2: For anyone driving to Prague through Germany, make sure to check if the course Kadaň in Kadaň, Czechia, 1.5 hours west of Prague, is on your way. This 18-hole course is a great play (average rating of 4.7 by UDisc users) and well worth a brief detour.
Lodging
Travelers to Prague have a huge number of options at almost any price point. The adventurous types looking to save some cash can try their luck with CouchSurfing or hostels, and for those looking for a little more comfort or privacy, there's AirBnB and the hotel search engine of your choice.

While visiting Prague, we stayed in the Design Merrion Hotel and have nothing but good things to report. The rates are extremely reasonable and include a full breakfast (cereal, eggs, fruit, coffee, and juices buffet-style), the rooms are immaculate and up-to-date, there are plenty of options for food nearby, and a tram line is just a 5-minute walk away (about 20 minutes to city center).
Chow Down and Drink Up
Again, the selection here is seemingly endless. To get you started, this list gives a detailed breakdown of restaurants by prices and type of food (typical Czech or not). If beer is your thing, here are 16 great options for trying local brews (craft and otherwise). If you happen to be vegetarian or are looking for a break from the typically meat-heavy Czech cuisine, Lekhá hlava is a vegetarian restaurant in a beautiful part of the city. It has great food at good prices and a fun, quirky interior design that gives you plenty to look at while you eat and drink.

Something else worth knowing about Prague is that if you're into Vietnamese food, there are few better places to get it in Europe. Many Vietnamese migrated to the area due to an agreement between their country and then-Czechoslovakia while both were communist nations in the 20th century, and their descendants stayed in their new homeland. 
Disc Golf Travel Guide Czechia Continues
Looking for something away from the busy, tourist-heavy Prague? Just one and a half hours from the city (by train or car) is the beautiful Chateau Hostačov. It's a hotel and restaurant in a restored palace on a massive property in the Czech highlands with over 700 years of history. Oh, it also has a top-notch, private 18-hole disc golf course, and the affordability is hard to believe. It provides options for day trips that offer an excellent mix of disc golf and sightseeing opportunities, too.

Read Part 2 of Disc Golf Travel Guide Czechia now to learn more about Chateau Hostačov and to get a code exclusive to this guide that gives you 10% off any room booking there.

There are also parts three and four to the guide:
Disc Golf Travel Guide Czechia—Part 3: Moravský Krumlov Near Brno
Disc Golf Travel Guide Czechia—Part 4: Eastern Czechia Near Ostrava