Disc Golf Travel Guide Czechia was produced through a partnership between proDiscgolf.cz and UDisc.
Welcome to Czechia!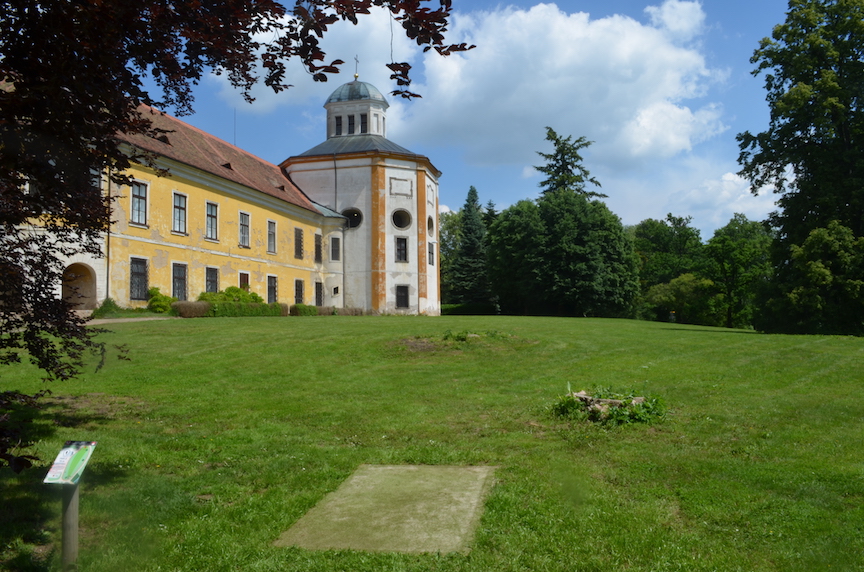 Ostrava, one of Czechia's largest cities, and its surrounding area are likely the places furthest from tourist radars in this series, but the region is actually one of the best destinations for disc golf.
Along with Ostrava and the three courses inside its city limits (two nine-hole and one 12-hole), there are also plenty of other destinations not too far away that should pique a disc golf traveller's interest:
Nový Jičín: A town with multiple courses nearby and one of just three Czech disc golf stores
HEIPARK Tošovice: An activity park, hotel, and restaurant that's home to a challenging course that offers up longer open shots, woods, and elevation
Budišov nad Budišovkou: Home to an award-winning campground and one of the best 18-hole courses in Czechia
Uničov: The town farthest from Ostrava in this part of the guide, but it has an 18-hole course that those driving to Ostrava from Prague—or vice versa—might find worth a small detour
We explore each of these places in greater detail below.
If you're looking for more disc golf vacation options in other areas of the country, check out the other three parts of Disc Golf Travel Guide Czechia:

Disc Golf Travel Guide Czechia—Part 1: Prague

Disc Golf Travel Guide Czechia—Part 2: Chateau Hostačov
Disc Golf Travel Guide Czechia—Part 3: Moravský Krumlov Near Brno

Courses Galore
A quick note before diving in

There's quite a high density of courses near Ostrava, and we simply aren't able to cover them all in our guide. We highly recommend that anyone on a trip in the area use this guide in conjunction with UDisc's course-finding feature to plan a route filled with new courses and great experiences. And if you find a real gem we don't mention here, let our writer know at alex@udisc.com. 
Ostrava
Czechia's third-largest city offers interesting history with three disc golf courses into the bargain.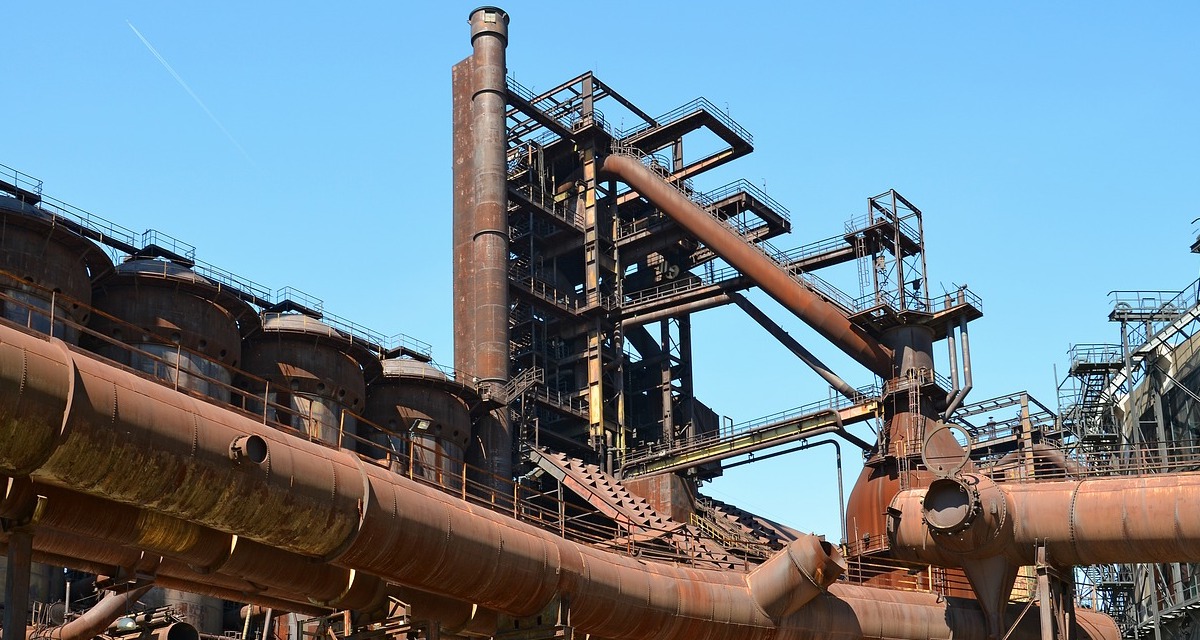 Some of the manufacturing that once earned Ostrava, Czechia the nickname the "steel heart of Czechoslovakia" still goes on in the city, but its days of massive industrial production have given way to a focus on modern technology. This change has made the third-largest city in Czechia look for ways to repurpose monuments from its past for modern entertainment and education. 
Dolní Vítkovice, its giant old ironworks, now houses multiple attractions for tourists and plays host to Czechia's largest music festival, Colours of Ostrava, each year. You can also descend into a deserted coal mine, Michal Mine, and experience a little of the dark, cramped work life many miners faced each day.

For disc golfers, Ostrava proper has three courses (two nine-hole and one 12-hole), of which the 12-hole DiscGolfPark u Rakety is the one that comes most highly recommended. Though this par 3 course starts out with two shorties, it gets lengthier, with its longest hole demanding a 122-meter/400-foot shot. There's enough OB and trees to keep things interesting, too, so if you just have time for one course in Ostrava, Rakety is the place to go.
Nový Jičín 
Near to courses, but the main attraction is the rare chance to check out plastic at a disc golf store in Czechia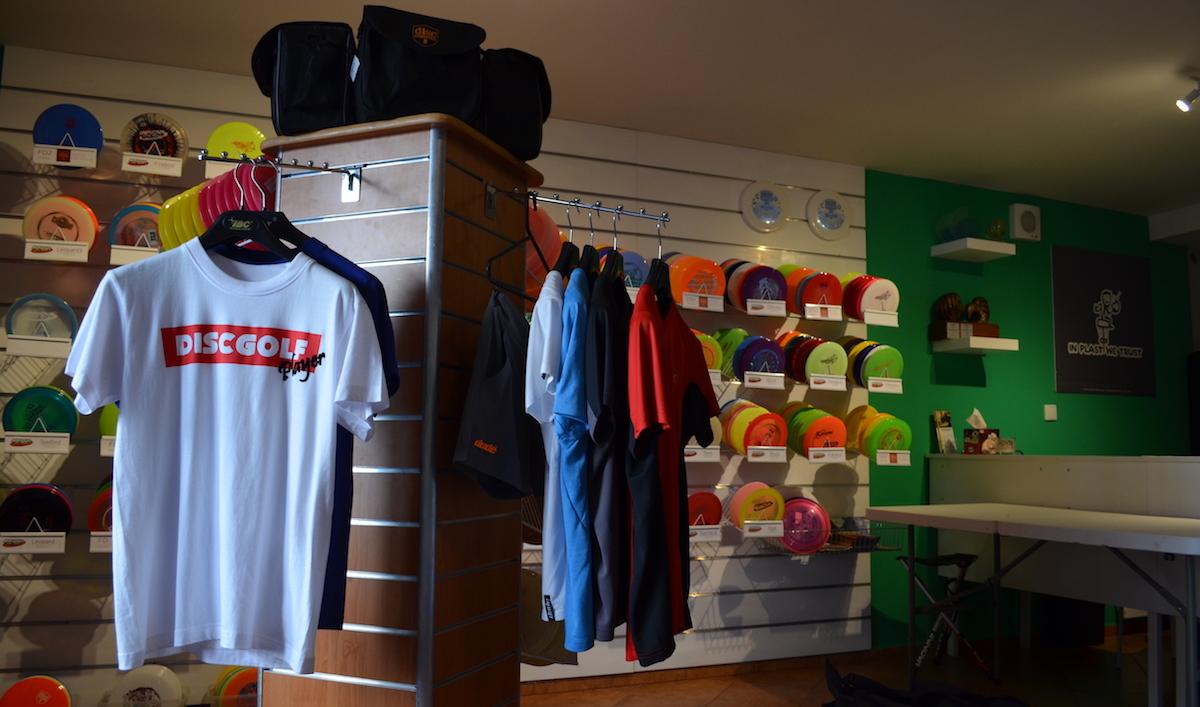 Nový Jičín is the hometown of two brothers, Přemysl and Kryštof Novák, who have done a great deal of the heavy lifting it's taken to not only get disc golf off the ground in Czechia, but to grow it at its current breakneck pace. They also operate proDiscgolf.cz, UDisc's partner in the creation of this series, and in Nový Jičín have one of just three physical disc golf stores in the country.
So if you're in need of new plastic or other gear (or looking to get a disc with a stamp from the famous Czech tournament at Konopiště), their store offers a rare chance to pick some up in Czechia. The address is Divadení 14, and do note that it's only stocked with Innova and Discmania.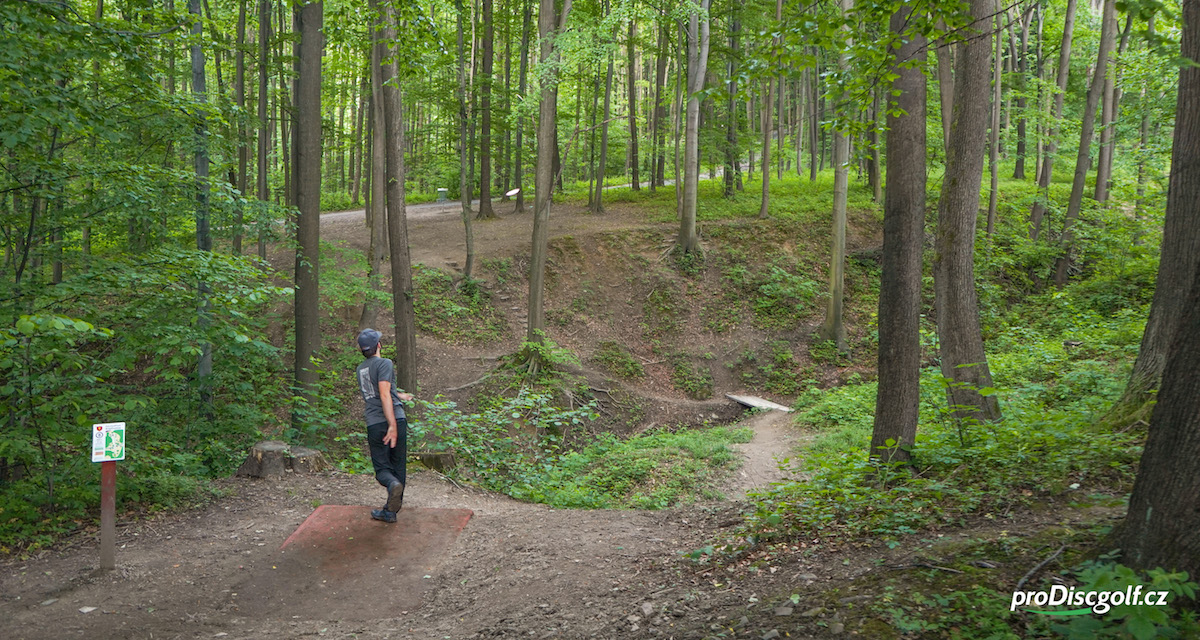 There are plenty of courses near Nový Jičín, too. Two of the most pertinent to mention are DiscGolfPark Bocheta and DiscGolfPark Kopřivnice.

Bocheta makes the list simply for its location in Nový Jičín's city limits. With few trees and nearly OB-less, it's a fun place to huck some plastic with relatively little obstruction.
Kopřivnice offers what's probably the most enticing spot to play close to Nový Jičín. Almost entirely in the woods, its tight fairways force well-shaped shots, make good use of elevation changes, and are a nice oasis of shade on warmer days. A large public swimming pool neighbors the course if you or anyone with you is interested in taking a dip.
HEIPARK Tošovice
A hotel, restaurant, and activity park that would make a great stop on any disc golf vacation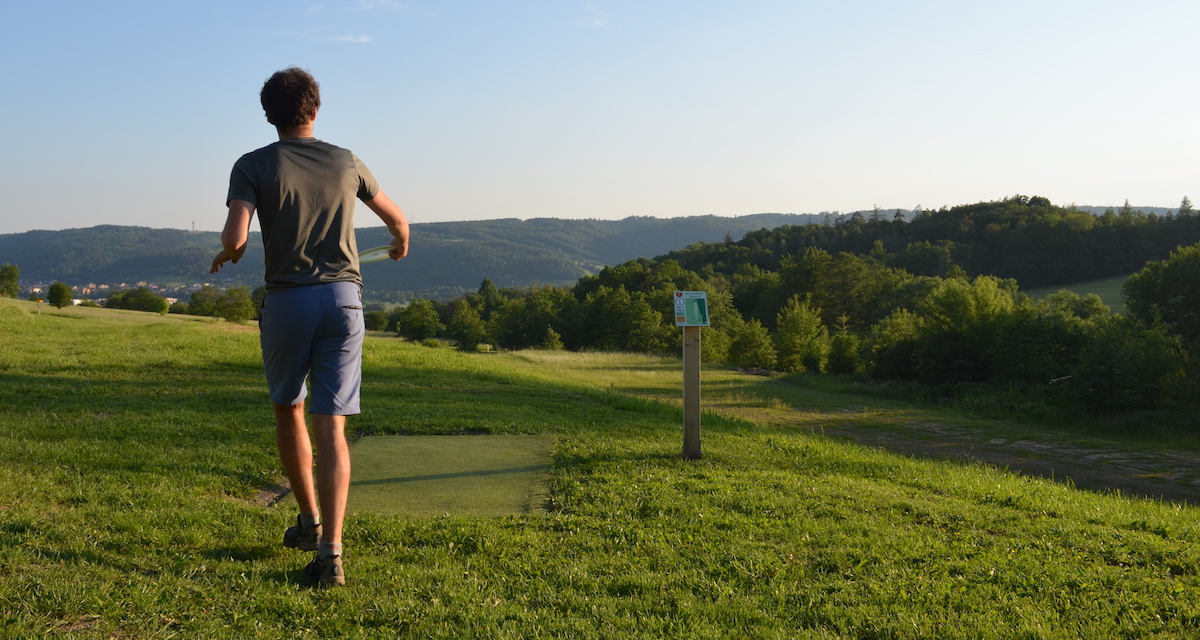 Though HEIPARK Tošovice started as a ski resort, it's added a lot to become a destination that's great to visit year-round. Visitors can take a toboggan ride (similar to a roller coaster), go swimming, use a small ropes course, practice their ball golf skills on the driving and putting greens, or take on the 1,067-meter/3,500-foot, nine-hole disc golf course that begins not far from the hotel's entrance.

Along with activities, HEIPARK Tošovice also has comfortable rooms at reasonable prices and a great restaurant where an entree like duck breast with mushroom risotto costs the equivalent of about €11/$12.25 USD (if your tastes are more simple, you can get a pork steak and fries for about the same price). You can find a menu here.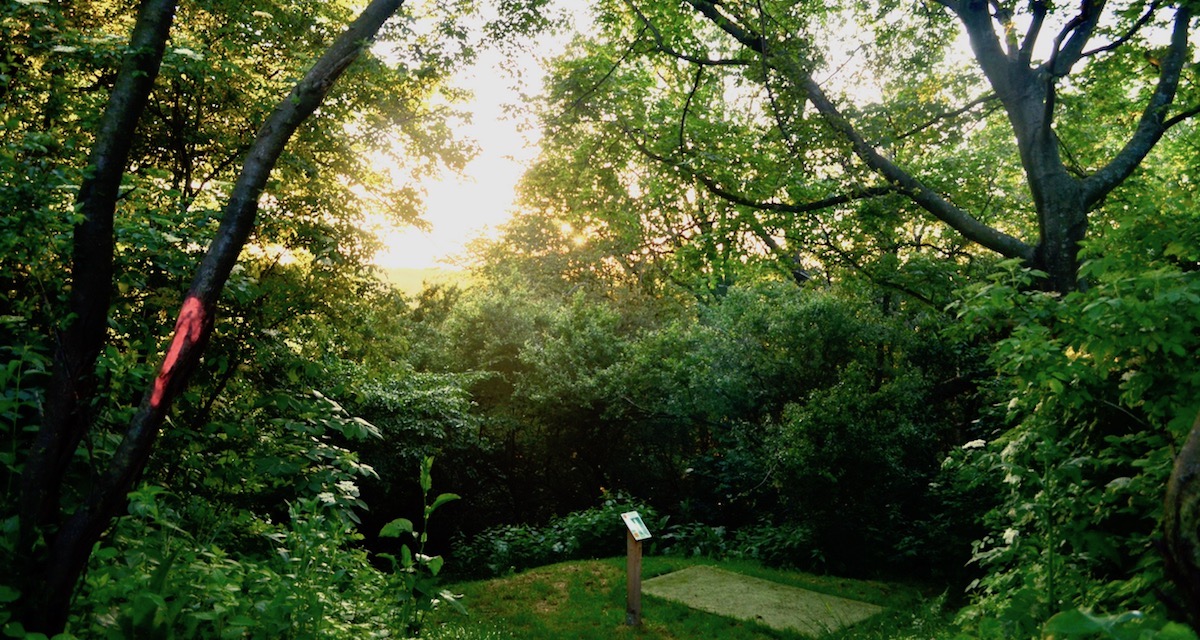 As for the course, most shots there involve elevation change that can range from slight to extreme, it passes through both fields and woods, and five of its nine holes require shaping shots through fairways that are either entirely or partially wooded.

All of these factors add up to a course with a lot of variety and challenge that'll have you wanting to tackle it multiple times over any stay. Most holes also provide amazing views of the surrounding countryside, especially near sunrise or sunset.
Given that this course would likely be a highlight of a disc golf trip in the area, here are brief descriptions of each its nine holes:

Hole 1 (148-meter/485-foot par 3):  Downhill with a basket guarded by copses of trees. A very long, challenging "Hello" from the course.

Hole 2 (154-meter/505-foot par 4): Though just barely longer than Hole 1, this par 4 goes slightly uphill, making the distance seem a little greater. It's very open, but there's OB to the left side and one lone small tree guarding the basket.
Hole 3 (82-meter/269-foot par 3): This first wooded hole on the course may sound short, but its fairway goes up at a quite an incline, meaning you need far more power to reach it than the distance suggests. Additionally, the fairway is extremely narrow and straight and the rough extremely punishing. It's a hole that will challenge any disc golfer.

Hole 4 (68-meter/223-foot par 3): Another hole where distance on paper is deceptive. This straight shot goes dramatically uphill, and though you start in the open, the hole ends in a tight gap where one bad kick off of a tree could send you sailing far down the left-to-right slope to bogeyland.
Hole 5 (169-meter/554-foot par 4): This one turns gently right and is played on a left-to-right slope that leads from field to trees. It's very gettable for most experienced players, and with no OB, it's a chance to really open up your arm—just don't forget those trees.
Hole 6 (99-meter/324-foot par 3): A blind, downhill hyzer shot (for right-handed players). Put it on a good line and listen out for chains.
Hole 7 (88-meter/289-foot par 3): Back in the woods for this quirky hole. You can either take a very narrow gap down a pretty sleep slope, or throw a poke-and-pray shot over the trees and hope it crashes back in near the basket. Both are really fun to try.
Hole 8 (83-meter/272-foot par 3): Standing at the top of a steep hill, you're throwing at a basket drastically below you. There are tons of options for this shot, and it's likely you'll want to throw multiples just to see what happens.
Hole 9 (176-meter/577-foot par 4): Again, the distance of this hole may make you think it's an easy get, but it does offer up difficulties. The tee shot makes you throw through a gap with a relatively low ceiling, limiting your distance off the tee and creating the chance for score-ruining early hits. The fairway also slopes up, making second shots need more oomph than you think.
Budišov nad Budišovkou
One of Czechia's highest-rated 18-hole courses next to one of its best campgrounds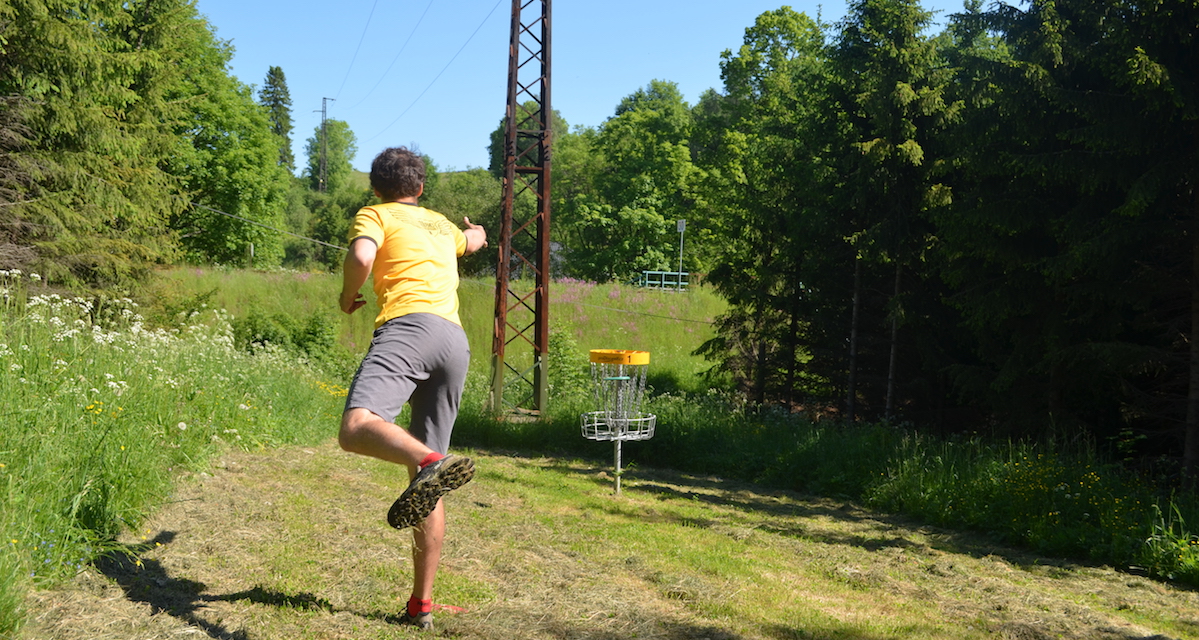 Budišov nad Budišovkou is, simply, one of the best courses in Czechia. Along with offering a full 18, it's in a setting well away from casual park-goers, has ample changes in elevation, and its fairways—often wooded or lined by forbidding rough—demand a wide variety of shots. Bring a bag with a disc for almost any occasion and expect that you'll find yourself with a tough scramble or three. We could go on about how and why this one stands out, but, really, the best tip we can give you is this: If you're anywhere near this course, play it.

There is also a shorter, 9-hole layout for beginners.

If you want a place to stay near the course, you're in luck—it's right next to the award-winning campground Autokemp Budišov nad Budišovkou. You can pitch a tent for nearly nothing (roughly €2/$2 USD). If you're looking for something more luxurious, there are cottages for rent starting at the equivalent of about €28/$31 USD per night. There is also a restaurant on site that anyone—not just campers—can visit, and a mini-golf course.
Uničov
An 18-hole course that only adds a little time to a Prague-to-Ostrava road trip
If you're on your way to Ostrava from Prague, you should really consider adding Uničov to the itinerary. The 30 or so minutes it adds is well worth the time. First, the course is 18 holes, which anyone who has read this or other parts of this guide will know isn't always the case in Czechia. Second, it's a really fun set of 18 holes, as its current 4.6 of 5 average rating by UDisc users attests to.
Expect a nice mix of open and more wooded holes, and a mostly flat course that puts its few bits of elevation to good use.

An added bonus (for some) of taking this route is that on your way back to the road to Ostrava, you could stop at Pivovar Chomout—a great little bar and craft brewery with both Czech and foreign beer styles at prices that can't be beat.
Disc Golf Travel Guide Czechia: There's More
This was the fourth and (currently) final installment of Disc Golf Travel Guide Czechia, but don't forget that there are three other parts focusing on other top destinations for disc golf in the country:
Disc Golf Travel Guide Czechia—Part 1: Prague

Disc Golf Travel Guide Czechia—Part 2: Chateau Hostačov
Disc Golf Travel Guide Czechia—Part 3: Moravský Krumlov Near Brno