Find the full list of Top 5 Disc Golf Cities — International here.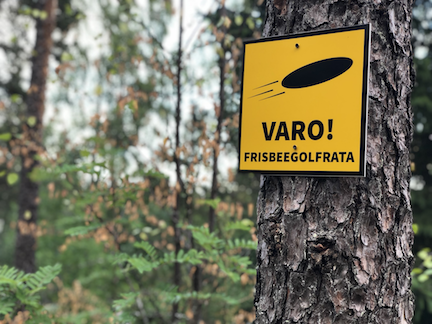 STATS
Out of nearly 500 international metropolitan areas outside the USA that we examined, here's how Helsinki, Finland stacked up:
Quantity Rank:
1


Quality Rank:
4


Overall Grade:
100/100

See all courses in or near Helsinki here on the UDisc Courses website or in the UDisc app's course directory.

Quantity rank reflects the number of holes available for play within radiuses of roughly 30, 80, and 160 kilometers (20, 50, and 100 miles) of the city, and the quality rank reflects the average ratings of local courses within those same distances. In both cases, the closer in to a city's center a hole/course was, the more it counted toward its score. The overall grade was determined by how each city compared with this year's #1 international city.  
THE FLYOVER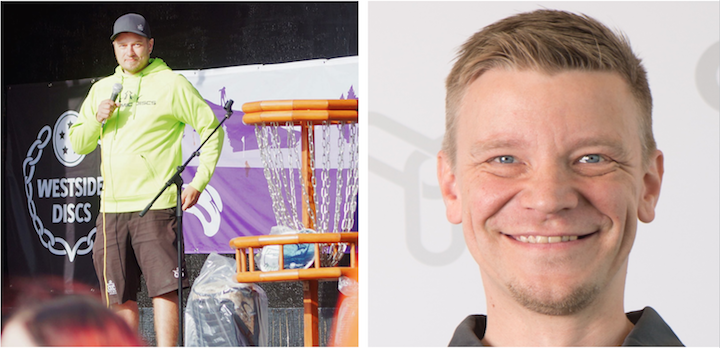 We're about to take you to a magical place where the following conversation is possible.

Person A: I'm going to the store today to pick up some milk. Do you need anything else?
Person B: Oh yeah. Could you pick me up a putter or two while you're there?
That's right. In Finland, disc golf is so popular that discs are available in many of the larger supermarkets.

Supermarkets.
That's just one example of why, though our Top 10 Disc Golf Cities — USA ended in a surprise, it was essentially inevitable that a city from Finland would take the top spot in any international contest not including the USA. And, with all the data in, it's Finland's capital Helsinki that's come out top dog.
Here to show us around the second-most northern capital in the world (behind only Reykjavík) are two Helsinki-area residents who live and breathe disc golf. One of our guides is Juha Kytö, a local course owner; a board member of the Finnish Disc Golf National Association; and organizer of Tyyni, the largest tournament in Europe. The other is Tuomas Suominen, an amateur competitor who represents both Westside Discs and Team Trilogy, hosts what he described as "a Disc Golf Answerman-type podcast called Frisbeegolfkeskustelu," and spends much of his free time helping to grow and teach the sport. 
It's also worth mentioning that Helsinki is just a 2-hour ferry ride from #4 on this list: Tallinn, Estonia. Together, they're a perfect combo for a long disc golf trip.
WHAT GOLF CAN I EXPECT?
Based on Suominen's and Kytö's descriptions, visitors to Helsinki can play just about any type of golf their hearts desire.
"The most common recurring theme for the courses around Helsinki is their number," said Suominen. "There are a ton of great courses within a one-hour driving distance from Helsinki and the courses are varied in difficulty, foliage and elevation. The greatest thing about the combination of course types and their number is that due to the short distances between them, a disc golf tourist can effectively play several courses per day and enjoy that each one is different from the others."
Kytö's comments complimented Suominen's perfectly, adding a few specific examples of the types of courses available for play.
"The best thing about Helsinki-area courses is that there is a lot of variety," said Kytö. "There are courses that are old and historical like Meilahti, beginner friendly courses in a well-maintained park like Siltamäki, popular courses in the woods like Puolarmaari and Söderkulla, and world-renowned championship level courses like Tali. Or, if you want to play without the wait and to know that everything will be tiptop, you can head to a pay-to-play course. It doesn't really matter what skill level you are, there's the perfect course for you."
COURSE HIGHLIGHTS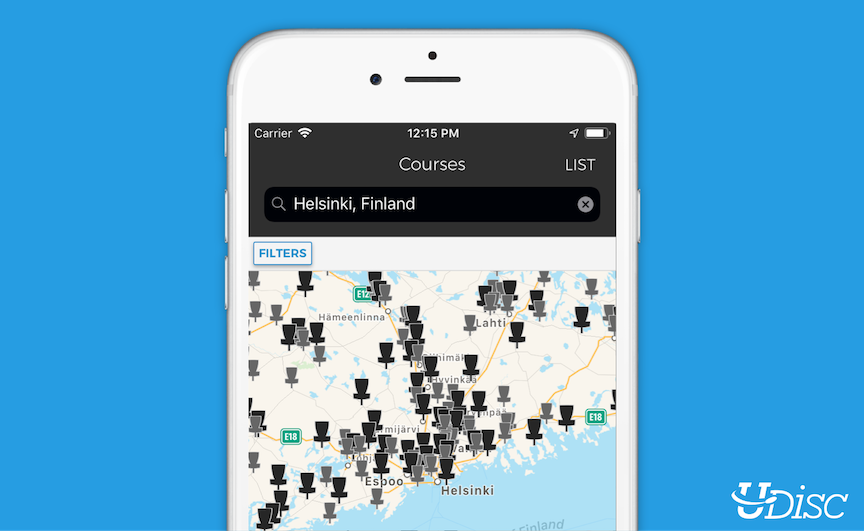 Click the name of any course in this section to see reviews, average ratings, exact location, and, likely, photos on the UDisc Courses website.

Tali or, Talin frisbeegolfpuisto: The #8 most-played course worldwide based on UDisc data, and reachable by public transport from Helsinki proper, Suominen called Tali "the crown jewel of the courses close to the city center." Tali is also one of Kytö's top choices for the area, and he said its tree-lined first hole is one of his favorite ways to start a round in the area. He described it as "a semi-difficult par 5 with some extra hole-dividing OB where advanced amateurs can play any score from 3 to 10."
The types of holes at Tali vary, with Suominen describing the course as "challenging with a little bit of elevation change and both long open holes as well as wooded technical holes." He also pointed out that "the course has an ingenious layout of three six-hole 'petals' that all start from the central hub where there are practice baskets and parking."

Those interested in getting a glimpse of the course can check out footage from the 2017 Keisari Tali Open.
Also worth noting is that Tali is also known as "Talin frisbeegolfpuisto" (this is its name in UDisc's directory), which means "disc golf course of Tali." The added "n" is due to a Finnish grammatical structure.
Kaatis: This course is farther outside of Helsinki (about a 1-hour drive), but it comes highly recommended by both our guides. In fact, Suominen's review was glowing.

"This course is by far my favorite course in Finland if not all of Europe," he said. "This course is picturesque, extremely challenging, and extremely well-maintained. It's everything you imagine a disc golf course should be. Elevation changes. Check. Long holes. Check. Woods. Check. Water hazards. Check. Beautiful scenery. Check. Techincal holes. Check. Play this course. You won't regret It!"

However, according to Kytö, you might have some regrets if you don't go to Kaatis well-prepared.

"Kaatis has a lot of elevation, and it's a rough course physically. Remember to take water with you!" he advised.

You can see a flyover of the course below.


Other notables: Sibbe (Sipoo, Finland— 30-minute drive from Helsinki city center. A pay-to-play course run by Kytö with a hotel just a brief walk from the course), Kivikko (reachable by Helsinki public transport with some holes built around a snowboarding park offering fun elevation changes)
THE LOCAL ROUTES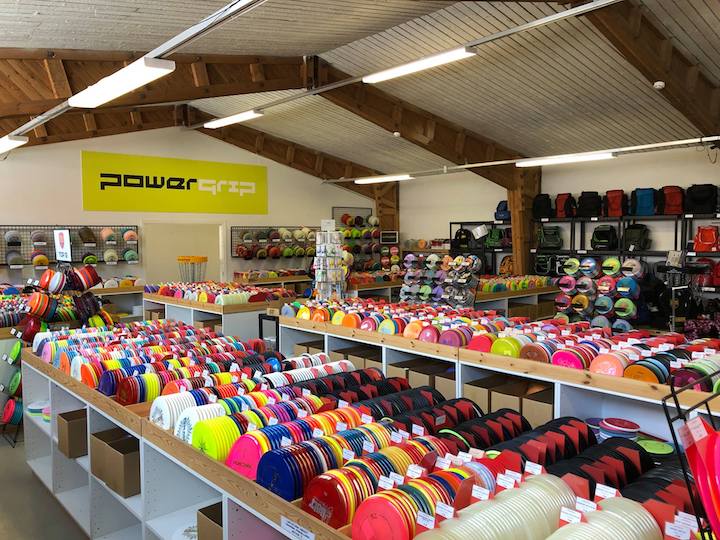 Gear: Beyond the supermarkets we talked about at the beginning, discs can also be found in sports stores in Helsinki and throughout Finland. However, both our guides said the disc golf store Powergrip is really where it's at gear-wise. You can check out more of the area's disc golf equipment retailers in the UDisc app's disc golf shop directory (see how to do that here) or on our Stores website. 
Guides: Due to Helsinki's large amount of disc golf clubs, our guides couldn't recommend just one highly-responsive website or page where visitors could get advice or find a local to play some rounds with. However, Suominen gave recommendations on which local clubs' Facebook pages were active and happy to answer questions: Disc Golf Vikings, Talin Tallaajat, Puskasoturit, and Vantaan Frisbeeseura. 

Though he did say that you might not get an instant answer, Kytö mentioned that the Etelä-Suomen frisbeegolf ryhmä Facebook page is also worth making a post on.
Leagues and Weeklies: For this, both guides said that in the warmer months, there are weeklies and other events going on somewhere in Helsinki every single day. Your best bet to find out when and where (or if something really special is happening while you're there) is to ask on one of the Facebook pages in the Guides subsection above.
EAT, DRINK, SIGHTSEE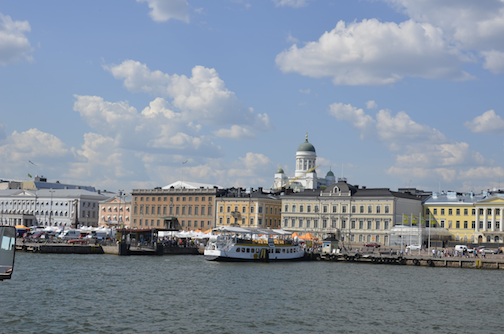 Even the most ardent disc golfers need some nourishment and to take time to experience places away from courses (or have people traveling with them who prefer sightseeing to disc golfing). Here are some of the best food, drink, and non-disc golf options Helsinki has to offer.
Chow Down and Drink Up: If you're looking to try some Finnish delicacies, Suominen says you can find them around Helsinki's market square, which boasts a large number of vendors. However, his personal favorite place to go is Fat Lizard, which is in Espoo, Finland but is accessible by public transport from Helsinki. Fat Lizard is a restaurant but also owns a brewery, and Suominen said, "If you enjoy craft beers and tasty foods with a modern twist you'll love Fat Lizard."

If you're looking to make a day of it out at Sibbe, the delectable burgers of Box Café and Grill are just 7 minutes down the road by car. 

Three Sights to See: In no particular order, here are three things to do off the course in Helsinki.
1. Suomenlinna/Sveaborg: An 18th century fortress built on a series of islands in the Helsinki Archipelago? Sign us up. Just a 15-20 minute boat ride from Helsinki's Market Square, Suomenlinna/Sveaborg is a UNESCO World Heritage Site that offers a look back into Finland's history of being ruled by Sweden and Russia. The island is also a protected nature area and has restaurants and shops to visit.
2. Saunas: There's nothing more Finnish than a sauna, and after a long day of disc golf, it's likely just what you need to feel regenerated. There's no lack of them in the city, but if you're looking for places to start, try the ones recommended in this New York Times piece.
3. Explore the city (by land and water): Helsinki's architecture has a unique style, and it's worth taking it in on foot. Also, you can visit the Helsinki Cathedral or take a stroll through the aforementioned Market Square to see what the vendors are selling. If you're feet get tired, you could try a sightseeing cruise that will give you a glimpse of the city from the water and also take you around the Helsinki Archipelago.
Note: When creating our Top 10 Cities — USA list, we were lucky that the data simply worked out to feature cities from 10 different states. But we liked how this gave us a chance to give readers glimpses not only of different types of disc golf but slightly different cultures in each article. In order to keep that variety in this series, Top 5 Disc Golf Cities — International only considered the top city from each country, meaning that no country is featured more than once on this list.