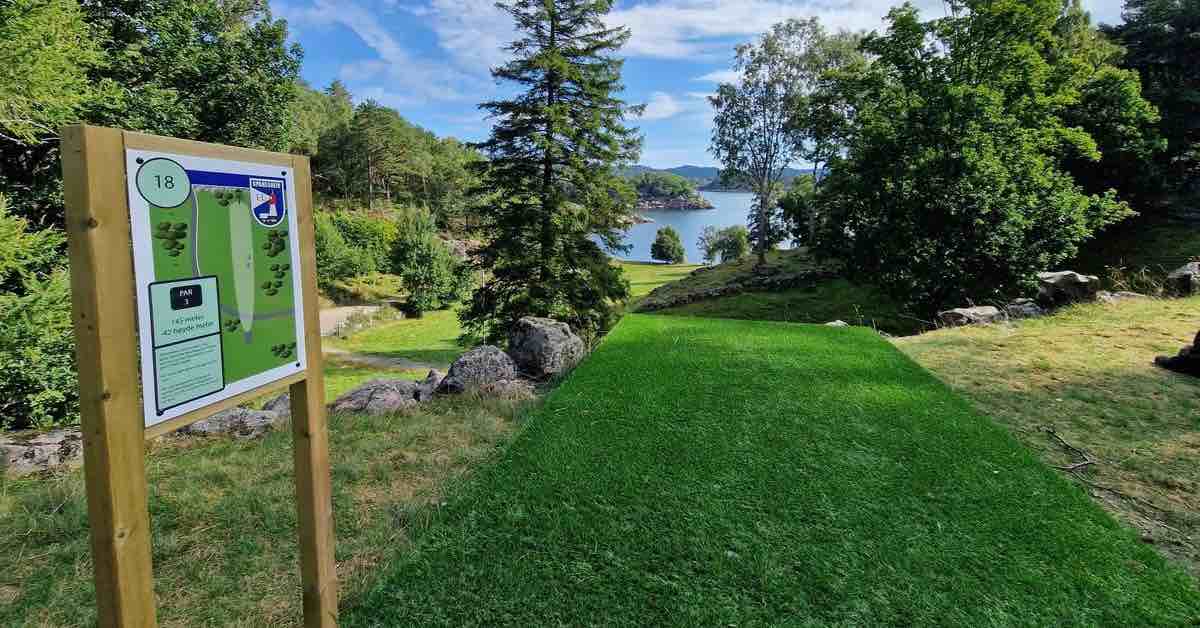 The tee pad is literally where everything begins on a disc golf course, and it's the one place where throwers should feel absolutely confident that their footing will be even and sure. Tee pad quality matters a lot to disc golfers as good tees allow players to focus on throwing the best drives possible without fear of injury.
People building disc golf courses have lots of options when it comes to tee pads, and there's no one right answer for every case. We want to help make that tough decision a bit easier, so we talked to course designers and owners to hear about their experiences with different teeing surfaces. From them we learned the pros and cons of various disc golf tee pad choices as well as how much they cost.

The information from our interviews is complemented with stats from UDisc Courses, the world's largest and most frequently updated disc golf course directory, showing how often different teeing surfaces are found at well-rated courses in countries and U.S. states where the sport is popular. 
To jump to information on a specific disc golf tee pad material or the stats about teeing surfaces' popularity among different countries' or U.S. states' top-rated courses, click or tap below:
Concrete Disc Golf Tee Pads
Concrete, or asphalt, is one of the most common types of disc golf tee pad material, especially in the United States. According to stats from the UDisc directory, over 30% of the world's disc golf courses have concrete tee pads, making it the second most popular tee pad material after natural grass or dirt.
Concrete Tee Pads: Biggest Pros
Concrete Tee Pads: Biggest Cons

Extremely long lifespan at similar price point as other new, premium tee surfaces
When made correctly, provide consistent grip in most conditions

Extremely difficult or impossible to move once set
Limits to possible tee locations
Concrete is a popular tee choice because it provides good grip in most conditions and lasts a very long time. For example, a county parks and recreation manager named Ricky Lunsford told us that Horizons Park Disc Golf Course, which is in a park he oversees, was built in 1982 and had original concrete pads that weren't replaced until 2016. In fact, one original tee pad still remains on the course to this day.
We also spoke with someone who made a much more recent decision to install concrete tee pads after extensive trials: Allyson Sawtelle, president of the non-profit board that manages a 60-acre/24-hectare nature park in North Carolina where Davie Disc Golf Course (est. 2020) is located.
After deciding that disc golf was a great fit for the property, Sawtelle and her husband played courses all across the state to decide what features they appreciated most. They paid particularly close attention to tee pads and ended up inspired by what they experienced at Rolling Pines, one of North Carolina's best disc golf courses.
"Most of the courses we played had concrete tee pads and they were our favorite," said Sawtelle. "We particularly liked the ones at Rolling Pines in Wilkesboro, and that became our model for the tee pads and the general look we were going after for the course."
As a certified public accountant, Sawtelle had worked with a concrete contractor for many years and approached him to get a quote for the tee pads. She liked what she heard, and she ended up paying $7,510 for work and materials on tee pads for the 20-hole course.
The tee pads are six feet/1.8 meters wide, and they're 10 feet/three meters long on shorter holes and 12 feet/3.7 meters on longer ones. The cost was just under the $400 per tee pad Allyson had projected. The Davie project also received a $1,000 donation to build wooden frames for the tee pads, making the all-in cost about $8,500.
Sawtelle and her team wanted to create a course that would provide lasting value to the community, which, as we mentioned before, is something concrete is very good for.
"The longevity of concrete pads was definitely another factor that drove our decision to go with them," said Sawtelle.
Given that well-installed concrete tees could last over three decades, it's hard to beat their price-to-longevity ratio. However, that longevity comes with a downside: lack of flexibility. Once concrete tees are in, moving them isn't really an option. If you believe flexibility in this regard might be needed at your course, other tee pad surfaces we discuss below could be better options.
Another thing to consider with concrete is that it limits where you can place tees. You'll need solid ground to set concrete whereas most other teeing surfaces can be secured to raised wooden platforms. Additionally, the materials needed to create concrete tees are heavy and may eliminate possible tee locations simply because transporting the materials would be impossible.
Artificial Turf Disc Golf Tee Pads
Artificial turf/grass and outdoor carpet are used for disc golf tee pads at around 13% of the world's courses based on data from UDisc's disc golf course directory. That makes it the third most popular teeing surface behind natural grass/dirt and concrete, respectively.
Artificial Turf Tee Pads: Biggest Pros
Artificial Turf Tee Pads: Biggest Cons

Provide grip in most conditions
Easier to place and move than concrete
Offer the chance to upcycle materials from former athletic fields, which can lower expenses for quality tees immensely
To many, a better aesthetic match for typical disc golf settings than concrete

When using new turf, costs are similar to concrete or pavers though turf tees will not last as long
Artificial turf is very widely used in Europe, and a big reason for that is DiscGolfPark, a successful international course building company that uses turf exclusively as a teeing surface and is based in Finland, the only country other than the U.S. with more than 1,000 disc golf courses. Owned by the same parent company as disc golf equipment manufacturer Discmania, DiscGolfPark has made a push to expand in the U.S. market in the last few years (including building a course for beer giant Anheuser-Busch), and it's brought its preference for turf tees with it.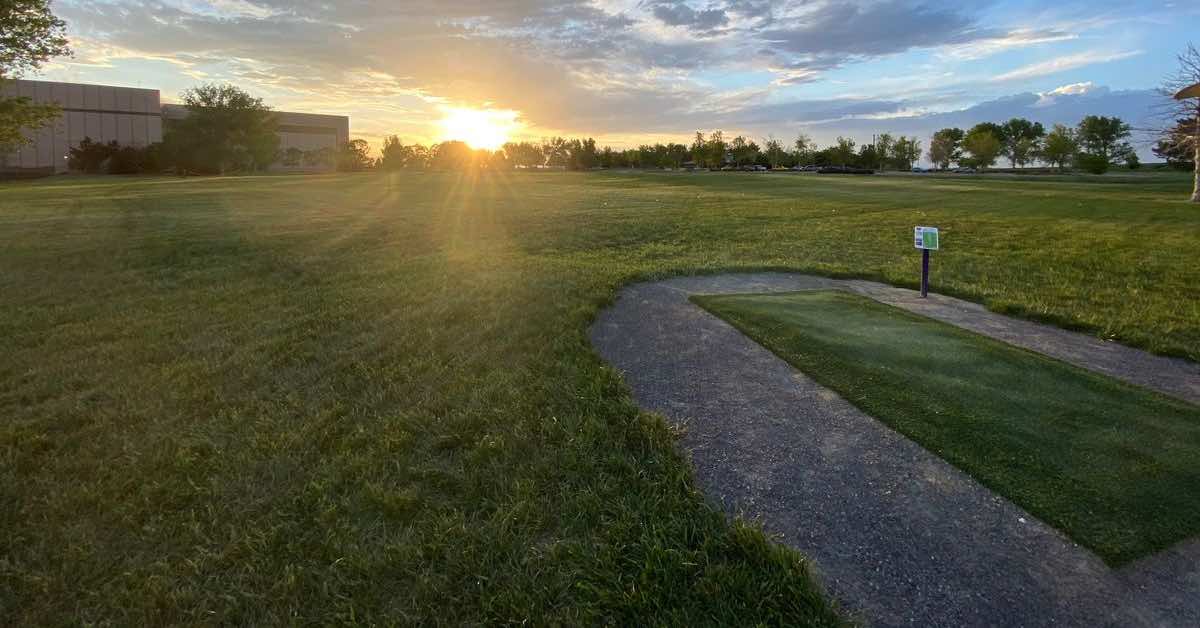 Dana Vicich, a course designer for DiscGolfPark and sales manager for Discmania based in Illinois, told us that the company's turf "provides a great and safe teeing experience in a variety of weather conditions," and that DiscGolfPark believes it is by far the most aesthetically appealing tee material.
"When we are out in natural spaces, cement and other teeing surfaces can be an eyesore," said Vicich. "DiscGolfPark TeePads are a better match for the beautiful spaces where we play disc golf."
Though Vicich was careful to note that not all artificial turf is the same, he said properly installed TeePads from DiscGolfPark could last 10 or more years. He estimated that a DiscGolfPark TeePad, including turf and installation materials, costs roughly $400 per tee. Beyond the turf itself, recommended materials include lumber to frame the pads, attachment screws, white sand, and crushed stone or screening (a coarse material made from pulverized rocks that locks together better than sand).
But DiscGolfPark is far from the only source for artificial turf. A growing trend is upcycling the turf of former athletic fields for disc golf tees, which is something Mark and Carolyn Tedder did at their course Neatman Creek, one of the world's top 100 disc golf courses in 2023.
"I just started by doing a search on Facebook Marketplace," said Mark. "I found a turf sales rep who directed us to Atlantic Landscapes in Charlotte, North Carolina, which is where we picked our turf up from. We bought three rolls, which cost $1,400. We only ended up needing two rolls for our 18 pads."
Mark and Carolyn were able to install all of the pads on the course themselves despite large elevation changes and heavily wooded holes. Mark noted that it would have been impossible for them to haul concrete to a number of their tee locations, and that they like the flexibility that turf provides if they want to change hole designs.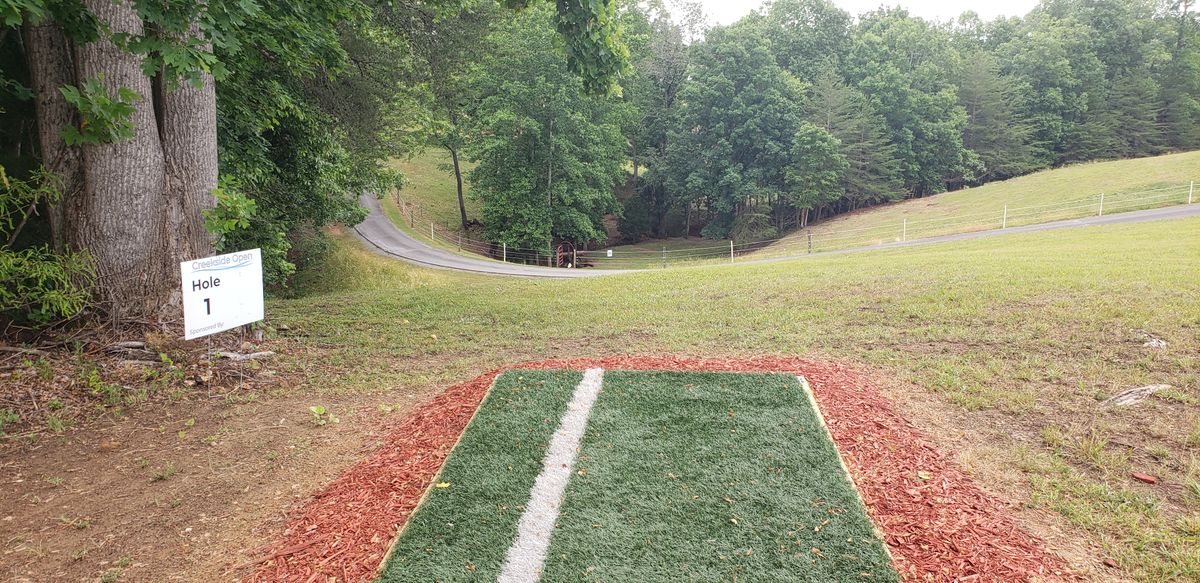 "We leveled and tamped the ground, covered it in three-fourth-inch [two-centimeter] rubber horse stall mats, and then nailed the turf into the mats and ground with six-inch [15-centimeter] nails," said Mark. "They've been on the ground for over two years now and we haven't had any issues yet. Sometimes some dirt and mud washes on top, but we just pull them up, clean them, turn them around, and reinstall them."
As a retired couple, Mark and Carolyn fell in love with disc golf because it's something active and competitive they can enjoy together without too much wear on their bodies, and they've found that turf tees help with that.
"I went with turf because personally I think it's easier on my feet and my knees," said Mark. "I've never had any issues with slipping either. The turf is designed for athletes and you simply need to spread a little sand on top to add some extra grip. It looks great out there too."
The Tedders estimate they spent around $150 per tee including the turf, horse mats (which cost about $55 each, with 1.5 mats needed per hole), and nails. It's even possible to get free recycled turf if you know who to talk to; the Tedder's friend Jon Martin, owner of the Martin Family Disc Golf Course, just received free recycled turf from a field at a local university to install at his course.
Brick and Paver Disc Golf Tee Pads
Brick and paver tee pads make up just over 3% of the teeing surfaces at courses listed in UDisc's directory, but one extremely notable place you'll find them is the world's best disc golf course for three years running: Maple Hill in Leicester, Massachusetts.
Brick and Paver Tee Pads: Biggest Pros
Brick and Paver Tee Pads: Biggest Cons

Long lifespan (similar to concrete)
Possible to remove from one location and reuse at another
To many, more aesthetically pleasing than concrete

Many bricks and pavers get very slick when wet. Finding ones that don't will take time and testing.
Not as flexible in terms of placement as artificial turf or rubber mats
Built on an active Christmas tree farm with multiple ponds, old stone walls, and rolling hills, Maple Hill is well known for its natural beauty. Course co-founder Steve Dodge said that the aesthetic paver pads provide is one of the main reasons the team chose them. Another was the flexibility they offer in terms of relocating tees.
"The biggest benefits are that they are gorgeous and can be moved as courses modernize and woods shift," said Dodge.
The tee pads at Maple Hill are six feet wide and 12 feet long (1.8 meters by 3.6 meters) and framed by timber boards. The pavers are laid on top of gravel and stone dust, tamped down, and secured with a sand/glue mixture. So far their longevity has equaled their beauty.
"We've never had a paver tee wear out," said Dodge. "We've been using them for about ten years."
The biggest issue Maple Hill has experienced with the paver pads is their tendency to get slick when wet.
"We are purchasing a power washer this year to keep them clean," said Dodge. "Paver tees that are not in direct sunlight will get slick when wet. We will be cleaning them to get their original grippiness back."
Considering the cost of all materials, Dodge estimated each pad probably cost about $500.
Another high profile example of paver tees can be found at Brewster Ridge Disc Golf Course at Smugglers' Notch Resort (Smuggs, familiarly) in Vermont. Brewster is a host of the Disc Golf Pro Tour's (DGPT's) Green Mountain Championship, soon-to-be two-time Pro Disc Golf World Championship venue later in 2023, and a top 10 disc golf course in the world for the last four years.
When talking to the person in charge of Smuggs' disc golf operations, Nick Hover, about Brewster earlier this year, he told us that his team had also received feedback about slippery paver tees in wet conditions. Instead of going to a completely different tee type, the Smuggs team "performed in-house friction evaluations on different paver stone types, textures, and environmental conditions" and "found one with ideal grip in both wet and dry conditions" that "received rave reviews from locals and DGPT players alike."
Compared to concrete, pavers likely have a similar lifespan, can be moved if needed, and are more aesthetically pleasing to many. But the experiences of Maple Hill and Brewster Ridge both show that not all pavers are created equal, and if you'd like to use them at your course, you should test a few different types out for grip in various conditions before buying all your materials.
Rubber Disc Golf Tee Pads
Rubber tee pads can be found at a little under 5% of the world's disc golf courses according to statistics from UDisc Courses.
Though less rare than pavers, rubber tees are currently used sparingly in disc golf course projects. However, they've been doing the job at a track that's been in the world's top 25 since 2021 (the first full year it was open), Diavolo Disc Golf Course in Cary, North Carolina.
Rubber Tee Pads: Biggest Pros
Rubber Tee Pads: Biggest Cons

Easy to set and relocate
Open up a wide variety of tee locations due to ease of transport 
Provide more consistent grip than natural grass or dirt tees

Lifespan not as long as concrete or pavers
Often aesthetically unappealing
Mike Sink, the operations and programs supervisor of sports and events for the Town of Cary, helped oversee the development of Diavolo, and he explained why rubber mats were a great initial choice.
"From a maintenance perspective, concrete is the most cost effective option in the long run," said Sink. "Concrete is more permanent though. It is expensive and difficult to tear up and move if one of the holes is not quite right. Our semi-permanent rubber tees allow us to more easily adjust them if we feel we missed the mark on any of our hole designs."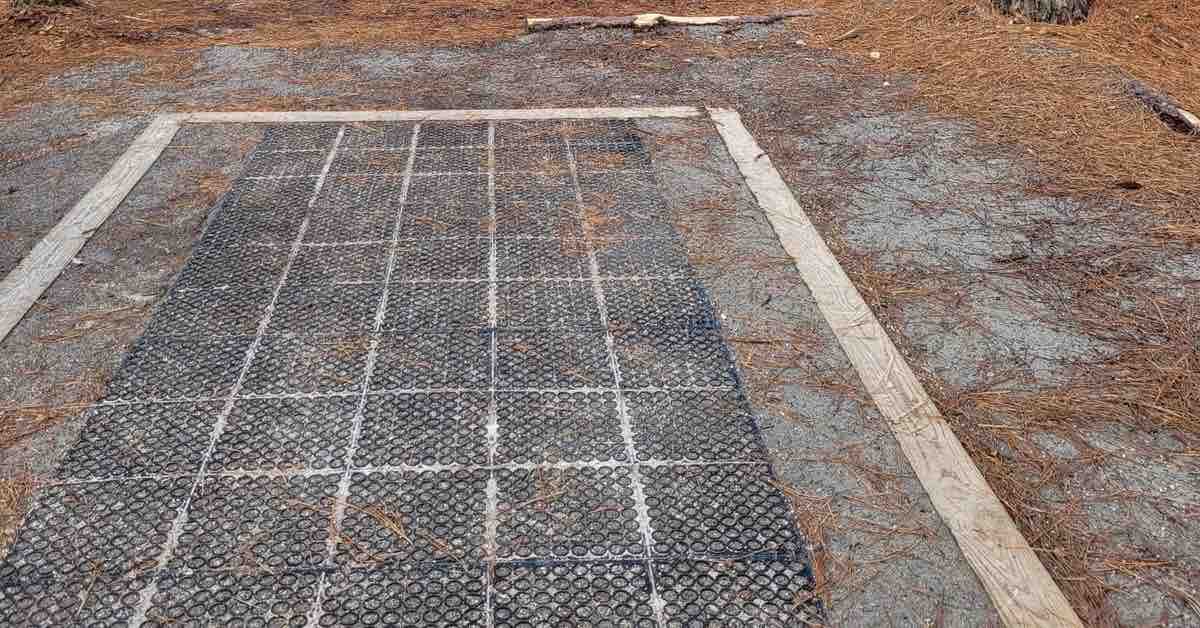 Being able to save costs by utilizing volunteer laborers was another major reason the Diavolo team settled on rubber mats. 
"The rubber mat tee pads we used in the development of Diavolo were chosen for a few reasons," said Sink. "One of the main reasons is it allowed us to build the tee pads with volunteer labor, saving us thousands of dollars in the initial build of the course. With that savings we were able to install all of the blue and the white tees when originally we only had a budget for the blue tees."
A big part of what makes Diavolo so well-loved is its variety of tee positions for every hole, each one designed to create a completely different playing experience, not to simply add or eliminate distance. This leads to a lot of tee pads built on slopes and other intriguing landscapes, requiring extra materials and labor to level and frame the pads. Sink broke down the costs to build Diavolo's tee pads, which are ample in size and framed by large timbers.
"A new rubber mat is about $45 per three-foot by five-foot [one meter by one-and-a-half-meter] section," said Sink. "Our tee pads probably averaged about $600 each for all materials. Some cost more on bigger hills and some cost less if they were on flat ground. If you have played our course, you have seen how many pads we built on sloped hillsides."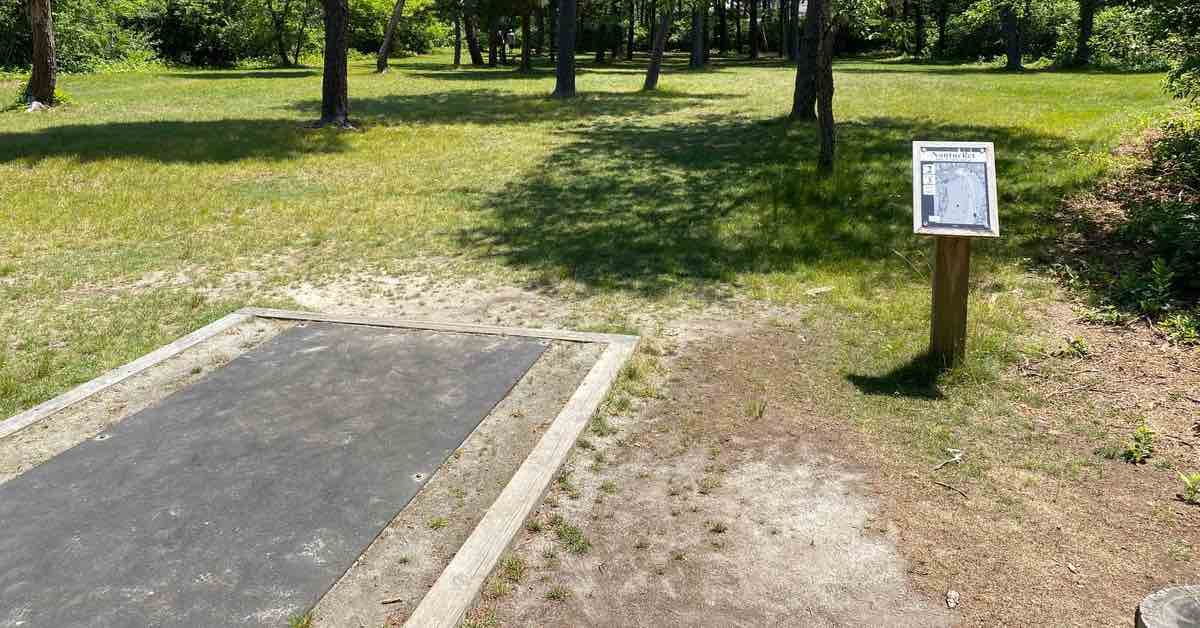 Sink knew that rubber mats could provide both longevity and player satisfaction from experience with a previous course. 
"We are confident in the use of the rubber mats because we have been using them at our first course, Middle Creek Disc Golf, for over 10 years," said Sink. "Knowing how well they held up at our first course, in all weather conditions, we felt confident with implementing them at Diavolo."
While they plan to slowly transition to concrete pads over the coming years, Sink is confident they can get a long lifespan out of the rubber pads, even with the immense popularity that Diavolo has enjoyed since its opening.
"We have found that, if properly maintained, the rubber mats can last a decade or more," said Sink. "This does involve occasionally pulling the mats, re-securing them, and adding some additional screening every few years. That said, maintenance on any course is a constant challenge, and the increase in the volume of play over the last few years has increased the level of maintenance needed for all parts of our course."
Grass, Dirt, and Other Natural Disc Golf Tee Pads
Tees that are simply marked areas on grass or dirt (grass tees often turn to dirt as they're used) or – less commonly – constructed with unsecured materials like wood chips or gravel make up over 40% of the world's disc golf teeing surfaces. The reason for their popularity is easy to figure out: They're low cost (or, in many cases, no cost) and take much less time to create than any other teeing surface we've discussed. When those using natural tee pads go beyond just placing markers such as stones or logs to show the teeing area, they often simply level the ground as much as they can.
Grass or Dirt Tee Pads: Biggest Pros
Grass or Dirt Tee Pads: Biggest Cons

Low to no cost
Low effort

Can lead to player injury due to uneven surfaces
Will likely create concentrated areas of erosion and soil compaction, which are ecological hazards that have forced closures of holes and even entire courses
Natural tee pads are the most likely to present tripping hazards to players (e.g., roots, rocks, mud), making it hard to throw a confident drive. They also contribute to erosion, which is one of the biggest environmental hazards that course designers should keep in mind when designing their courses. With every player throwing their first shot off of the tee, it's one of two areas (the other being around the basket) that sees the most foot traffic and therefore experiences the quickest rates of soil erosion and compaction. Both of those effects can harm your disc golf course, mainly by hurting tree and vegetation health. This has led to some holes and even whole courses getting shut down due to concerns about ecological damage.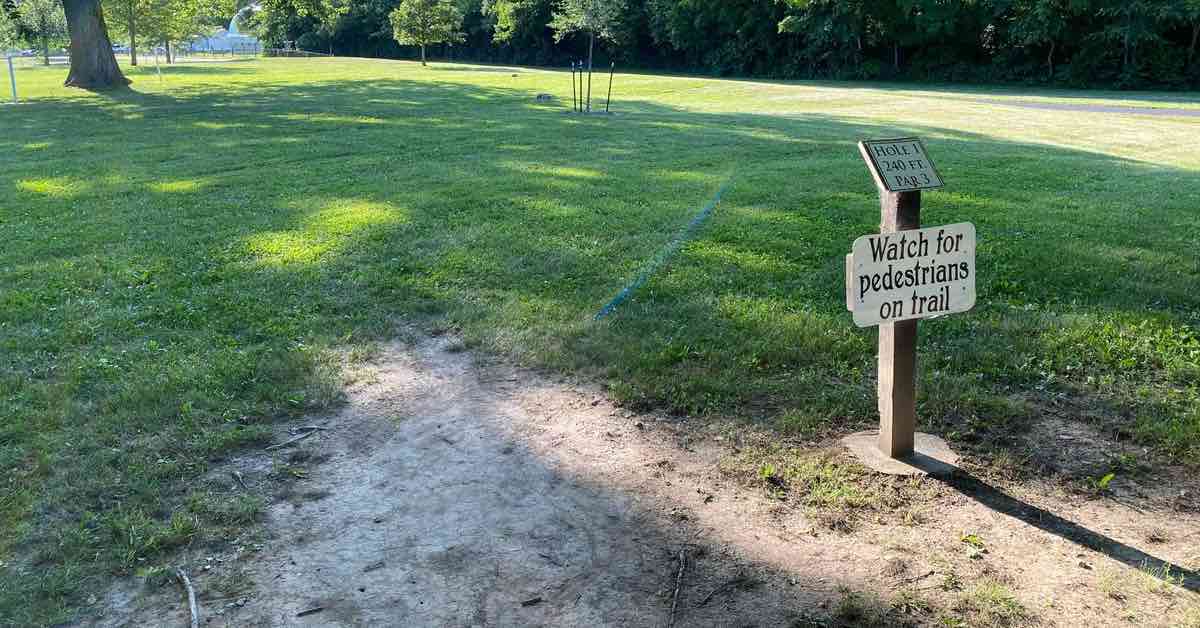 While materials like gravel and wood chips can slow these processes, they both pose injury risks when used as tees given that they can easily slide and move under the feet of someone throwing a drive. To be clear, spreading wood chips near baskets, around more solid teeing surfaces, or even down fairways is a great way to combat compaction and erosion, but wood chips are simply not a great long-term teeing surface solution.
Many courses decide to temporarily utilize natural tee boxes while they fine tune their design, secure the necessary funding, or recruit the volunteers necessary to build more permanent tee pads. Whenever possible, we recommend using rubber mats, turf laid on the ground, outdoor carpet, or another uniform, grippy surface during the early stages of course construction.
What Disc Golf Tee Pads Are Most Popular at Good Courses?
Our main purpose here is to help people building disc golf courses decide which tee pads are the best option for their projects, so we investigated how often the tee pad types we've discussed above are used at well-rated disc golf courses in the UDisc Courses directory. If you're trying to build a high quality disc golf course, what better model to follow than places players have already deemed high quality?
To assure a variety of climates and regions were covered, we looked at courses in the 10 states with the most disc golf courses, a stat included in our 2022 post on which states have the most disc golf courses per capita. Our threshold for quality was an average rating of 4.0 or higher by disc golfers with UDisc. Only the top quarter of the over 14,000 disc golf courses in the world meet that standard.
Tee Pad Types at Disc Golf Courses Rated 4.0+ in the 10 U.S. States with the Most Disc Golf Courses*

| | | | | | | |
| --- | --- | --- | --- | --- | --- | --- |
| | Total 4.0+ Disc Golf Courses | Concrete / Asphalt Tees | Artificial Grass / Turf, Outdoor Carpet Tees | Rubber Tees | Brick/Paver Tees | Grass / Dirt / Other Natural Tees |
| Texas | 292 | 63% | 5% | 4% | 1% | 22% |
| California | 213 | 45% | 12% | 13% | 5% | 21% |
| Michigan | 172 | 63% | 8% | 6% | 2% | 15% |
| Wisconsin | 104 | 71% | 2% | 9% | 3% | 9% |
| Minnesota | 88 | 59% | 11% | 8% | 2% | 16% |
| North Carolina | 184 | 52% | 10% | 7% | 5% | 19% |
| Iowa | 60 | 80% | 2% | 2% | 2% | 7% |
| Illinois | 119 | 65% | 5% | 2% | 3% | 23% |
| Kansas | 100 | 73% | 3% | 2% | 1% | 15% |
| Ohio | 129 | 69% | 7% | 2% | 1% | 19% |
| Average | | 64% | 7% | 6% | 3% | 17% |
*Percentages will not equal 100 because we did not include the very small number of 4.0+ courses that have no tee type specified in the directory, mixed tee types, or tee types that don't fit a category above.
If you look at just those U.S. stats, you could get the idea that concrete is the choice for most well-rated disc golf courses. However, there's a big switch when we move outside the States to other countries with high course counts.
Tee Pad Types at Disc Golf Courses Rated 4.0+ in the Five Non-U.S. Countries with the Most Disc Golf Courses*


| | | | | | | |
| --- | --- | --- | --- | --- | --- | --- |
| | Total 4.0+ Disc Golf Courses | Concrete / Asphalt Tees | Artificial Grass / Turf, Outdoor Carpet Tees | Rubber Tees | Brick/Paver Tees | Grass / Dirt / Other Natural Tees |
| Finland | 123 | 2% | 87% | 2% | 0% | 4% |
| Canada | 301 | 21% | 15% | 8% | 7% | 43% |
| Sweden | 97 | 12% | 56% | 4% | 5% | 20% |
| Norway | 129 | 12% | 61% | 2% | 3% | 17% |
| Germany | 111 | 21% | 15% | 5% | 10% | 38% |
| Average | | 14% | 47% | 4% | 5% | 24% |
*Percentages will not equal 100 because we did not include the very small number of 4.0+ courses that have no tee type specified in the directory, mixed tee types, or tee types that don't fit a category above.
Outside the United States, concrete tees are nowhere near as dominant at highly rated disc golf courses. In fact, if you just take the Nordic countries (Finland, Sweden, and Norway), artificial turf makes up an average of 68% of the tees used at courses rated over 4.0.
In Finland, this has to do with the massive influence of DiscGolfPark, which, according to its publicly available records, has built around a third of the country's roughly 1,000 disc golf courses. DiscGolfPark founder Jussi Meresmaa is often credited with sparking Finland's massive interest in disc golf, and the course-building company's preference for turf tees has likely influenced what many Finns believe a quality disc golf course should look like.
Ultimately, when we look at these stats, we take away three key things:
Concrete and artificial turf are both teeing surfaces used with high frequency at high quality courses in different parts of the world. This suggests many course designers and disc golfers like and trust those teeing surfaces. 
Teeing surfaces may be chosen out of adhering to cultural norms rather than thinking too much about what the pros and cons of using a particular teeing surface in a region are. For example, both Finland and Wisconsin have harsh winters but one place's quality courses strongly favor turf and the other's concrete. We'd suggest thoroughly considering all tee surface options rather than thinking your region's most popular one must be the best choice.
Inside and outside the United States, grass/dirt/natural tees are a popular option even at well-rated courses. Like many popular things, this likely has to do with just how much money and time they save. Still, for reasons related to player safety and ecological concerns, we wouldn't recommend natural tees as a go-to or long-term solution.
We Want to Help You With Your Disc Golf Course
When first released, UDisc was an app focused solely on making it easy to find and learn about disc golf courses. Though we offer disc golfers tons more now, disc golf courses are still at our core, and helping more people have access to the healthy, all-ages recreation disc golf provides is one of our main missions.
Are you working on building a course in your area? We have great stats that can help you make your pitch to local decision-makers. Contact us at help@udisc.com to get information like play counts at local courses or in areas similar to your own.
Here are other resources that might help, too:
If there's another big disc golf course building question (like which tee pads to use) you'd like us to investigate, reach out to our blog team at releasepoint@udisc.com. And if you never want to miss out on another post like this one, consider subscribing to our Release Point newsletter.