No country plays more disc golf than the United States. Though there are countries that have more disc golf courses or play more rounds of disc golf in per capita terms, the United States is far and away the leader in both categories by overall volume.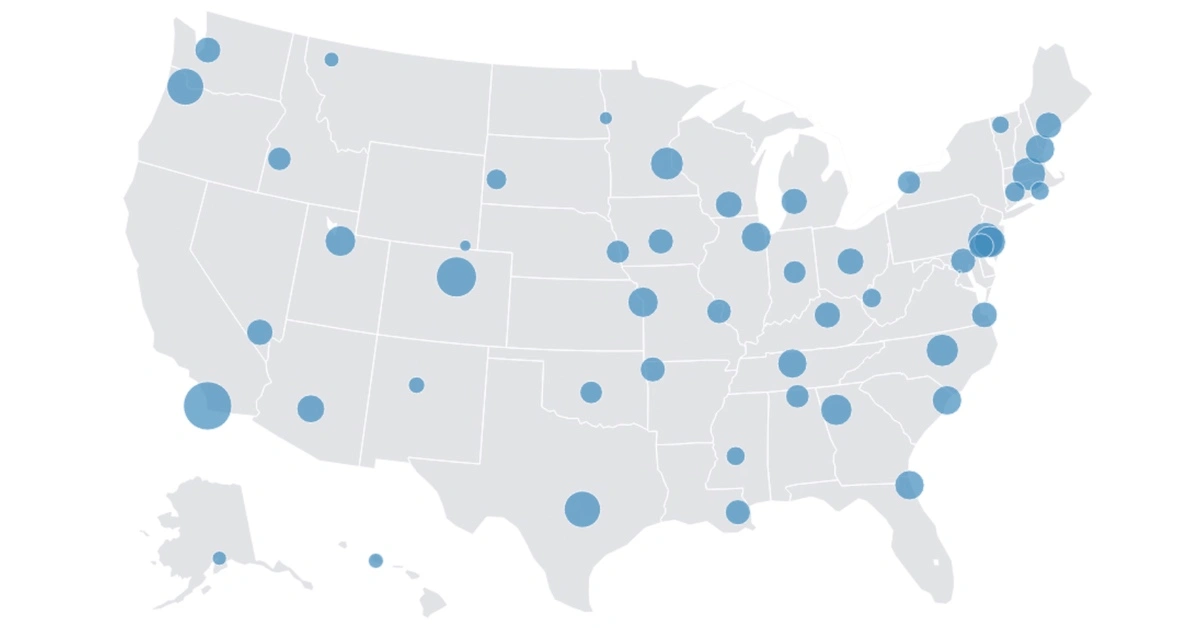 Of course, the U.S. is a huge place, and its states often have the size and populations of countries elsewhere in the world, so when a new year rolls around, we like check out which course in each state was most popular (i.e., had the most plays recorded with UDisc) the previous year. It's information we can learn a lot from. For example, it shows where demand for disc golf is greatest, which sorts of locations tend to create high-traffic courses, and where a new course or two would help lessen the burden on a single extremely well-used one.
To jump to what you're most interested in, click or tap a section title below:
What Does "Most Popular" Mean?
Disc golf courses that are a state, country, or other large area's "most popular" tend to walk an interesting line. Though they're occasionally also what people consider an area's "best" course, it's fairly rare. But
popular courses do tend to be very good courses
.
Just to be clear before we keep going, "most popular" in this post means simply "most played."
In countries with multiple disc golf options, the most popular courses are often those near large population centers, easily accessible by car or public transport, and appealing to the majority of disc golfers. Since most disc golfers play recreationally, the courses with top play counts usually have layouts that are enjoyable and not demoralizing for less-skilled players.
Essentially, expect popular courses to have fun designs that will challenge the everyday disc golfer and be great for a family day out or someone's first round ever. The courses that manage to balance showing those demographics a top-notch time while also wowing experienced, competition-focused players are rare gems. They often make it possible through use of multiple tee or basket positions, though, so make sure to check
UDisc Courses
for multiple layouts if a course catches your eye.
For those who want to know what the best disc golf courses in their state are, check out "The 5 Best Disc Golf Courses In Each U.S. State: 2022."
Why Some Hot Spots Didn't Get #1s
Some locations of each state's most popular course are unsurprising. No one will raise an eyebrow seeing a Philadelphia course on top in Pennsylvania or a Portland course taking the cake in Oregon.

However, others appear strange at first glance. For example, North Carolina's most popular course is in Raleigh though many would assume that a track in disc golf hot spot Charlotte (also the Tar Heel State's most populous city) would claim the title. So, why didn't a Charlotte course win out?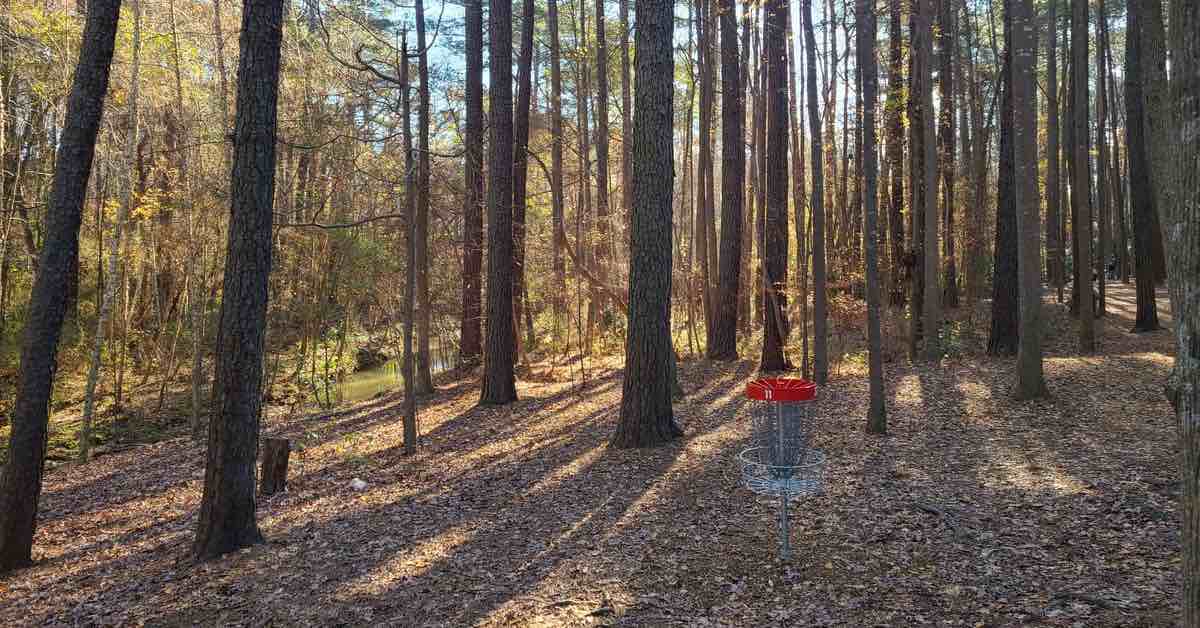 It comes down to course availability. Yes, there are probably more disc golfers in Charlotte than there are in Raleigh, but Charlotteans have way more courses to choose from. According to UDisc Places, Charlotte has 40 courses while Raleigh has just five. Clearly, Charlotte offers players far more options to spread out when courses get full, meaning play counts will be more evenly spread. In Raleigh, everybody just has to crowd in.
As we discussed in our post on the most popular courses in each country for 2022, a city having a large area's most popular course could be seen as good evidence that it needs more courses to keep up with demand. If you're in one of those cities and trying to get more courses in the ground, feel free to reach out to us at help@udisc.com for stats and information resources.
A Way to Avoid Crowded Disc Golf Courses
If your closest course is a popular one and you'd like a way to avoid the crowds, don't forget that players with UDisc Pro can now see real-time disc golf course traffic online and in the app. Just check under the photos of any course listing in the app or on the right of your screen beneath the map location on the web.
What to Know Before Reading the Stats
Here are important things to know before you dive into the table.
On Where the Stats Came From and Their Meanings
$: This symbol next to a course's name means the course requires a fee of some type.
Plays: The number of rounds recorded in 2022 on a course with the UDisc app, the #1 app for disc golfers. Not every round of disc golf is recorded in UDisc, but research conducted in 2020 suggested that roughly one out of every five rounds is.
New Champ: A "Yes" in this column means a state had a different most popular course in 2020.
+/-: How many spots the 2022 top course in a state rose or fell in relation to where the state's top course was on the 2021 list. For example, Oregon's top course was #6 in total plays in relation to other states' top courses in 2021; this year it was #3 and has a ▲3 in this category.
World Pop. Grade: The "Pop." stands for "popularity. This is a quick and interesting way to compare every course's play total with 2022's most popular disc golf course in the world (a course in Denmark). If you've ever had a test graded on a curve, it's pretty much the same thing. The course with the most plays in the world set the bar and got a 100. The other courses' "grades" are based on what percentage their play counts are of the highest plays total. For example, if a course has a World Pop. Grade of 20, it means it had 20% of the plays that the world's most popular course did in 2021.
On Organization and Tips for Correct Interpretation
The table is organized from the most played to the least played course, but...
... don't forget that the stats include only the top course from each state. Because some states have multiple courses with more plays than the top course in other states, no course's position in the table – other than #1 – is guaranteed to reflect its overall popularity as compared to all courses in the United States.
The Most Popular Disc Golf Course in Every U.S. State: 2022
 
State
Disc Golf Course
City
Disc Golf Rounds Recorded

New Champ?

+/-
World
Pop.
Grade
1
California
Morley Field $
San Diego
39,965
98
2
Colorado
Johnny Roberts DGC
Arvada
27,824
▲2
69
3
Oregon
Pier Park
Portland
23,436
▲3
58
4
Texas
Zilker Park $
Austin
22,780

▼1

56
5
Pennsylvania
Sedgley Woods
Philadelphia
21,813

 

54
6
Massachusetts
Maple Hill $
Leicester
19,664
▲3
48
7
Minnesota
Kaposia Park $
South Saint Paul
18,849

▼5

46
8
North Carolina
Kentwood
Raleigh
18,206

▼1

44
9
Georgia
Oregon Park
Marietta
17,104
▲6
42
10
New Jersey
Stafford Woods
Voorhees Township
16,926

▼2

42
11
Utah
Creekside Park
Millcreek
16,393

 

40
12
Kansas
Rosedale Park (Up Top)
Kansas City
16,040
▲2
40
13
Illinois
The Canyons at Dellwood Park
Lockport
15,506

▼1

38
14
South Carolina
Splinter City DGC
Myrtle Beach
15,024
▲5
37
15
New Hampshire
Bellamy Park
Dover
14,992
Yes

▼5

37
16
Florida
Ed Austin Park [Fore Palms]
Jacksonville
14,966

▼3

37
17
Tennessee
Seven Oaks
Nashville
14,921

 

37
18
Arizona
Vista Del Camino Park
Scottsdale
13,560

▼2

33
19
Wisconsin
Elver Park $
Madison
12,651

▲5

31
20
Ohio
Brent Hambrick Memorial DGC
Westerville
12,612

▼2

31
21
Kentucky
Shillito Park
Lexington
12,130
▲1
30
22
Nevada
Mountain Crest
Las Vegas
12,122
▲3
30
23
Michigan
Garfield Park
Grand Rapids
11,983
29
24
Maine
Sabattus Disc Golf - Hawk $
Sabattus
11,957
Yes
▲7
29
25
Washington
Ralph Williamson Memorial Disc Golf Course
Seattle
11,719
Yes

▼5

29
26
Virginia
Bayville Park
Virginia Beach
11,553

▼5

28
27
Iowa
Grandview Park
Des Moines
11,274

▼2

28
28
Maryland
Druid Hill - Legacy
Baltimore
11,051
▲2
27
29
Louisiana
City Park DGC
New Orleans
10,996

▼3

27
30
Arkansas
J.Beast
Springdale
10,924

▼3

27
31
Missouri
Unger Park
Fenton
10,519
Yes
▲3
26
32
Delaware
Bellevue State Park $
Wilmington
10,476
Yes
▲1
26
33
Idaho
Ann Morrison Park
Boise
9,639
▲1
24
34
Alabama
Brahan Springs Park
Huntsville
9,607
▲3
24
35
New York
Ellicott Creek Park
Tonawanda
9,519

▼7

23
36
Nebraska
Seymour Smith Park
La Vista
9,438

 

23
37
Indiana
Hazel Landing
Indianapolis
9,198

▼2

23
38
Oklahoma
Griffin Park
Norman
8,895

 

22
39
South Dakota
Jackson Park
Rapid City
7,538
▲2
19
40
Connecticut
Page Park
Bristol
7,298

▼1

18
41
West Virginia
Valley Park
Hurricane
6,631

▼1

16
42
Mississippi
The Rez - Reservoir $
Brandon
6,410
Yes
▲3
16
43
Rhode Island
Curtis Corner Athletic Field
South Kingstown
6,091

▼1

15
44
Vermont
Brewster Ridge Disc Golf Course $
Cambridge
5,405

 

13
45
New Mexico
Roosevelt Park
Albuquerque
4,786

▼2

12
46
Hawaii
Kupuohi
Waipahu
3,997
▲3
10
47
Montana
Lawrence Park
Kalispell
3,956

▼1

10
48
Alaska
Kincaid Park
Anchorage
3,613

 

9
49
North Dakota
Oak Grove Park
Fargo
3,061

▼2

8
50
Wyoming
Dry Creek Parkway
Cheyenne
2,299

 

6
51
District of Columbia
Oklahoma Ave Field at RFK Campus
Washington
236

 

1